December 22, 2021
What ever will we do now, over the holidays? Here are some suggestions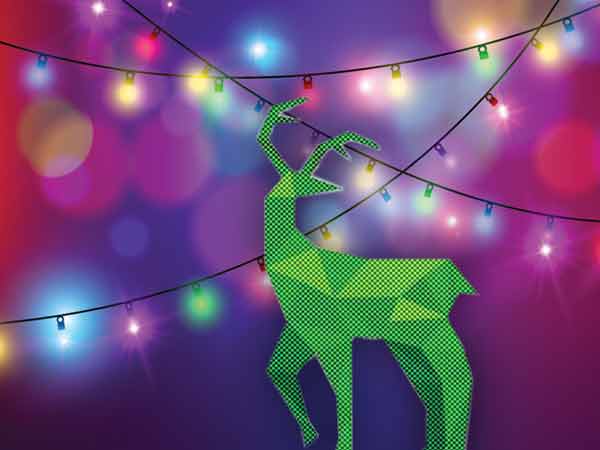 BY GEOFF BOWES FOR SOUTHGREY.CA — Just in time for the Christmas and New Year holidays, stricter public health measures are once again in effect. This is thanks in great part to the Omicron Variant which was also confirmed in Grey Bruce only a few days ago.

Capacity limits are back in place for restaurants and indoor social gatherings have been capped at 10. Outdoor gatherings are limited to 25.
This has prompted many local holiday events to be canceled or postponed and is causing major frustrations among the COVID-fatigued public. Family plans to get together have been altered and parents are worried that kids may not return to class following the holidays as scheduled.

Be that as it may, what can we safely do over the next few weeks? Don't despair! Here is a brief list of social activities we can still look forward to, provided we take appropriate precautions: (All the following could change at the last moment so please double check before you head out.)
West Grey Festival of Lights Tour
Christmas lights have been shining on Christmas trees since the 1700s. They began as candles, lit by father or grandfather on Christmas eve, signifying the light of Jesus. However, candles and Christmas trees weren't a good combination and a lot of homes were burned down by Boxing Day.
Things got better with the advent of the electric light, and thanks to President Grover Cleveland who adorned the White House Christmas tree with strings of coloured bulbs, the trend caught on. Thirty years later, they were everywhere. Today an estimated 150 million sets of lights are sold per year.
While advances and changes to the Christmas light continues to this day, the joy that they bring to the season remains the same. West Grey is bringing joy to the area with their West Grey Festival of Lights.
The self-guided tour, sponsored by the municipality, takes participants right across West Grey to visit seven sites decorated for the holiday season. Pick up a passport at the West Grey municipal office, or download it at westgrey.com.
The tour was set to run from December 1 to January 4, 2021.
Stops on the Festive Lights Tour:
Ayton Centennial Hall
818 Albert St, Ayton, ON N0G 1C0
Ayton Arena (Ballymena)
762 Grey Road 3, Ayton, ON N0G 1C0
Neustadt Arena Hall
183 Enoch St Neustadt, ON N0G 2M0
Elmwood Lions Park
Dirstein St and, Parker St, Elmwood, ON N0G 1S0
West Grey Municipal Administration Building
402813 Grey County Rd 4, Durham, ON N0G 1R0
Durham Heritage Bridge
231 Garafraxa St N, Durham, ON
Vickers Park Pavilion
178 Lambton St W, Durham
Witness our natural amenities
While the lights are out during the day, why not take in the stunning spectacle of our waterfalls in winter. View their icy majesty at Hogg's Falls on the Lower Valley Road outside Flesherton, and McGowan Falls at the Durham Conservation Area open in daylight hours.
Free public skating in Durham
And if you want to get up close and personal with ice, winter break free skates are scheduled at the Durham and Ayton arenas! There will be a limit of 50 skaters on the ice. Proof of vaccination will be required for skaters aged 12 and up. Wristbands will be available 30 minutes before the free skate begins.

The free skate schedule is as follows:
December 22, 2021 from 12 pm to 1 pm - Durham arena
December 22, 2021 from 3:30 pm to 4:30 pm - Ayton arena
December 27, 2021 from 7 pm-8 pm - Durham arena
December 30, 2021 from 6 pm-7 pm - Durham arena (Sponsored by Sue & Stephen Townsend)
December 30, 2021 from 7 pm-8 pm - Ayton arena
Dundalk Food Bank Skate
In place of public skating during the holiday break, Southgate Recreation is providing public skating for a minimum $10 Community Food Bank donation (but larger sums are greatly appreciated — cash or gift card accepted). Ice times can be reserved by family cohorts of 25 persons or small groups of less than 10 (must social distance if not part of a cohort).
Ice times are listed in the Southgate events calendar as $10 Food Bank Skate. Multiple hours will only be accepted after Dec 18, if available. Persons over 12 must be double vaccinated.
All times must be booked by email kgreen@southgate.ca (No Drop-In) and participants must be residents of Southgate or Melancthon Townships. Booking may be limited to half ice pending availability.
Public Skating at Keady Arena
Public skating is held every Saturday until the end of March from 3-4 pm. The cost is $2 per person.
Grey Highlands
Note: Public skating in Grey Highlands is cancelled until further notice.
---
At South Grey News, we endeavour to bring you truthful and factual, up-to-date local community news in a quick and easy-to-digest format that's free of political bias. We believe this service is more important today than ever before, as social media has given rise to misinformation, largely unchecked by big corporations who put profits ahead of their responsibilities.
South Grey News does not have the resources of a big corporation. We are a small, locally owned-and-operated organization. Research, analysis and physical attendance at public meetings and community events requires considerable effort. But contributions from readers and advertisers, however big or small, go a long way to helping us deliver positive, open and honest journalism for this community.
Please consider supporting South Grey News with a donation in lieu of a subscription fee and let us know that our efforts are appreciated. Thank you.