November 24, 2022
Higgsfield Follies: any resemblance to real persons living or dead is coincidental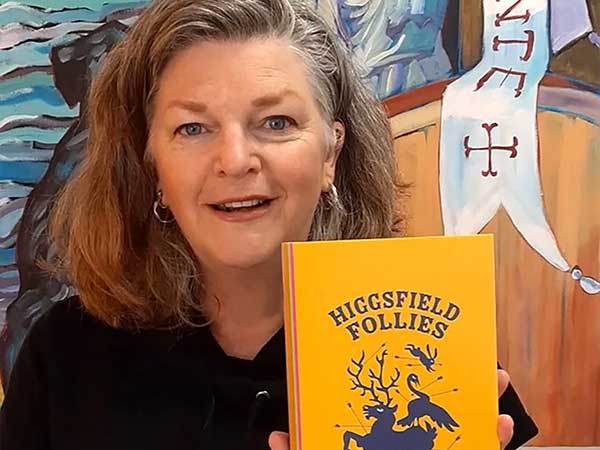 Jenny Parsons poses with her novel. Photo: Jest Arts
BY SOUTHGREY.CA STAFF — A brand new Grey County Reads contest is in the works to begin in January. What will the list of Canadian-authored books entail? While we wait and see, we take a look at other worthy reads vying for our attention. Published in 2021, one such work turned our heads. Higgsfield Follies, a novel by Jenny Parsons is published by Jest Arts Press — a division of Jest Arts in Durham. We thought we'd show you why this novel should be on your Christmas wish book list.
If there is a finite amount of talent in the world, local entertainer Jenny Parsons claims a disproportionate share. Her abilities as a comedic actor, Second City trouper, magician, muralist, painter and renowned owner of Jest Arts Gallery in Durham are securely stationed in local folklore. Recently, Parsons added the discipline of fictional author to that ever-growing list of personal aptitudes.
Higgsfield Follies is Jenny's first foray into that discipline and her expeditious little novel weaves the spellbinding tale of a chaotic rural town bearing some superficial resemblances to the communities of our area. There's a local horticultural society and an ice cream factory, as well as various quirky characters bent on confounding authorities who are trying to make sense of a series of disturbing events. But any resemblance to actual places, people and their affairs hopefully ends there.
Amongst a puzzling cast of unusual suspects, lurks a narcissistic zillionaire, a serial protester, a group of shape-shifting witches and a variety of small town ne'er-do-wells. The story is unravelled following the discovery of a severed arrow-pierced head found in a bucket on the grounds of the local campground. Police Chief Tamar Damiano is tasked with the investigation and finds herself mired in the muddy middle of Higgsfield Follies.
Jenny's comedic sensibilities are front and centre throughout this book. Despite the gruesome nature of the original crime, Parson's writing style is crafty, funny and emotive. The story is filled with interesting twists and sprinkled with a clever dash of symbolism. The author pulls you into a world that almost seems as real as the one in which we're living, but maybe glad we're not.
Higgsfield Follies is available for purchase online. Stay tuned for more interesting tales in the search for great locally-authored books!
---
At South Grey News, we endeavour to bring you truthful and factual, up-to-date local community news in a quick and easy-to-digest format that's free of political bias. We believe this service is more important today than ever before, as social media has given rise to misinformation, largely unchecked by big corporations who put profits ahead of their responsibilities.
South Grey News does not have the resources of a big corporation. We are a small, locally owned-and-operated organization. Research, analysis and physical attendance at public meetings and community events requires considerable effort. But contributions from readers and advertisers, however big or small, go a long way to helping us deliver positive, open and honest journalism for this community.
Please consider supporting South Grey News with a donation in lieu of a subscription fee and let us know that our efforts are appreciated. Thank you.