May 05, 2021
FHW Hickling store in Flesherton, trove of antique treasures — an artefact story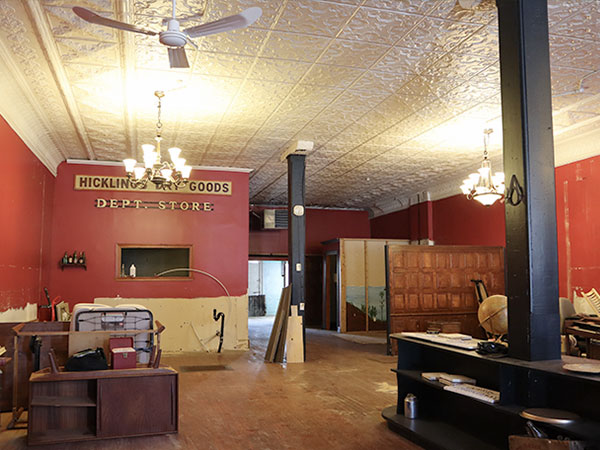 BY ROBERT IANTORNO — Early in April, I had the opportunity to explore the old FHW Hickling store on Toronto Road in Flesherton. I had been itching to get into this place for a while, as I had been told that the building still housed original furnishings and old goods.
I was not disappointed.
This was once a thriving general store, run by Fred Hickling, who had come from England to Flesherton in 1891. He operated this store from the early 1900s until his passing in 1961 — it's said that he never missed a day's work, and that he even placed orders for inventory up to the eve of his passing to ensure that the town could remain supplied. The current owners of the building were very kind to let me run around and take photos. Here are some cool things I observed:
A rat trap which was enormous, and demonstrated that rats were a nuisance back in the day
A safe, painted beautifully with the lettering "FHW Hickling," which has been in this spot for 100 years
A tin sign advertising lead paint — we have the sister sign in the collection at the Museum
Top Photo: Signage advertising Hickling's Dry Goods Department Store and original tin ceiling panels.
The owners of the building are graciously donating dozens of the original logbooks from this store, as well as tax ledgers from the village, reaching back over a century. As time goes on, there is less and less history still out there in its raw state, so it is a joy to be able to explore and document the old buildings in Grey Highlands.
Robert Iantorno is the curator at South Grey Museum in Flesherton.
---
At South Grey News, we endeavour to bring you truthful and factual, up-to-date local community news in a quick and easy-to-digest format that's free of political bias. We believe this service is more important today than ever before, as social media has given rise to misinformation, largely unchecked by big corporations who put profits ahead of their responsibilities.
South Grey News does not have the resources of a big corporation. We are a small, locally owned-and-operated organization. Research, analysis and physical attendance at public meetings and community events requires considerable effort. But contributions from readers and advertisers, however big or small, go a long way to helping us deliver positive, open and honest journalism for this community.
Please consider supporting South Grey News with a donation in lieu of a subscription fee and let us know that our efforts are appreciated. Thank you.