May 20, 2022
Town of Hanover Declares Emergency in Response to 10th Street Fire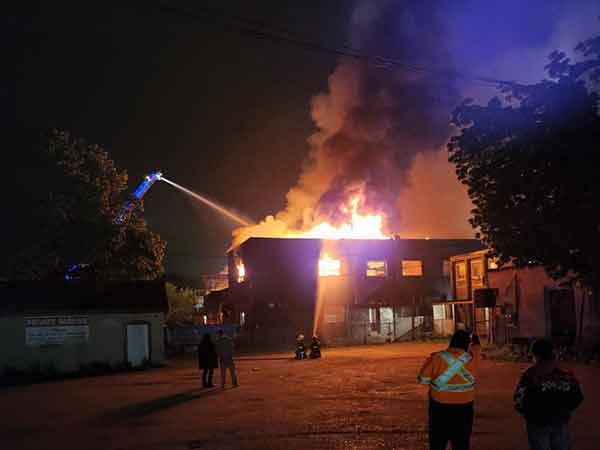 The Town of Hanover has declared an emergency as support and recovery efforts continue following the early morning fire on May 19, 2022. Mayor Sue Paterson made the declaration following a meeting of the Emergency Control Group. A number of individuals are being provided with emergency shelter and no serious injuries have been reported.
"Firefighters and other first responders have been working tirelessly since the fire was first reported. Thanks to their quick response and brave actions, residents were evacuated, and the blaze was brought under control before it could spread further. I want to thank all of the first responders, supporting services and volunteers for all of their efforts," said Hanover Mayor Sue Paterson.
10th Street remained closed to vehicle and pedestrian traffic between 9th Avenue and 11th Avenue for public safety. Two buildings have been extensively damaged by the fire and are at risk of collapsing. Nearby buildings are also being evaluated for smoke and water damage.
The section of the downtown remained closed for the weekend. Storefronts in the area are requested to inform their customers to enter their business only through back entrances off the alleyways.
An emergency evacuation centre was established at Grace United Church in Hanover shortly after the blaze was reported. Several tenants have been displaced and are receiving aid. Healthcare workers, community paramedics, mental health and addiction services, and other support services are available to those who have been displaced. Some evacuees are in shelter at the evacuation centre and others are in accommodation at local motels or are staying with family and friends. Those being supported outside of the evacuation centre are also being provided with food and supports.
The temporary evacuation centre will be moved from Grace United Church to the P&H Centre during the day on May 20th to provide more space and facilities to the victims.
Staff from Grey County and from YMCA Housing Services are connecting with individuals to assess their individual needs. Fifty-four individuals have registered for housing support and work is ongoing to connect them with longer-term accommodation.
The cause of the fire remains unknown and is under investigation by the Office of the Fire Marshal.
"In challenging times communities come together and support those in need. I have no doubt the residents of Hanover and our neighbours around us will be patient as we work to safely reopen the effected area of our downtown and will show generosity to the victims of the fire, and support to the businesses who have been impacted," said Mayor Paterson.
The United Way Bruce Grey has established a disaster relief fund to support victims of the fire. Donations can be made through www.donatetoday.ca by choosing the General Fund and leaving a note to indicate Hanover Fire. Physical donations of clothing, food and other items are not requested at this time.
Declaring an Emergency increases the Town's ability to share resources, personnel and equipment and respond to broader public needs. It also allows the Town to recruit and support volunteers to assist with emergency efforts if needed and may provide access to emergency funding from the Province.
The situation continues to develop. More information will be shared with the community as it becomes available.
---
At South Grey News, we endeavour to bring you truthful and factual, up-to-date local community news in a quick and easy-to-digest format that's free of political bias. We believe this service is more important today than ever before, as social media has given rise to misinformation, largely unchecked by big corporations who put profits ahead of their responsibilities.
South Grey News does not have the resources of a big corporation. We are a small, locally owned-and-operated organization. Research, analysis and physical attendance at public meetings and community events requires considerable effort. But contributions from readers and advertisers, however big or small, go a long way to helping us deliver positive, open and honest journalism for this community.
Please consider supporting South Grey News with a donation in lieu of a subscription fee and let us know that our efforts are appreciated. Thank you.