September 02, 2021
Grey Highlands Council fully supports the 128 bed redevelopment of Grey Gables. Well, almost.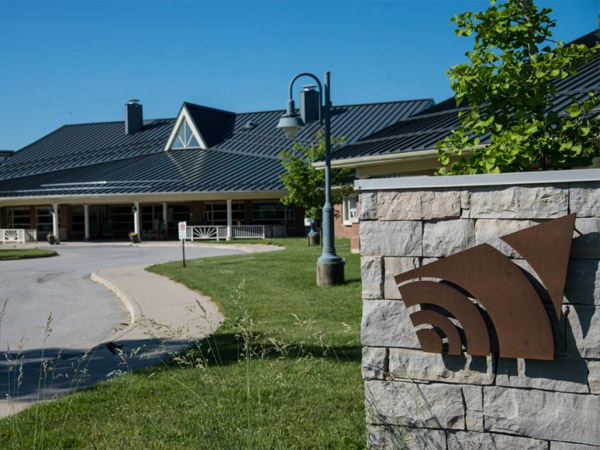 BY SOUTHGAREY.CA STAFF — On Wednesday, September 1, Grey Highlands Council almost unanimously approved a motion to fully support the 128 bed redevelopment of Grey Gables in Markdale. The resultant resolution was passed in a recorded vote, receiving only one dissension from Deputy Mayor Aakash Desai.
One week earlier at a Grey County Committee of the Whole meeting, Desai had cast his vote to put the expansion of Grey Gables on hold, while redevelopment of Rockwood Terrace in Durham could move forward in order to meet a 2025 redevelopment timeline. That resolution passed with a slim majority and will be brought to Grey County Council for ratification on September 9.
Following the September 1 Grey Highlands resolution, staff was directed to circulate their aspiration to all municipalities in Grey County, asking for their support, and requesting that all resulting resolutions be forwarded to Grey County for consideration, moving forward.
"The new plan would have been to build a new state of the art 128 bed facility and convert the current building into seniors or assisted living. The plan was to create a health hub that included a new hospital along with having the Community Health Clinic within walking distance," said Grey Highlands Mayor Paul McQueen. "I'm so disappointed," he said, referring to the earlier Grey County Committee of the Whole decision.
The County paused the Grey Gables project based on an estimated increase in construction costs for the two long-term care homes from $72 to $108 million, primarily due to an inflation in the estimated per-bed cost for these facilities.
"I was disappointed in the decision of County Council," said Grey Highlands Councillor Paul Allen. "Grey Highlands worked very hard, along with other municipalities in the County to not only save Grey Gables, but to be able to get more beds and to say that they don't want to do it at this point because of the financial burden on future generations, I take offence to," he added. "That's what future generations do, is look after the generations that came before them. If we ignored our seniors then 'shame on us!"
Allen then addressed the increased costs, "It's never going to get cheaper... the longer you leave it, the harder it's going to get. I believe that this hold will, in a year or two lead to 'well, maybe we shouldn't go ahead with it' and maybe that will lead to 'well, let's sell it and let the private sector fund it and let them worry about our seniors.'"
Deputy Mayor Desai has come under criticism from the Save Grey Gables... Again (formerly know as Saved Grey Gables) Facebook group for his stance on the issue.
But in his own statement on Facebook, the young Deputy Mayor defended his decision:
"The issue of Grey Gables' expansion has been divisive. I voted to ensure it remained a public asset. I voted to apply for additional beds. I voted to investigate the feasibility of having a new build and my position remains unchanged on these items. I also voted to pause the new build when the cost of it was astronomical.
There are two main reasons I voted to put a pause on the new build at Grey Gables. Firstly, we are unable to afford it. Secondly, we are chronically understaffed for the current number of beds at Grey Gables.
During the 2021 budget deliberations, 17 members of county council voted to draw 1% of the taxes from reserves to artificially lower the tax increase in Grey County. The recorded vote I requested will corroborate my opposition to this. The rationale at the time was that we are in the midst of a pandemic and that the increase of 3.11% was unbearable for many. For some of these members to now turn around and commit to a 4% increase over the following years on a single item is nothing short of hypocritical. For those who criticized my opposition to the artificially lowered taxes, to now slam my opposition to the new build is also hypocritical. It is important to note that despite what is being peddled on social media, the build hasn't been cancelled. We are simply requesting an extension on the deadlines. Something the Ministry of Long-Term Care has shown favour for. The beds aren't lost. And if a vote were to be called again on selling Grey Gables I remain opposed to selling it.
A lot has been made of the lower levels of care at for-profit homes. I am not here to defend them, nor am I here to argue against statistics. What I will say is that if we are chronically understaffed for the 66 beds currently at Grey Gables, how will we be able to maintain the level of care expected from a not-for-profit home when we have 128 beds? I could not, in good conscience, jeopardize the levels of care at Grey Gables because I don't believe in cutting off my nose to spite my face.
It never ceases to amaze me how many people will believe everything on social media despite the amount of misinformation on it. As I mentioned earlier, postponing the new build does not necessarily jeopardize the 62 newly approved beds for Grey Gables. It definitely does not jeopardize the 66 beds that are currently at Grey Gables."
---
At South Grey News, we endeavour to bring you truthful up-to-date local community news in a quick and easy-to-digest format that's free of political bias. We believe this service is more important today than ever before, as social media has given rise to misinformation, largely unchecked by big corporations who put profits ahead of their responsibilities.
South Grey News does not have the resources of a big corporation. We are a small, locally owned-and-operated organization. Research, analysis and physical attendance at public meetings and community events requires considerable effort. But contributions from readers and advertisers, however big or small, go a long way to helping us deliver positive, open and honest journalism for this community.
Please consider supporting South Grey News with a small donation and let us know that our efforts are appreciated. Thank you.