September 01, 2021
Grey County "Canada is on Fire" climate march slated for Sep 8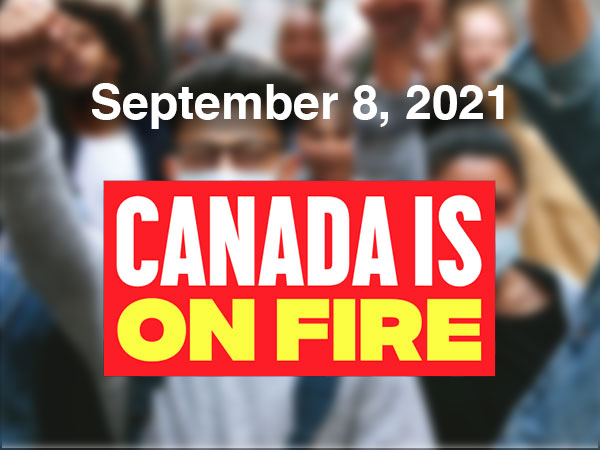 BY JOHN BUTLER — Local citizens have organized a Climate Action March for Grey County folks and their neighbors on Wednesday September 8th in Owen Sound, one of many such marches across Canada supported by the climate advocacy organization 350.org's "Canada on Fire" campaign.
It will take place from 4:00 pm to 5:00 pm (participants are asked to arrive 10 minutes early). The march starts and ends at Owen Sound Farmers' Market, 88 8th Street East, Owen Sound (just behind City Hall). Participants should register their attendance at: https://act.350.org/event/stil... (necessary for contact tracing purposes during pandemic times). Masks, social distancing, and Covid self-assessment tests are required.
Say the event organizers:
"We are in the midst of an urgent climate emergency, but our politicians aren't acting like it. The United Nations calls the situation a Code Red for Humanity. Yet, despite years of increasingly catastrophic weather events, Canadian policies addressing emissions to protect our air, water, land, and life remain woefully inadequate. That is why we march on September 8th – the day of the French Federal Leaders' debate and the day before the English Federal Leaders' debate.
Under the rallying cry Climate Emergency – Act Like It, we demand politicians muster the courage, resources, and decisiveness to:
exceed our Paris Agreement emissions targets
make a fast and fair transition to 100% renewable energy
halt fossil fuel subsidization
increase protection for our carbon-capturing forests, oceans, freshwater systems and wetlands
strengthen our sustainable agricultural practices, and
publish, report on and meet annual accountability targets for ALL of the above.
We call on fellow citizens to join us on September 8th. By acting as a community to demand change, we prioritize the climate crisis and advocate for a sustainable and just society. We can do even more by embracing a sustainable way of living. If we don't come together on this issue today, we close our eyes to an unimaginable legacy of harm impacting future generations."
March organizers will have reusable signs for those who want them, and March representatives will deliver a handout to the three Federal candidates with offices in Owen Sound during the March.
---
At South Grey News, we endeavour to bring you truthful up-to-date local community news in a quick and easy-to-digest format that's free of political bias. We believe this service is more important today than ever before, as social media has given rise to misinformation, largely unchecked by big corporations who put profits ahead of their responsibilities.
South Grey News does not have the resources of a big corporation. We are a small, locally owned-and-operated organization. Research, analysis and physical attendance at public meetings and community events requires considerable effort. But contributions from readers and advertisers, however big or small, go a long way to helping us deliver positive, open and honest journalism for this community.
Please consider supporting South Grey News with a small donation and let us know that our efforts are appreciated. Thank you.