April 08, 2021
Grey Bruce sets record for Canada's largest ever COVID-19 vaccine clinic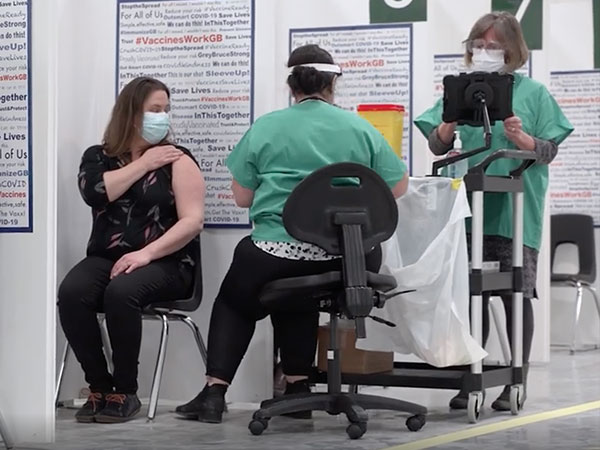 Grey Bruce Health Unit (GBHU) administered 3,498 vaccines at the Hockey Hub mass immunization system in Hanover yesterday. According to GBHU, this is the largest volume single-day mass immunization event in Canada.
On average, the Hockey Hub mass immunization system vaccinated 350 people per hour.
Clinic staffing included five vaccinators working at all times (including one volunteer physician), serving five rows of 30 pods each for a total of 150 vaccine pods. An additional 10 staff were reconstituting vaccine, mixing and drawing into syringes. There were eight registration desks and 20 volunteers inside (three four-hour shifts), with 10 Town volunteers coordinating parking outdoors. Four Grey County EMS volunteers assisted in both clinical and non-clinical capacities.
Clinic hours were 8:30 am to 6:30 pm.
As well as the Hockey Hub in Hanover, three additional smaller local traditional clinics in Grey Bruce administered another 282 doses, for a total of 3780 doses administered in the day.
The Hockey Hub system was developed by Grey Bruce Medical Officer of Health Dr. Ian Arra. The concept has been adopted by a number of Health Units across Ontario as well as the Provinces of Manitoba and Alberta.
---
At South Grey News, we endeavour to bring you truthful and factual, up-to-date local community news in a quick and easy-to-digest format that's free of political bias. We believe this service is more important today than ever before, as social media has given rise to misinformation, largely unchecked by big corporations who put profits ahead of their responsibilities.
South Grey News does not have the resources of a big corporation. We are a small, locally owned-and-operated organization. Research, analysis and physical attendance at public meetings and community events requires considerable effort. But contributions from readers and advertisers, however big or small, go a long way to helping us deliver positive, open and honest journalism for this community.
Please consider supporting South Grey News with a donation in lieu of a subscription fee and let us know that our efforts are appreciated. Thank you.