October 31, 2023
Grey Bruce OPP have responded to 15 collisions in 7 days involving deer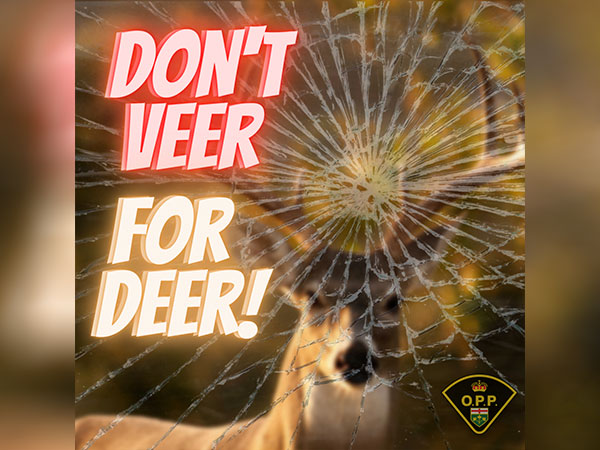 The Grey Bruce Ontario Provincial Police (OPP) have responded to 25 collisions in seven days with 15 of the collisions being a motor vehicle versus a deer.
Between 7:20 pm on October 23, 2023, and 7:08 am on October 30, 2023, officers responded to 15 crashes involving deer. No injuries were reported at any of the scenes.
The Grey Bruce OPP is reminding drivers of the following tips to help reduce the chances of hitting a deer:
Be especially attentive from sunset to midnight and during the hours shortly before and after sunrise. These are the highest risk times for deer-vehicle collisions.
Drive with caution when moving through areas known to have a large deer population. Remember — deer seldom run alone. If you see one deer, others may be nearby.
When driving at night, use high beam headlights when there is no oncoming traffic. The high beams will better illuminate the eyes of deer on or near the roadway.
Slow down and blow your horn with one long blast to frighten the deer away.
Slow down. The slower you go; the more time you have to react should you encounter a deer.
Brake firmly when you notice a deer in or near your path but stay in your lane. Many serious crashes occur when drivers swerve to avoid a deer and hit another vehicle or lose control of their cars.
Always wear your seat belt. Most people injured in deer-vehicle crashes were not wearing their seat belt.
Do not rely on devices such as deer whistles, deer fences and reflectors to deter deer.
---
At South Grey News, we endeavour to bring you truthful and factual, up-to-date local community news in a quick and easy-to-digest format that's free of political bias. We believe this service is more important today than ever before, as social media has given rise to misinformation, largely unchecked by big corporations who put profits ahead of their responsibilities.
South Grey News does not have the resources of a big corporation. We are a small, locally owned-and-operated organization. Research, analysis and physical attendance at public meetings and community events requires considerable effort. But contributions from readers and advertisers, however big or small, go a long way to helping us deliver positive, open and honest journalism for this community.
Please consider supporting South Grey News with a donation in lieu of a subscription fee and let us know that our efforts are appreciated. Thank you.