September 14, 2023
Grey Highlands Public Library reveals new outdoor community spaces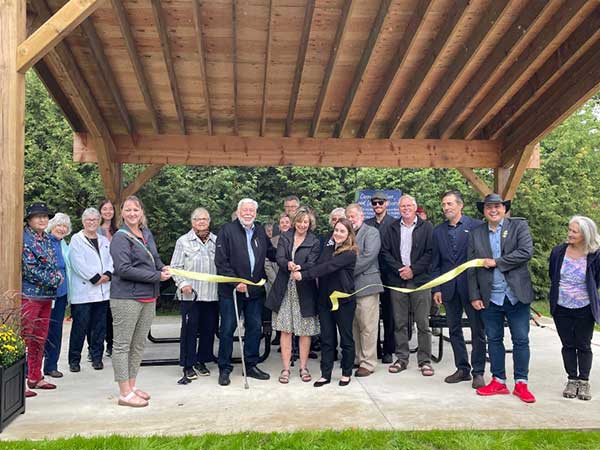 On September 13, on behalf of MPP Rick Byers, Grey Highlands Mayor Paul McQueen met with the team at the Grey Highlands Public Library to celebrate the multi-grant and community-funded project that brought two new accessible outdoor spaces to the community. In 2021, the Library secured an $83,500 Resilient Communities Fund grant from the Ontario Trillium Foundation that was used to expand access to digital resources during the pandemic, fund a Wi-Fi hotspot lending program, purchase equipment to assist staff in the safe delivery of in-person services, acquire an outdoor canopy for outreach across the Municipality, and to help fund the construction of two new pavilions at the Markdale and Flesherton Library branches. In addition, to provincial funding, the Library secured over $10,000 in public donations and $15,000 from the Government of Canada's Canada Healthy Communities Initiative to purchase furnishings for the pavilions.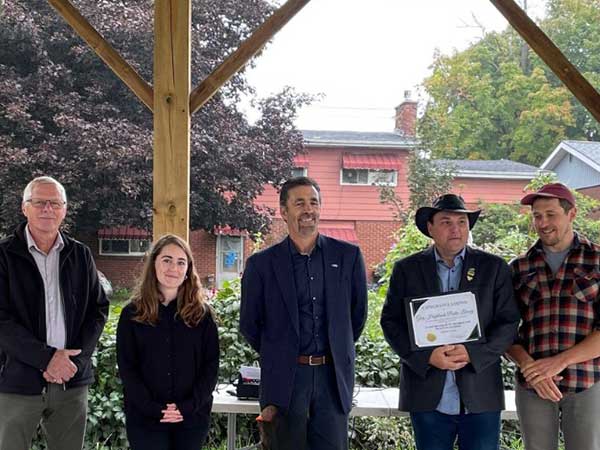 Further, the Friends of the Walter Harris Memorial Library group received $16,500 from the Capstone Community Enhancement Fund to finance the pavilion at the Markdale branch. The project was completed this summer and will provide the community with improved access to programs and events for years to come. From left to right: Grey Highlands Councillor Paul Allen, Grey Highlands Public Library CEO Jennifer Murley, Grey Highlands Mayor Paul McQueen, Grey Highlands Deputy Mayor Dane Nielsen and Grey Highlands Councillor Joel Loughead.

" I congratulate the Municipality of Grey Highlands for being successful in receiving support from the Ontario Trillium Foundation. The Municipality has done a great job building the outdoor facilities with Wi-Fi hotspots, reducing barriers to connectivity, and reducing social isolation." MPP Rick Byers, Bruce Grey Owen Sound.
In addition to offering safe, accessible spaces for outdoor gatherings, the Library has been able to enhance services for those who do not have access to reliable Internet, a need that was further exacerbated by COVID-19.
"The impact of this project on the community cannot be overstated," said Jennifer Murley, CEO of the Grey Highlands Public Library. "With the help from the Ontario Trillium Foundation, the Government of Canada's Healthy Communities Initiative, Capstone, Fleshcon, and our public donations, we've been able to extend our services beyond the walls of the Library and ensure that our patrons are happy, healthy, and remain connected."
The Grey Highlands Public Library is committed to preserving this space and ensuring that it remains accessible for many community activities for years to come.
---
At South Grey News, we endeavour to bring you truthful and factual, up-to-date local community news in a quick and easy-to-digest format that's free of political bias. We believe this service is more important today than ever before, as social media has given rise to misinformation, largely unchecked by big corporations who put profits ahead of their responsibilities.
South Grey News does not have the resources of a big corporation. We are a small, locally owned-and-operated organization. Research, analysis and physical attendance at public meetings and community events requires considerable effort. But contributions from readers and advertisers, however big or small, go a long way to helping us deliver positive, open and honest journalism for this community.
Please consider supporting South Grey News with a donation in lieu of a subscription fee and let us know that our efforts are appreciated. Thank you.