September 12, 2022
Grey Highlands Public Library offers full slate of activities and events this fall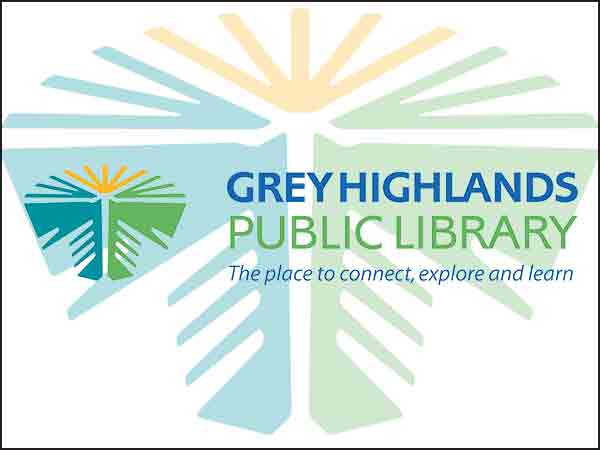 The Grey Highlands Public Library has a fantastic array of activities planned for you this Fall — everything you could possibly want at your local library, from arts and craft projects for the kids, to literary themed Author Talks. If celebrating culture is your thing, then make sure to participate in their upcoming Culture Day events. Or if you just fancy meeting new people and having a cup of tea with friends while sharing a good book, then library staff are happy to see you at their Harvest Café. Whether it's grabbing a book from the shelves for some quiet time together, or attending one of the upcoming events, there is something for everyone at the Grey Highlands Public Library.
Welcoming Week
September 9 – 18

Check out book displays, learn more about the services available to newcomers in Grey Highlands, and discover a new culture.
Circle of Hope with Grandmother's Voice
September 23 – 1pm (Zoom)
Join the Grey Highlands and Collingwood Public Libraries as they host Mohawk Grandmother Gail Whitlow and Urban Indigenous woman Jody Harbour of Grandmother's Voice in Circle of HOPE. Together with both communities and the Grandmothers, they will unite for a better understanding of how we move forward from Truth to Reconciliation.
Daring to Hope: Using Poetry and Song to Create a Vision for a Green Tomorrow
September 23 – 7pm
Kimberley Hall
Join them for an interactive evening with local poet, theatre artist, and lifelong activist, Elizabeth Glenn-Copeland as she shares excerpts from Daring to Hope at the Cliff's Edge: Pangea's Dream Remembered, a book of narrative eco-poetry. This lyrical work sees an individual voice reckoning with the daunting complexities of our time, reminding us of the wisdom inherent in systems of Earth-based knowing. This event is free, and registration is not required. COVID protocols will be in place.
Landscapes Two Perspectives with Annie Auckland and Doug Galloway Art Exhibit
September 24 – October 15
Flesherton Library
Local artist Annie Auckland and photographer Doug Galloway are teaming up for an art exhibit at the Flesherton Library. The opening reception will take place on Saturday, September 24 from 11-2 p.m. The closing reception will take place on October 15 from 11-2 p.m. Some of the proceeds will be donated to the Grey Highlands Public Library.
PA Day Fun
September 23
10:30 am - Flesherton Public Library
1:30 pm - Markdale Public Library
Free. Ages 6+. Registration Required.
Join them for a STEAM program. Learn all about circuits by using littleBITs.
National Day for Truth and Reconciliation & Orange Shirt Day
September 30
Check out the documentary "Grandmother's Voice: Healing the Scars of Colonialism" airing on the Cultural Channel (Eastlink Channel 251) for the month of September or visit one of their branches to discover Indigenous history and stories in their collection.
Author Talks featuring Jayne Pritchard in Celebration of Breast Cancer Awareness Month
October 13 – 7pm
Flesherton Kinplex
Admission by donation to the Breast Cancer Society of Canada.
 Join them for Author Talks as they welcome Jayne Pritchard from CTV news to speak about her new book "Breast Cancer After the Diagnosis"
Friends of the Walter Harris Memorial Library Book Sale
October 12 – 22
Markdale Public Library
Come find that special something at the Walter Harris Memorial (Markdale) Library's BIG book sale!
Harvest Café with Canadian Author Ted Barris
November 8 – 7pm
Flesherton Kinplex
Tickets $10 in advance and $15 at the door.
The Harvest Cafe is back, and they're excited to feature Canadian Author Ted Barris.
Storytime!
For ages 0-5
Tuesday's Flesherton Public Library 10:30 am
Friday's Markdale Public Library
10:30 am
Register now at www.greyhighlandspubliclibrary.com.
---
At South Grey News, we endeavour to bring you truthful and factual, up-to-date local community news in a quick and easy-to-digest format that's free of political bias. We believe this service is more important today than ever before, as social media has given rise to misinformation, largely unchecked by big corporations who put profits ahead of their responsibilities.
South Grey News does not have the resources of a big corporation. We are a small, locally owned-and-operated organization. Research, analysis and physical attendance at public meetings and community events requires considerable effort. But contributions from readers and advertisers, however big or small, go a long way to helping us deliver positive, open and honest journalism for this community.
Please consider supporting South Grey News with a donation in lieu of a subscription fee and let us know that our efforts are appreciated. Thank you.