April 28, 2023
Grey Highlands celebrates the Coronation at May 6 and 7 events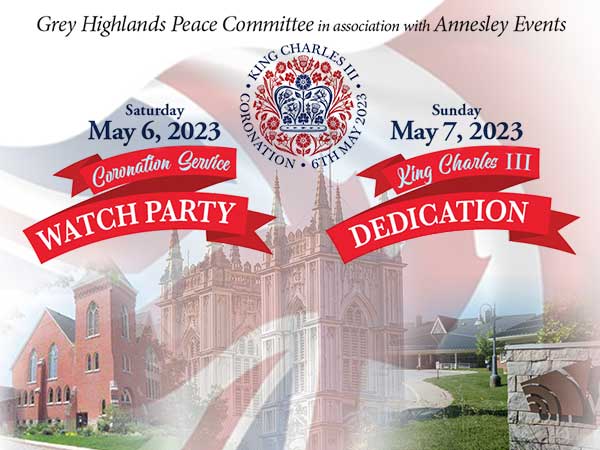 BY JOHN BUTLER FOR SOUTHGREY.CA — Former Grey Highlands Councillor Lynn Silverton remembers watching the Coronation of Queen Elizabeth II on June 2, 1953. She was a ten-year-old in her home town of Kircaldy, Scotland at the time, and the majestic five-hour ceremony, viewed on a nine-inch TV screen, made a lifelong impression on her.

Silverton, as well as local broadcaster Tim Reilly and history teacher and author Nathan Tidridge, are three of the organizers of two upcoming free events in Grey Highlands that will commemorate the Coronation of King Charles III.
The first event, to be held on Saturday May 6, starting at 11:00 am at Annesley United Church on Highway 10 in Markdale, will be a Coronation Watch Party, a rebroadcast of the Coronation ceremony that will actually take place in the wee hours of Canada's morning. A feature of the watch party will be "our man in London" — Nathan Tidridge, Canada's foremost expert and author on the Monarchy — who will be in London, broadcasting his commentary specially to Grey Highlands during the ceremony. This will be followed by a light lunch and a presentation by Nathan Tidridge on Indigenous history in Grey Bruce and the relationship with the Crown in Canada. Annesley Events and the Grey Highlands Peace Committee are the sponsors of the event, with local broadcaster Tim Reilly, South Grey News publisher Ron Barnett, and Nathan Tidridge doing much of the organizational leg work.
The second event, open to everyone (bring your own chairs) and hosted by the Grey Highlands Peace Committee in affiliation with JunCtian Community Initiatives, starts at 1:00 pm on Sunday May 7 and will involve the dedication of a red oak tree planted this week in honour of King Charles III in the rear garden of Grey Gables Home for the Aged on Highway 10 in Markdale (lots of parking at the rear of the facility). Says Lynn Silverton, Chair of the Peace Committee, "This oak will likely live for two hundred years, so we hope the public will attend the ceremony, to give the wee tree a warm send-off into our future." The event will include the dedication of a plaque to commemorate the planting of a white pine on the grounds of Grey Gables in June last year, to mark Queen Elizabeth's Platinum Jubilee. Both the pine and the oak were donated by the Saugeen Valley Conservation Authority. The festivities, funded by the Municipality of Grey Highlands, will include afternoon tea (sandwiches, Coronation cake and a non-alcoholic Coronation punch).
Silverton is glad that participants at both events will have an easier time of it that she and other children in Kircaldy had when they watched the Queen's Coronation in 1953. "Only one house on our street had a television," recalled Silverton. "The adults gathered in the front parlour of the house to watch the Coronation, and we children had to watch it from outside, minus sound, through the front parlour's bay window." Things got better after the broadcast, recalls Silverton, when everyone on the street gathered at long bunting-festooned tables on a park roadway in Kircaldy to feast on cucumber sandwiches and other goodies to honour the new Queen. Silverton also recalls later meeting the Queen Mother at an event at the hospital where Silverton worked as a nurse in Kircaldy. "She was a lovely lady," says Silverton, who points out that many Scots have an affection for members of the royal family because one of Scotland's "ain," their King James VI, became King James I of Great Britain. As well, royalty's affection for their Balmoral estate in Scotland endears them to many Scots, as well as the royal family's reputation for hard work (something Scots consider their national trait).
Silverton brought her affection for the Crown with her when she came to Canada in 1967. "The Crown is something important that keeps us from becoming Americans," she says, and points out that at a cost of $1.55 per person per year for Canadian taxpayers, the Monarchy is a good deal, given what it offers to Canada.
Author and Annesley Event speaker Nathan Tidridge, who has taught history, civics and treaty studies at Waterdown District High School since 2004, says that trees are important symbols to the Monarchy, but they are not the only plants with royal connections in this country. Among his many roles, Tidridge is Keeper of the Chapel Royal Tobacco Beds, a tobacco garden whose products are used for ceremonial purposes when the Crown interacts with Indigenous peoples. Tidridge ensures that the tobacco is grown in a way that respects the land and the purposes for which the tobacco will be used.
Tidridge, who is also Vice President of the Institute for the Study of The Crown in Canada, can't remember a time when he wasn't interested in history, but his specific interest in the Crown dates back to a canoe trip at his family cottage when he was 13. Spotting an interesting leaf on the trip, he sent it to the Queen at Buckingham Palace. He received a reply of thanks from her from Balmoral: the Crown had become personal in his life. Later, in university, he became enthralled by the relationship between the Crown and Indigenous people after attending a conference on Indigenous law.
Broadcaster and event organizer Tim Reilly, owner of Leaking Ambience recording studio in Flesherton and a veteran of 12 years in the Canadian Armed Forces, says his interest in the Crown was enhanced by his military experience. Civic virtues such as loyalty, perseverance, duty and the protection of others are part of the culture of the Crown and of those who serve in the military in the name of the Crown. The tradition of Colonels-in-Chief being drawn from members of the Royal Family heightens the attachment between Crown, military and nation: he remembers fondly the occasion when he met Princess Alexandra, Colonel-in-Chief of his Canadian Scottish Regiment.
Why should Canadians care about the Crown? Tidridge maintains that we're not good at looking back at our history — the Crown pervades every aspect of our past, and has evolved into an institution that stands above the frays of the day to represent all of us. In a time of tension and conflict, a time when the need for reconciliation looms large, the Crown's historic role, carried into the present and future, gives us a calm space within which to speak to each other.
Reilly points out that the Crown is not mere icing on the cake. "Democracy functions best when we are educated about how it works," said Reilly, "and understanding the role of the Crown in our democracy has helped Canada to punch above its weight for decades." Tidridge agrees and points out that we live in an individualistic society, where our role in acting together to make things better is often downplayed. "The Crown can help convene us, despite our differences, to strengthen our society" he says.
Tidridge and Reilly agree that the Coronation events in Grey Highlands on May 6 and 7 give our community an opportunity to get together, to talk to each other, and to be part of a ritual that's meant to be witnessed and shared. And since Charles III has a track record of supporting issues that align with Canadas priorities — issues like protection of the natural world and reconciliation between First Nations and the rest of us — these local events are a celebration of Canada as well as its new King. Reilly maintains too, that our largely rural setting and history leave us with two perspectives that will be celebrated in Grey Highlands on May 6 and 7. First of all, we take a long-term point of view, recognizing that the Crown spans our past and stretches into our future. And second, we are heirs to a tradition of rural practicality, able to get beyond what Reilly calls the "celebrity crap" to see and celebrate the highly pragmatic role the Crown plays in bringing us together. For more in-depth exploration of the significance of May's events in particular, and the role of the Crown in our nation, Tidridge and Reilly recommend their insightful podcasts on this subject, available through www.crownincanadapodcast.ca.
Lynn Silverton agrees with the practical value of the Crown, but points to its magic too — "I hope that people who attend our Coronation events on May 6 and 7 — particularly the children — will look back decades from now on these events, saying proudly, 'I was there.'"
---
At South Grey News, we endeavour to bring you truthful and factual, up-to-date local community news in a quick and easy-to-digest format that's free of political bias. We believe this service is more important today than ever before, as social media has given rise to misinformation, largely unchecked by big corporations who put profits ahead of their responsibilities.
South Grey News does not have the resources of a big corporation. We are a small, locally owned-and-operated organization. Research, analysis and physical attendance at public meetings and community events requires considerable effort. But contributions from readers and advertisers, however big or small, go a long way to helping us deliver positive, open and honest journalism for this community.
Please consider supporting South Grey News with a donation in lieu of a subscription fee and let us know that our efforts are appreciated. Thank you.