September 26, 2022
Young woman raises awareness for mental health: Get Outside and Live Your Trail for CMHA Grey-Bruce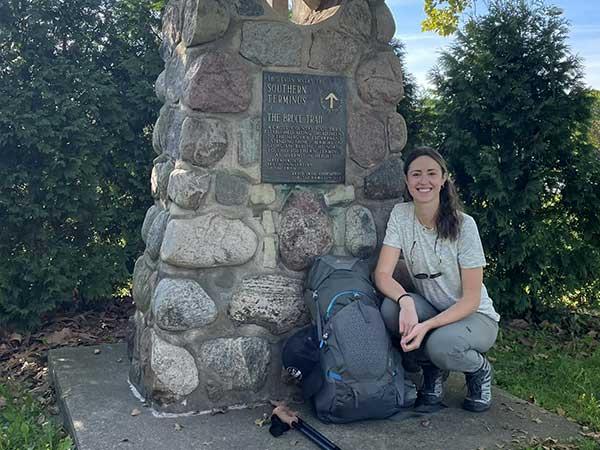 During the pandemic, Olivia Sroka experienced her own set of mental health challenges and that is why she is walking over 900 km of the Bruce Trail, from start to finish, to raise awareness for mental health and funds to support CMHA Grey Bruce programming.

On September 10, Olivia Sroka started her journey of a 900 km hike of the Bruce Trail starting at the trail's most southern point — the Southern Terminus located near Niagara Falls. Her journey will follow the trail north until she finishes in Tobermory. Olivia's fundraiser — Get Outside and Live Your Trail for CMHA Grey Bruce shines a light on mental wellness while also raises funds in support of non-funded CMHA Grey Bruce programming.
For Olivia, mental health is a cause near and dear to her heart. During the COVID-19 pandemic, Olivia, typically an optimistic and bubbly person, found herself feeling anxious and withdrawn; becoming unrecognizable to those close to her. As part of her healing process, she began incorporating a walk into her daily routine and realized that the fresh air, the shining sun and surrounding natural environment, all made an amazing difference to her mental health and wellbeing. Through this event, Olivia hopes to shine a light on mental illness while also sharing what an incredible difference the outdoors can have on our mood and physical health.
Olivia's full inspiring story can be found on the CMHA Grey Bruce website.
Those interested in supporting Olivia's campaign and mental health programming in Grey-Bruce can visit her fundraising page. Donations are also accepted by mail or in person at: CMHA Grey Bruce, 1024 Second Avenue East, Owen Sound, ON N4K 2H7 or by phone at: 519-371-3642 / 1-888-451-2642.
It is estimated that one in four people will experience mental health challenges such as depression and anxiety locally. This means that public education, awareness and supportive services for those struggling with mental illness and addictions are more important than ever. The Canadian Mental Health Association Grey Bruce has expressed their gratitude to Olivia and her commitment to supporting local mental health initiatives and appreciates her courage for sharing her story. Olivia's mental health journey is a reminder to us all that anyone can experience these types of challenges. No one is immune.
---
At South Grey News, we endeavour to bring you truthful and factual, up-to-date local community news in a quick and easy-to-digest format that's free of political bias. We believe this service is more important today than ever before, as social media has given rise to misinformation, largely unchecked by big corporations who put profits ahead of their responsibilities.
South Grey News does not have the resources of a big corporation. We are a small, locally owned-and-operated organization. Research, analysis and physical attendance at public meetings and community events requires considerable effort. But contributions from readers and advertisers, however big or small, go a long way to helping us deliver positive, open and honest journalism for this community.
Please consider supporting South Grey News with a donation in lieu of a subscription fee and let us know that our efforts are appreciated. Thank you.