January 16, 2023
Grey County Reads: The List of Last Chances by Christina Myers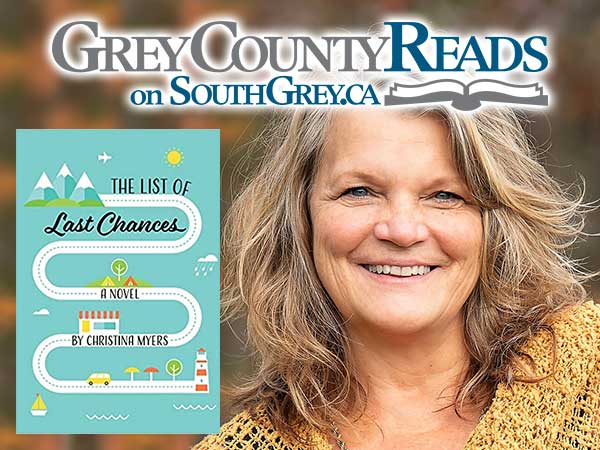 BY SOUTHGREY.CA STAFF – If it seems like Royal LePage Locations North/McIntosh Homes sales representative Peggy McIntosh has an extensive record of achievement, you'd be correct. Although she's an award-winning real estate salesperson of 17 years, Peggy also has 20+ years prior experience in sales, management and negotiation. She has been a magazine manager and publisher, and is a volunteer with The Institute of Southern Georgian Bay: Affordable Housing and Social Finance Committee, Meaford Rotary Club, and Grey Bruce Alzheimer's Society. To add to the list, Peggy is currently the Vice President of the Meaford Chamber of Commerce.

According to publisher Caitlin Press, Christina Myers is a former journalist, freelance writer and editor, and a lifelong book nerd. She is the editor of the BC bestselling non-fiction collection BIG: Stories About Life in Plus-Sized Bodies (Caitlin Press, 2020) and her writing has appeared in anthologies, newspapers, magazines, and online.
In her novel The List of Last Chances, 38-year-old Ruthie finds herself newly unemployed, freshly single, sleeping on a friend's couch and downing a bottle of wine each night. Having overstayed her welcome and desperate for a job, Ruthie responds to an ad: a man named David is looking for someone to drive his aging mother, Kay, and her belongings from PEI to Vancouver. Ruthie thinks it's the perfect chance for a brief escape and a much-needed boost for her empty bank account.
But once they're on the road, Kay reveals that she's got a list of stops along the way that's equal parts sightseeing tour, sexual bucket-list, and trip down memory lane. As David prods for updates and a speedy arrival to his home in Vancouver, Kay begins to share details about a long-lost love and Ruthie takes a detour to play matchmaker, but finds herself caught up in a web of well-intentioned lies.
With the road ahead uncertain, and the past and present colliding, will Ruthie be able to forge a new path? Heartfelt and humorous, The List of Last Chances follows a pair of reluctant travel companions across the country, into an unexpected friendship, new adventures, and the rare gift of second chances.
---
At South Grey News, we endeavour to bring you truthful and factual, up-to-date local community news in a quick and easy-to-digest format that's free of political bias. We believe this service is more important today than ever before, as social media has given rise to misinformation, largely unchecked by big corporations who put profits ahead of their responsibilities.
South Grey News does not have the resources of a big corporation. We are a small, locally owned-and-operated organization. Research, analysis and physical attendance at public meetings and community events requires considerable effort. But contributions from readers and advertisers, however big or small, go a long way to helping us deliver positive, open and honest journalism for this community.
Please consider supporting South Grey News with a donation in lieu of a subscription fee and let us know that our efforts are appreciated. Thank you.