January 20, 2023
Grey County Reads: Run Towards the Danger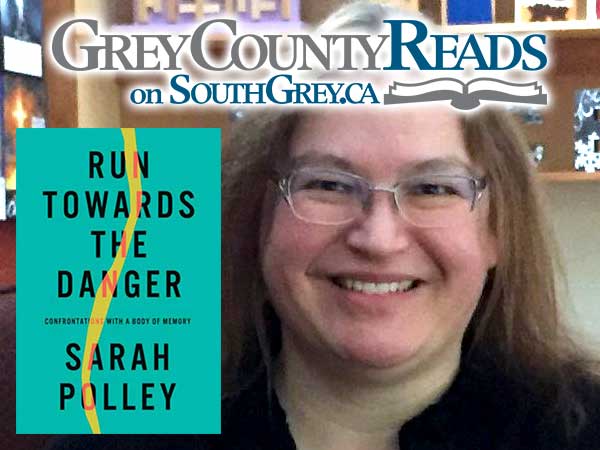 BY SOUTHGREY.CA STAFF — Laurel Douma is a native of the Hanover area and grew up on her parent's farm southeast of town before embarking on a career in administration and hospitality. Laurel volunteers with the Bruce Grey Film Society, bringing quality Canadian and international films to under-serviced communities. She also has a passion for reading and shares it with a thriving and active book club.
Laurel's latest literary interest is Run Towards the Danger by Sarah Polley, yet another non-fiction consideration in the 2023 Grey County Reads contest. Publisher Penguin Random House calls it an extraordinary book, in which Polley explores what it is to live in one's body, in a constant state of becoming, learning, and changing.
Polley contemplates stories from her own life ranging from stage fright to high-risk childbirth to endangerment and more. After struggling with the aftermath of a concussion, Polley met a specialist who gave her wholly new advice: to recover from a traumatic injury, she had to retrain her mind to strength by charging towards the very activities that triggered her symptoms. With riveting clarity, she shows the power of applying that same advice to other areas of her life in order to find a path forward, a way through. Rather than live in a protective crouch, she had to run towards the danger.
Sarah Polley's work as an actor, screenwriter, and director is celebrated for its honesty, complexity, and deep humanity. She brings all those qualities, along with her exquisite storytelling chops, to these six essays. Each one captures a piece of Polley's life as she remembers it, while at the same time examining the fallibility of memory, the mutability of reality in the mind, and the possibility of experiencing the past anew, as the person she is now but was not then. As Polley writes, the past and present are in a "reciprocal pressure dance."
In Sarah Polley's latest directorial effort, she transports Canadian author Miriam Toews' Women Talking to the big screen. A previous contender for Grey County Reads, Women Talking is the story of eight women from an isolated Mennonite colony, who grapple with reconciling their own realities with their faith after it is revealed that men from their community drugged and raped the community's women at night, for years. Sarah Polley is also credited as screenwriter. The film debuted in December, 2022.
---
At South Grey News, we endeavour to bring you truthful and factual, up-to-date local community news in a quick and easy-to-digest format that's free of political bias. We believe this service is more important today than ever before, as social media has given rise to misinformation, largely unchecked by big corporations who put profits ahead of their responsibilities.
South Grey News does not have the resources of a big corporation. We are a small, locally owned-and-operated organization. Research, analysis and physical attendance at public meetings and community events requires considerable effort. But contributions from readers and advertisers, however big or small, go a long way to helping us deliver positive, open and honest journalism for this community.
Please consider supporting South Grey News with a donation in lieu of a subscription fee and let us know that our efforts are appreciated. Thank you.