January 20, 2023
Four Regional Job Fairs set for 2023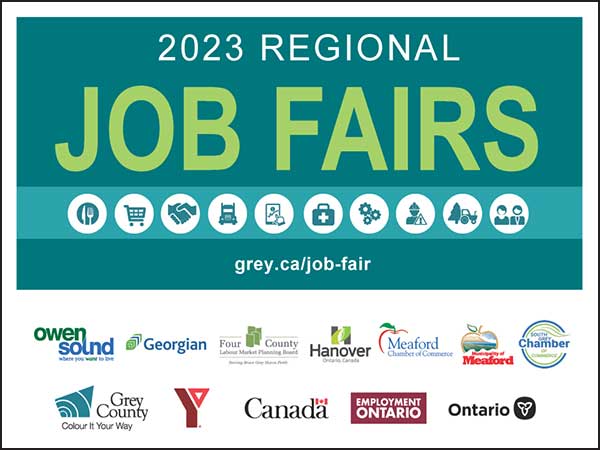 Employers and job seekers will be able to meet face to face at multiple regional job fairs hosted across Grey County in 2023. Employer registration is now open for job fairs planned for Flesherton, Hanover, Owen Sound and Meaford.
Job fairs will take place:
Thursday, February 22 from 1:00 pm to 6:00 pm at Grey Highlands Secondary School in Flesherton.
Tuesday, February 28 from 1:00 pm to 6:00 pm at John Diefenbaker Senior School in Hanover.
Wednesday, March 1 from 1:00 pm to 6:00 pm at the Harry Lumley Bayshore Community Centre in Owen Sound.
Thursday, March 2 from 1:00 pm to 6:00 pm at Georgian Bay Community School in Meaford.
Employers can register for a booth online at grey.ca/job-fair. Employer spaces are limited and will fill quickly. Job seekers are not required to register in advance.
"The 2023 Regional Job Fairs committee is excited to host these events throughout the region to ensure accessibility for both employers and job seekers," said Jacinda Rudolph, Grey County Economic Development Officer. "The regional job fairs attract a variety of diverse job seekers with different skills. These events are an excellent way for employers to put their business name out there and connect in person with candidates."
Job seekers looking for support with their resume or interviewing skills can contact YMCA Employment Services by calling 519-371-9222 or email employment@osgb.ymca.ca.
The Grey County Regional Job Fairs are made possible through collaboration with local partners including County of Grey, YMCA of Owen Sound, Four County Labour Market Planning Board, Georgian College, City of Owen Sound, Town of Hanover, Municipality of Meaford, Meaford Chamber of Commerce, South Grey Chamber and Employment Ontario.
---
At South Grey News, we endeavour to bring you truthful and factual, up-to-date local community news in a quick and easy-to-digest format that's free of political bias. We believe this service is more important today than ever before, as social media has given rise to misinformation, largely unchecked by big corporations who put profits ahead of their responsibilities.
South Grey News does not have the resources of a big corporation. We are a small, locally owned-and-operated organization. Research, analysis and physical attendance at public meetings and community events requires considerable effort. But contributions from readers and advertisers, however big or small, go a long way to helping us deliver positive, open and honest journalism for this community.
Please consider supporting South Grey News with a donation in lieu of a subscription fee and let us know that our efforts are appreciated. Thank you.