December 17, 2021
Food banks and toy drives: the season of giving in Grey County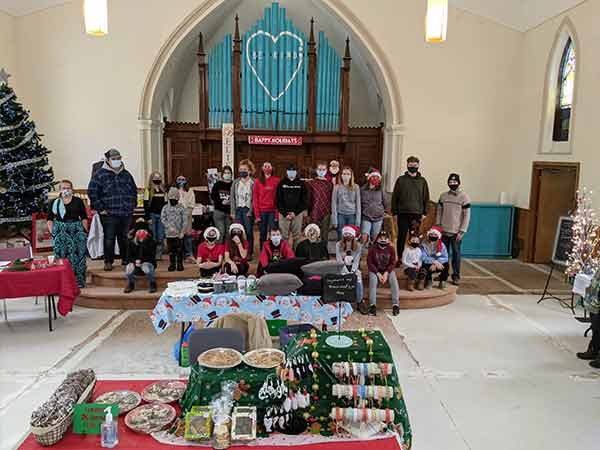 In November, youth who participated in the Hanley Institute Youth Christmas Market donated a total of $465 to the Flesherton Love Committee. Youth at the Institute have also been busy making 67 Christmas packages, each including a Christmas stocking, homemade chapstick, hot chocolate bags, brownie reindeer and candy-filled tubes for the residents of Grey Gables in Markdale.
BY GEOFF BOWES FOR SOUTHGREY.CA — Food banks across Grey County have reported a surge in demand since the pandemic began taking away jobs and hope for many families. Christmas this year will be a struggle for many more, perhaps more than ever before.
If there was ever a time to share the Christmas Spirit with those less fortunate than ourselves, this would be that time.
There are many opportunities to give and to receive throughout our area. The most easily accessible are right in front of us
The Salvation Army will be accepting donations, just as they have been every Christmas for as long as any of us can remember, and this year, along with their familiar kettles, they have added a tap feature for our safety and convenience.
Along with selling pre-packaged donations to the food bank, Foodland in Markdale and Dundalk will now take donations, no matter how small, at the checkout.
Restaurants and businesses have stepped up this year by putting donation boxes on the bar or at reception. If, for instance you were going for dinner at Hearts Restaurant in Kimberley, remember to take along a non perishable food item for their foodbank box.
Christmas is so much more than a free meal. To make it special for the little ones, those who are expecting something from Santa, toy drives are popping up in waiting rooms, shopping malls and Fire halls.
Chatsworth Community Outreach will be giving toys to children under 12, and a gift card to kids 12-18.
In Dundalk, the Christmas Angels are giving toys and gifts to families in need. The Dundalk and District Food Bank also provides Christmas hampers to individuals and families as well as gifts for children and youth in the Dundalk area.
The Durham and District Food Bank provides a Christmas meal hamper which usually includes turkey, vegetables, meal condiments, fruit and milk. Children under the age of 16 will get a gift and special requests (diapers, etc.) to meet individual needs.
The Gentle Shepherd Community Church in Eugenia offers a full take-out turkey dinner at no cost to those in need who register before December 18.
The Flesherton Community Love Committee gives in the same way, with a Christmas dinner as well. The Flesherton food bank is preparing for 52 families.
Knox Holstein, Amos Dromore and Knox Normanby Presbyterian Pastoral Charge will distribute Christmas hampers to needy families in Holstein and surrounding area.
The Markdale and District Food Bank provides Christmas baskets to residents of Markdale and area. Baskets consists of either turkey or ham, canned goods, fresh fruit and vegetables and gifts for children under 18. However, due to COVID-19, the food bank is not open to the public at this time.
The Owen Sound Professional Fire Fighters' Association and Inter Township Fire Department will be collecting toys for children aged 13 and under whose families access the food bank.
And let's not forget our family pets. Kieth Barkhouse of Barkhouse Pets donates any overstock to his foodbank, and he is aware of many other pet stores who do the same.
Across Grey County, there are volunteers giving their time and making an effort to help the Christmas Spirit come alive for families and seniors from Durham to Hanover to Markdale.
But what happens if these volunteers run out of donations…? To find out of how to help in your area, visit Bruce Grey Community Info.
---
At South Grey News, we endeavour to bring you truthful and factual, up-to-date local community news in a quick and easy-to-digest format that's free of political bias. We believe this service is more important today than ever before, as social media has given rise to misinformation, largely unchecked by big corporations who put profits ahead of their responsibilities.
South Grey News does not have the resources of a big corporation. We are a small, locally owned-and-operated organization. Research, analysis and physical attendance at public meetings and community events requires considerable effort. But contributions from readers and advertisers, however big or small, go a long way to helping us deliver positive, open and honest journalism for this community.
Please consider supporting South Grey News with a donation in lieu of a subscription fee and let us know that our efforts are appreciated. Thank you.