May 25, 2022
Flesherton Resident wins $100k with Instant 21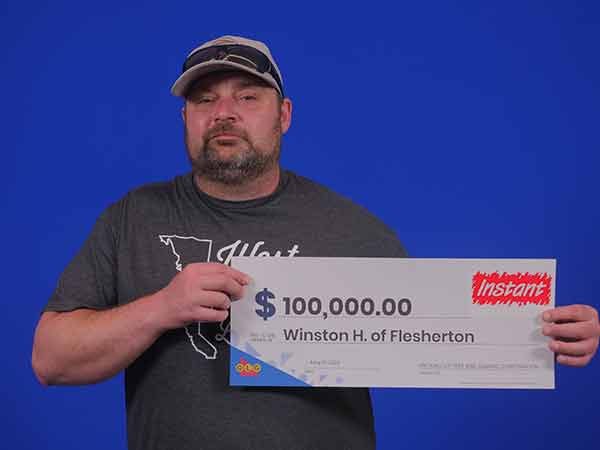 Winston (Jarrett) Hawkins of Flesherton is $100,000 richer after winning with INSTANT 21 (Game #2293).
Jarrett, a 42-year-old regular lottery player, said he chose this particular ticket because he likes blackjack. "I was playing my ticket at home and noticed I got 21 and the dealer got 19. I was surprised but didn't think it was real," he explained. "I took the ticket to my sister's place, and she pulled out her phone and scanned it with the OLG App. It was unbelievable."
Jarrett and his sister started celebrating, jumping and dancing. "We took it to the store to make sure I wasn't dreaming."
Next thing he did was call his girlfriend who thought he was joking at first. "Calling her was the best moment of the win so far. She always had faith I would win."
Jarrett plans to celebrate his win with a cottage vacation by the lake with his girlfriend. "I also plan to pay off my truck and fill it up with gas," he laughed.
INSTANT 21 is available for $5 and the top prize is $100,000. Odds of winning any prize are 1 in 4.06. Visit the INSTANT 21 page on OLG.ca for more information on this and other great games.
OLG is booking in-person prize claim appointments at the OLG Prize Centre in Toronto. We strongly encourage those with claims between $1,000 and $49,999.90 to submit them online or mail them, as appointment availability at this prize level is limited. Submitting claims online is fast and secure. Customers with prizes over $50,000 are asked to call 1-800-387-0098 to discuss available prize claim options.
The winning ticket was purchased at Esso on Sydenham Street in Flesherton.
---
At South Grey News, we endeavour to bring you truthful and factual, up-to-date local community news in a quick and easy-to-digest format that's free of political bias. We believe this service is more important today than ever before, as social media has given rise to misinformation, largely unchecked by big corporations who put profits ahead of their responsibilities.
South Grey News does not have the resources of a big corporation. We are a small, locally owned-and-operated organization. Research, analysis and physical attendance at public meetings and community events requires considerable effort. But contributions from readers and advertisers, however big or small, go a long way to helping us deliver positive, open and honest journalism for this community.
Please consider supporting South Grey News with a donation in lieu of a subscription fee and let us know that our efforts are appreciated. Thank you.