May 10, 2022
Flesherton Farmers' Market returns with a lively performance by the Neema Children's Choir May 21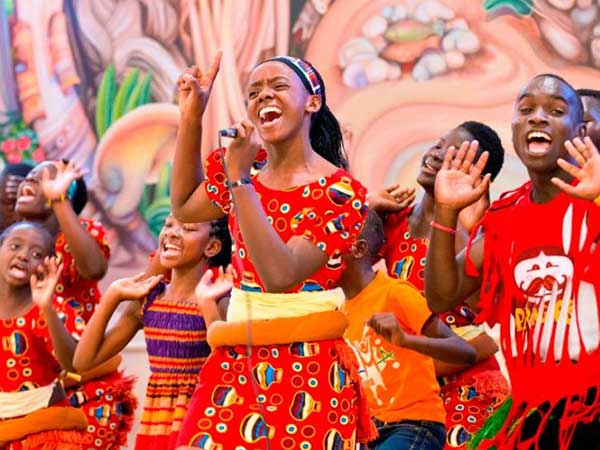 Photo: Neema Children's Choir
BY SOUTHGREY.CA STAFF — And, suddenly it's summer! Tulips and daffodils are in full bloom, the grass is ready for a first cut and 'road construction' has re-entered our vernacular. What's another sure sign that summer is upon us? The Flesherton and District Farmers' Market starts in less than two weeks!
Fresh off the market's best year since COVID-19 graced the world stage, the 2022 season promises to an even more fulsome experience. "We're planning many events this year, including a Kids' Day, Dog Day, Songwriters Workshop, the popular Books and Authors Day and more," said Market Manager Ron Barnett. "We want everyone to know we're back and in a big way!"
As many travelling restrictions have been lifted, the favoured performing group, Neema Children's Choir will return to kick things off Opening Day — Saturday, May 21. A highlight of the market prior to the COVID-19 pandemic, the choir will also return for a repeat performance the following Saturday, May 28. "They sing and dance their hearts out, all market long," said Barnett, eager to see their return.
Members of Africa Inland Church (AICT), the Neema Children's Choir energizes their audience with uplifting song, dance and numerous costume changes. From Africa, their ministry gives Christian counselling and reunites broken families, providing food, clothes and spiritual education to people in need, especially widowed, street children, and the poor. While their performance is enough reason to visit the market, the group will also display and sell many colourful items to raise money for their cause.
Many vendors will return with their fresh, locally grown produce, honey, meats, woodcrafts and handmade items, complimented by some new faces and products as well. Cake and coffee will be free for customers on the first day. Hot food, including hamburgers and hot dogs will also be available.
The fun begins from 9 am to 1 pm on May 21 and will continue every Saturday until October 8, with another Fall Fare scheduled later in October following the close of the regular market season. The market assembles in the Flesherton Aren parking lot and under the pavilion across from the library.
---
At South Grey News, we endeavour to bring you truthful and factual, up-to-date local community news in a quick and easy-to-digest format that's free of political bias. We believe this service is more important today than ever before, as social media has given rise to misinformation, largely unchecked by big corporations who put profits ahead of their responsibilities.
South Grey News does not have the resources of a big corporation. We are a small, locally owned-and-operated organization. Research, analysis and physical attendance at public meetings and community events requires considerable effort. But contributions from readers and advertisers, however big or small, go a long way to helping us deliver positive, open and honest journalism for this community.
Please consider supporting South Grey News with a donation in lieu of a subscription fee and let us know that our efforts are appreciated. Thank you.