October 04, 2021
Fire Prevention Week October 3-9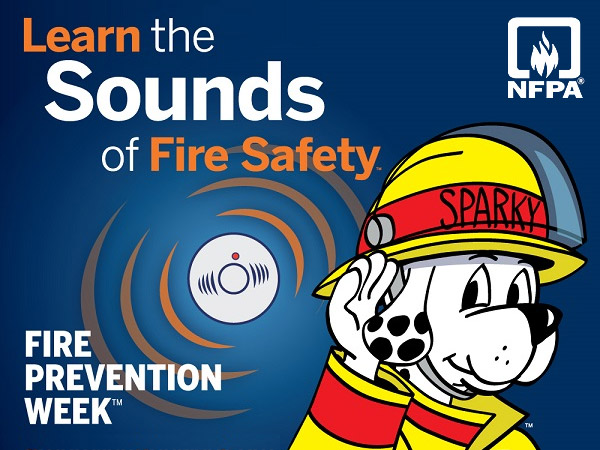 This week (October 3 – 9) is Fire Prevention Week. The theme this year is "Learn the Sounds of Fire Safety."
Fire and Emergency Services encourage everyone to educate their families about the sounds of the alarms in your homes and what to do when you hear them. If you have children it's also a good idea to make and practice a Home Escape Plan so they know what to do in the event of a fire.
Fire safety measures are essential yet often overlooked. In addition to outlining the proper action to take should a fire break out, a fire safety evacuation plan can be an invaluable, life-saving tool. A fire safety plan should include all members of a household - including pets.
There are many ways to safeguard everyone in the event of fire. Here are some steps to include in a fire safety plan.
Check and replace smoke and carbon monoxide detectors regularly. Monitored smoke detectors can be helpful if you regularly leave pets home alone, since firefighters will be alerted and can respond.
Take inventory of where pets like to hide or nap. This can prove helpful if you need to evacuate a home quickly due to fire. Remember that pets can sense stress and may be more difficult to catch if they feel something is amiss, advises the ASPCA. Therefore, try to remain as calm as possible.
Keep pets near exits when you are not home to make it easier for firefighters to enter the house and save the animals. The Red Cross also recommends placing collars and leashes as well as pet carriers near the exits.
Invest in a pet safety sticker and hang it in a visible window to alert firefighters that you have pets inside. The sticker includes important information, such as the number of pets, type of pets and veterinarian contact information.
Plan escape routes and practice evacuations. Make sure at least one family member is in charge of grabbing pets and getting outside safely so others can focus on evacuation. Identify all exits and what to do if one or more exits is impassable.
Have a game plan should the house be damaged and uninhabitable. Line up a place to meet outside and explore pet-friendly accommodations at a hotel, friend or family member's house.
Watch the following "Learn the Sounds of Fire Safety" video, as provided by Grey Highlands Fire and Emergency Services:

---
At South Grey News, we endeavour to bring you truthful up-to-date local community news in a quick and easy-to-digest format that's free of political bias. We believe this service is more important today than ever before, as social media has given rise to misinformation, largely unchecked by big corporations who put profits ahead of their responsibilities.
South Grey News does not have the resources of a big corporation. We are a small, locally owned-and-operated organization. Research, analysis and physical attendance at public meetings and community events requires considerable effort. But contributions from readers and advertisers, however big or small, go a long way to helping us deliver positive, open and honest journalism for this community.
Please consider supporting South Grey News with a small donation and let us know that our efforts are appreciated. Thank you.