January 06, 2021
Flesherton Farmers' Market continues to serve the community through the winter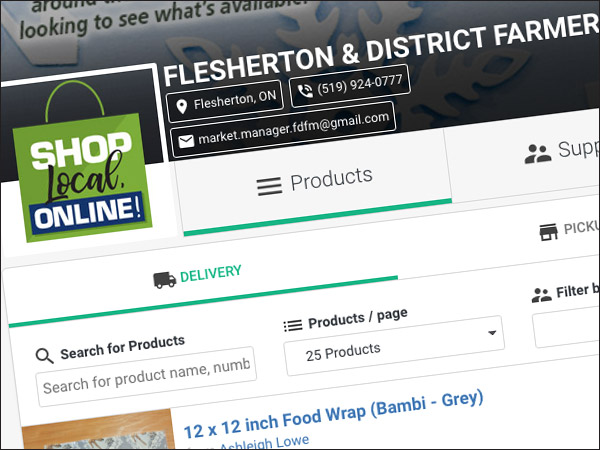 BY SOUTHGREY.CA STAFF — As government measures to mitigate the COVID-19 pandemic continue to restrict shopping in Ontario, businesses have struggled to adapt. Currently, many retailers are restricted to curbside pickup and/or home delivery. Most local businesses need our help to survive and the health of our local economy hangs in the balance.
Flashback to the summer and many companies enjoyed happier times. During a lull in the spread of the virus, groups like the Flesherton and District Farmers' Market (FDFM) found a way to safely open to the public. Although customer numbers were down, many appreciated the efforts of vendors and organizers to bring their products to the Flesherton Arena parking lot each Saturday.
This Fall, a COVID-19 second wave either halted or severely hampered pre-holiday shopping events, including the FDFM Christmas Market and many others in our area. Santa Claus parades embraced a new drive-thru format and while attendance was high, everybody is desperate for a return to more normal circumstances.
As a way to recover from a downturn in revenue for its vendors, and with the help of the Greenbelt Farmers' Market Network and the Ontario Ministry of Agriculture, Food and Rural Affairs (OMAFRA), the FDFM has kept their products available online with every-other-week Saturday pickup at Leela's Villa Inn.
A dozen vendors have uploaded product to the FDFM online store, many of whom populated the summer market. Merchandise includes handcrafted cleansers, balms and moisturizers from Half Moon Bath and Body, as well as wool blankets, lambskins, yarns, felt insoles, breads, lamb chops, steaks, roasts, racks and shanks, ground, stew, sausage, burger patties and shepherds pie from Spirit Walk Farm.
Sweet Delights Pastries offers a variety of home-baked bars, cakes, cookies, tarts and squares, while Little Acres Farm shows off an impressive assortment of high-quality hand-cut, copper-foiled and individually soldered stained glass decorations for your home.
Oma's Kitchen sells crafted wood bowls, jewel boxes, cheese boards, knives, solar lanterns and wood puzzles, complimented by homemade jams, jellies, pickles as well as home-baking.
Local artisan and summer vendor, Will Daize brings his handcrafted jewellery and other wood creations to the website. Through his business, Timmerwerk, he fabricates beautiful pieces, blending local and exotic woods from around the world.
Down to Earth Ceramics painted and unpainted ceramics bring a whimsical energy to your home decor and make great gifts too.
Some vendors have also been added to the winter website. Locally produced beeswax food wraps, candles and fresh honey are available from Ashleigh Lowe and Angry Beez Apiaries. Naturally-shed elk antler chews from Paw-Gistics Pet Supply Chain are nutritious, long-lasting treats for your dog and Grey County Apparel provides country-inspired hoodies and pullovers to show off your love for the area. These are some of the new names and products found here.
Delicious takeout menu items from the Restaurant at Leela's Villa Inn are also ready for purchase and pickup on the website, making the FDFM online store, truly a great way to support local business. There are two pickup dates each month through to May, beginning this month on Saturday, January 9.
The website can be navigated a few different ways.
Scroll through the many products arranged (alphabetically), as if you were wandering around the outdoor market, looking to see what's available.
Find a specific vendor using the drop down menu to "Filter by Supplier" the same way you would go directly to a 
vendor's stall at the outdoor market.
Use keywords to "Search by Product," 
in case more than one vendor has it 
for sale, the same way you'd compare between vendors at the outdoor market.
The website can be accessed with this link. www.fleshertonfarmersmarket.ca
---
At South Grey News, we endeavour to bring you truthful and factual, up-to-date local community news in a quick and easy-to-digest format that's free of political bias. We believe this service is more important today than ever before, as social media has given rise to misinformation, largely unchecked by big corporations who put profits ahead of their responsibilities.
South Grey News does not have the resources of a big corporation. We are a small, locally owned-and-operated organization. Research, analysis and physical attendance at public meetings and community events requires considerable effort. But contributions from readers and advertisers, however big or small, go a long way to helping us deliver positive, open and honest journalism for this community.
Please consider supporting South Grey News with a donation in lieu of a subscription fee and let us know that our efforts are appreciated. Thank you.