September 09, 2021
Fall fairs go virtual in 2021 with some impressive results and a couple of notable exceptions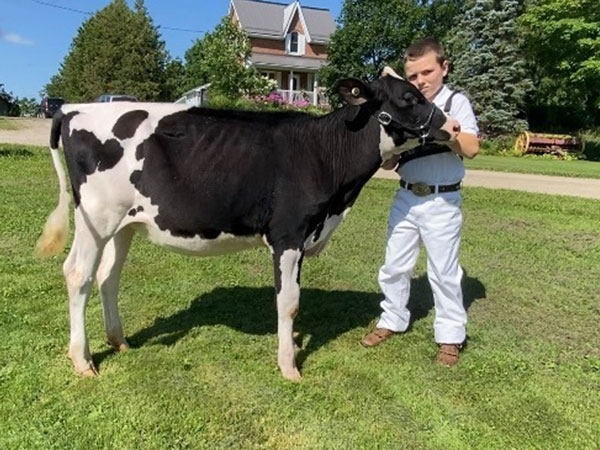 Hunter Perkes O'Neill of Wiarton with Sunspark Lambda Gabby, first place winner in the Markdale Fall Fair Junior Calf Virtual Showcase.
Earlier this year, with COVID-19 case numbers continuing to restrict activities in our area, Agricultural Societies were forced to make the difficult decisions to cancel or postpone their fall fairs. In their absence, virtual showcases and competitions emerged to help us keep the country spirit alive in Southern Grey County.
Markdale
On August 28, the Markdale Agricultural Society held a Virtual Showcase, selecting winning photographs from a variety of categories submitted in the weeks prior. From garden harvests to hallowe'en and entrance decorations, landscapes and more, entries proved that country pride is here to stay in Markdale. A full slate of agricultural winners in this year's competitions were also chosen:
Sheep
Champion Senior Showperson - Delaney Hopkins
Champion Junior Showperson - Rebecca Bishop
Grand Champion Lamb - Delaney Hopkins with Benlock 20J
Reserve Champion Lamb - Olivia Schlosser with Nia
Light Weight Market Lamb
1st. Brody Grinwiss of Hanover with Saviour
2nd. Mackenzie Peckham of Hanover with Sophia
3rd. June Ibbotson of Hanover with Sunmill Alice
Heavyweight Market Lamb
1st. Cole Grinwis of Hanover with Oreo
Junior Breeding Lamb
1st. Alice Bishop of South East Grey with Poppy
2nd. Anabelle Thompson of South East Grey with Westgate Miss Jiggles
January Breeding Lamb
1st. Delaney Hopkins of Wiarton with Benlock 20J
2nd. Josalyn Bester of Wiarton with Astra
3rd. Hailey Priddle of South East Grey with Charley
February Breeding Lamb
1st. Olivia Schlosser of Hanover with Nia
2nd. Sierra Reid of Hanover with Rory
3rd. Rebecca Bishop of South East Grey with Zooma
Beef
Champion Senior Showperson - Caden Martin
Champion Junior Showperson - Sharlotte Stewart
Junior Yearling section.
1st. Alex McNally of the Grey County Club with Smart Polled Hope
2nd. Sharlotte Stewart of the Desboro Club with AMGS Hashtag
3rd. Sam Squire of Rocklyn with Hailey F Shamrock
Intermediate Yearling section
1st. Grace DenHaan of Rocklyn with Princess Hershey Shamrock
2nd. Alex Cameron of the Grey County Club with Daisy
Senior Yearling section
1st. Caden Martin of Rocklyn with Maple Key Bombshell
2nd. Jackson Squire of Rocklyn with Boothville Hershey's Kiss
3rd. Taylor Draper of the Grey County Club with Harley
Calf section
1st. Lillie Campbell of Rocklyn with Destiny Down and Dirty
2nd. Maia Chapple of the Grey County Club with Smart Polled Josie
3rd. Sidney Sicard of the Grey County Club with Determination
Dairy
Champion Senior Showperson - Delaney Hopkins
Champion Junior Showperson - Grace Elchuck
Grand Champion Heifer - Delaney Hopkins with Bencrest Doc Chevel
Reserve Champion Heifer - Hunter Perkes O'Neill with Sunspark D Lambda Gabby
Junior Calf section
1st. Hunter Perkes O'Neill of Wiarton with Sunspark Lambda Gabby
2nd. Isabelle Aulthouse of Durham with Blanhaven Success Golden
3rd. Riley Perkes O'Neill of Wiarton with Sunspark Boom Karat
Junior Yearling section
1st. Joseph Kapteyn of Wiarton with Sunspark Unix Chloe
Summer Yearling section
1st. Hunter Maisonneuve of Wiarton with Sunspark Mirand Luna
2nd. Joanna Kapteyn of Wiarton with Trinal Master Myth
3rd. Lane Strutt of Rocklyn with NanGor Viral Isabella
Senior Yearling section
1st. Grace McNab of Wiarton with Sunspark Lambda Kix
2nd. Grace Elchuck of Dundalk with Lewis-LS Rocketfire Launch
3rd. Taylor Draper of Durham with Blanhaven Seabiscuit Song
Intermediate Heifer Section
1st. Delaney Hopkins of Durham with Bencrest Doc Chevel
2nd. Cynthia Bumstead of Wiarton with Loyalyn Alligator Phoenix
3rd. Lauren McKnight of Rocklyn with Tovinler Syrah Secret
Durham
The Durham Agricultural Society held a drive-thru parade at the Durham Arena on Saturday, September 4. The weather cooperated for a fun afternoon. Visitors were given a shopping bag to hold out their car window to be filled with lots of free stuff along the route. Freshly baked pies, candy floss and popcorn as well as freshly squeezed lemonade, water and pop were on hand. A bike draw was held at 4 pm and at dusk, the Durham Lions Club presented a fireworks display. Colouring contest winners were also drawn.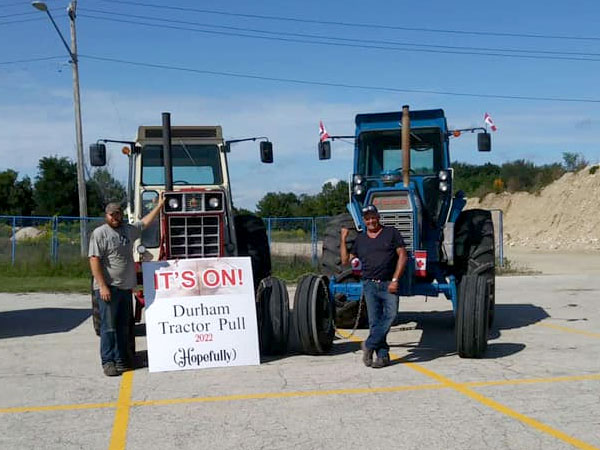 Organizers are hopeful that next year's festivities will be back in full swing, including the popular tractor pull. Photo: Durham Agricultural Society.
Feversham
Although the 2021 Feversham Fall Fair has been postponed until 2022, the Feversham Agricultural Society (FAS) planned several exciting activities to keep the Fair's spirit alive, including a virtual scavenger hunt with an agricultural theme which wrapped up September 3.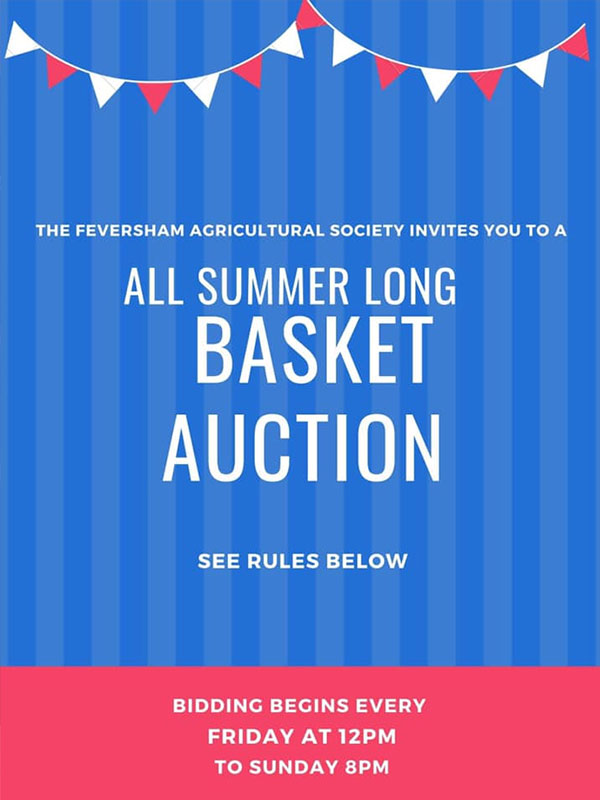 All summer long, FAS conducted a weekly online basket auction with a steady stream of donated prizes through July and August.
Dundalk
On September 11, The Dundalk Agricultural Society will present a Truck and Tractor Pull at the Dundlak Fairgrounds. Antique and modified farm tractors, as well as modified trucks and field tractors will demonstrate their might in this live outdoor event. Spectators are welcome but COVID-19 protocols will be in place.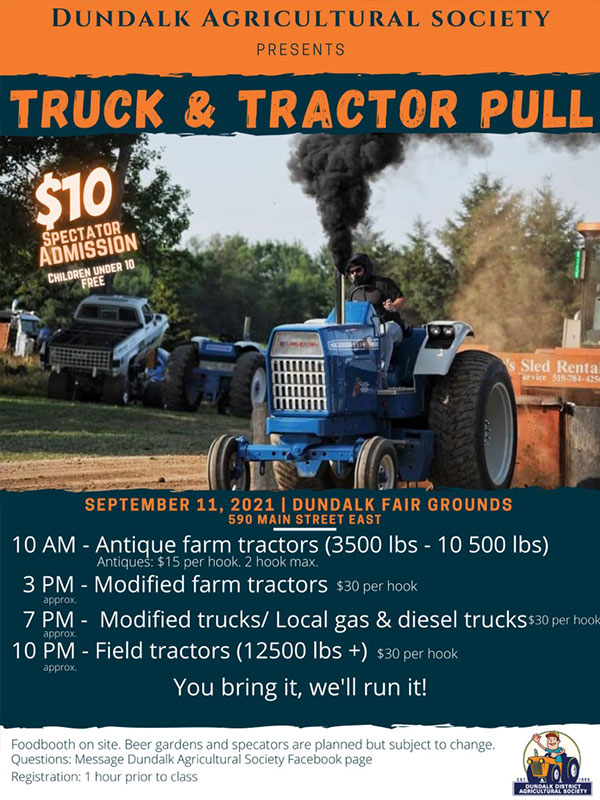 The Dundalk Agricultural Society (DAS) will also be holding a Virtual Photography Showcase to end on September 11. The showcase will include a photography contest, kids colouring contest, and baby/toddler show.
Photo entries will be exhibited on the DAS Facebook page and website. Each photo entry has a chance to win a prize in a random name draw. The contest is open to all ages.
Photo Categories:
Farm animal
Pet
Sunset
Dundalk Fall Fair
Fall colours
Landscape
Seascape
Someone or something you love
Dramatic sky or clouds
Photo you edited
The Baby & Toddler Show winner will win a wagon and one Colouring Contest winner will win a bike
Details and contest rules are posted on the DAS website.
Rocklyn
The Rocklyn Fall Fair will also go virtual this year with a showcase of all things agricultural plus winners picked from various photographic categories such as antiques, arts and crafts, pets, plants and more. The fair showcase began September 1 and runs until September 25 when results will be announced. There will also be a brain-freezing ice cream eating contest on that day.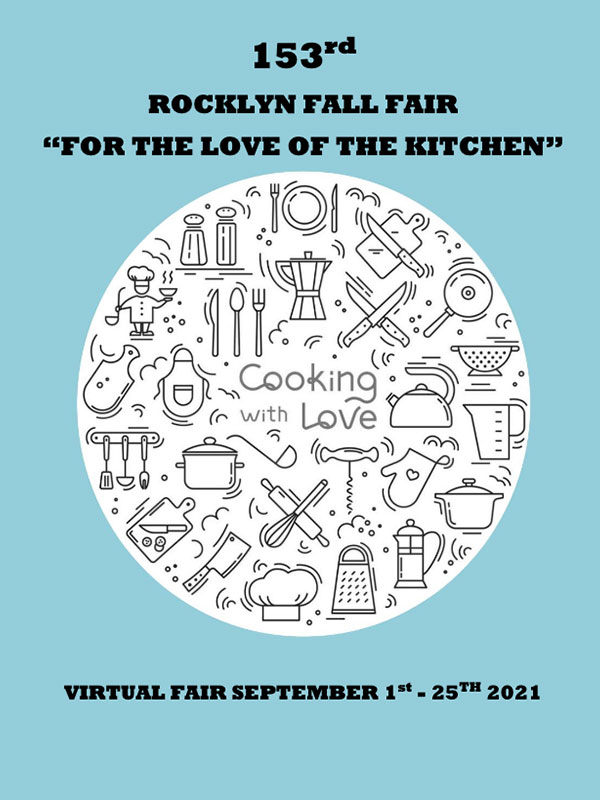 For a complete list of categories, events and sponsors, visit the 2021 Rocklyn Fall Fair Book.
Earlier, on July 24, the Rocklyn Agricultural Society successfully ran their second annual Roast Beef Drive-Thru Dinner.
---
At South Grey News, we endeavour to bring you truthful up-to-date local community news in a quick and easy-to-digest format that's free of political bias. We believe this service is more important today than ever before, as social media has given rise to misinformation, largely unchecked by big corporations who put profits ahead of their responsibilities.
South Grey News does not have the resources of a big corporation. We are a small, locally owned-and-operated organization. Research, analysis and physical attendance at public meetings and community events requires considerable effort. But contributions from readers and advertisers, however big or small, go a long way to helping us deliver positive, open and honest journalism for this community.
Please consider supporting South Grey News with a small donation and let us know that our efforts are appreciated. Thank you.