April 22, 2022
Erasing Erasure: The Intersection of History and Social Justice at Potter's Field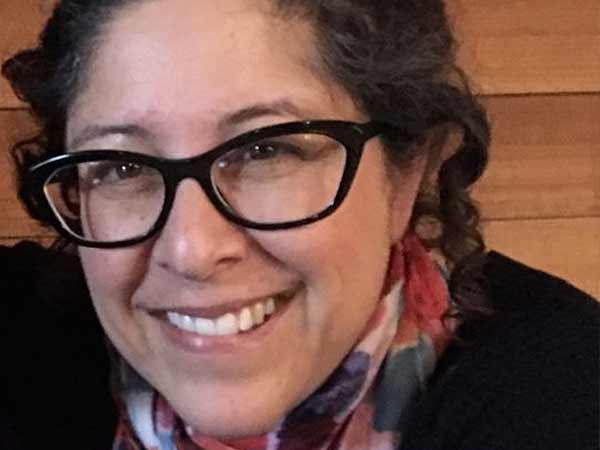 BY SOUTHGREY.CA STAFF — The 2022 Friends of the South Grey Museum Speaker Series got underway on Wednesday, April 20 with the first of eight scheduled events this year.
Local historian, Aly Boltman told the story of the three-year journey to create Potter's Field memorial monument at Greenwood Cemetery in Owen Sound. In her presentation entitled Erasing Erasure: The Intersection of History and Social Justice at Potter's Field, she explained the need to properly mark the indigent plot and how a community of volunteers rallied to support the project.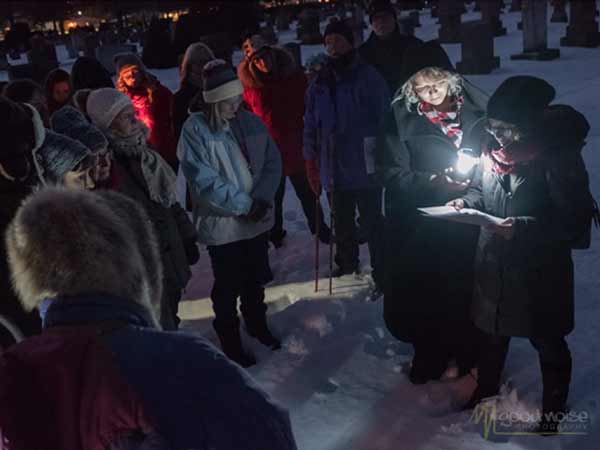 Photo: Good Noise Photography
Beginning in the dead-of-winter, on a candle-lit cemetery tour, Boltman worked to inform a small group about the poorly-marked burial grounds of more than a thousand marginalized citizens who died in the later half of the 19th century.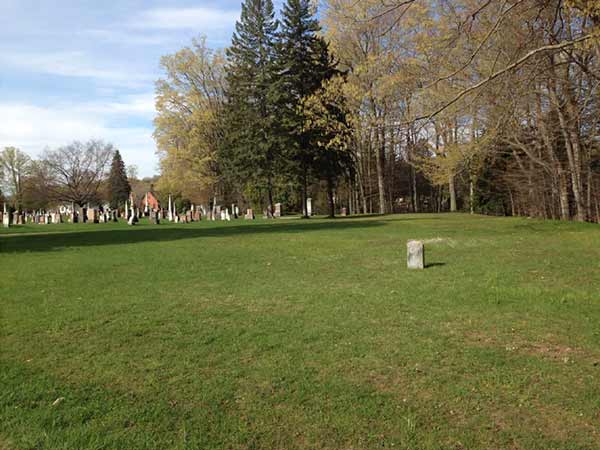 The Empty lawn where Potter's Field is located in Greenwood Cemetary.
Among the interred, a significant number of black settlers just one or two generations away from slavery, were buried — arrivals at the terminus of the Underground Railroad and their descendants. But the plot also contains the bodies of many unfortunate men, a number of women who died during childbirth and countless poor children, whose families didn't have the means to afford proper burial. Surprised by their lack of acknowledgement in a city that prides itself on its Black history, the Emancipation Festival and other social justice initiatives, Boltman expressed a need to fill the empty corner of the Greenwood Cemetary with something to honour their final resting place.
Unknowingly, her tour inspired others to join the cause, resulting in sufficient funding from a then-anonymous donor as well as the cooperation of the City of Owen Sound staff and Council. A steering committee was struck and the project to create a lasting memorial captivated many imaginations.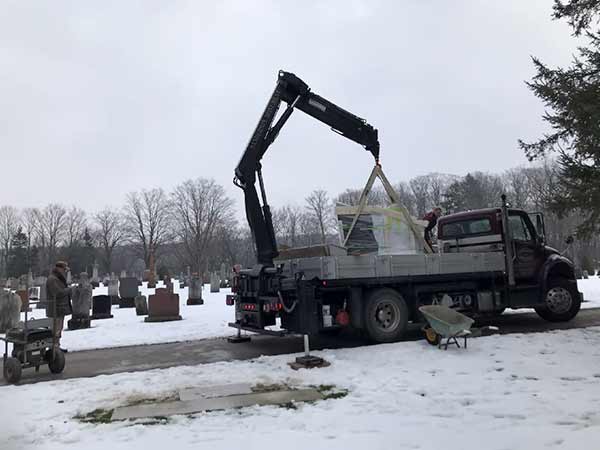 The Potter's Field monument was off-loaded and put into place on a cold winter day.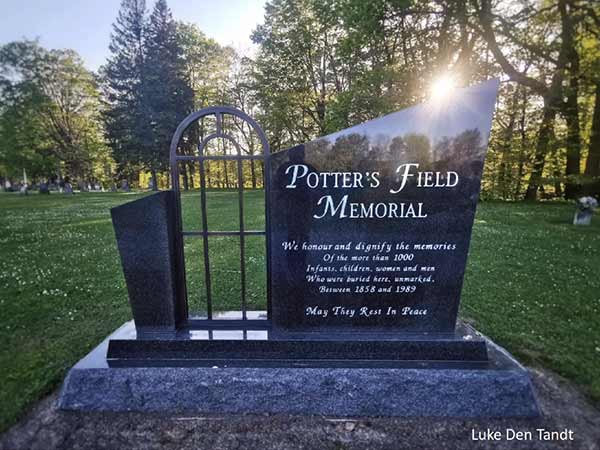 Photo: Luke Den Tandt
The final design is a sizeable structure measuring approximately 6 ft x 8 ft. Borrowing a design element from the Black History Cairn in Harrison Park, the monument includes an arch-top window form which symbolizes a passage — from life into death or from one time into another — but also provides a view through the structure to the plot behind it. The pointed top end of the form deliberately aims north.
Thanks to her initiative, Ms. Boltman was recently the recipient of the YMCA's Peace Medallion for her work leading the Potter's Field Memorial Steering Committee, resulting in the new Potter's Field Memorial at Greenwood Cemetery in Owen Sound, Ontario.
For more information about the people buried at Potter's Field, refer to these research links:
Grey Roots Lecture by Naomi Norquay: Who is buried at Potter's Field?
Ben Heywood McLeod film: As Is, Where Is

The 2022 Friends of the South Grey Museum Speaker Series continues with the next event on May 18 when Franco Mariotti presents The 'Giant' Whales of the Gulf of St. Lawrence.
For more information on the Speaker Series, visit the Friends of South Grey Museum website
---
At South Grey News, we endeavour to bring you truthful and factual, up-to-date local community news in a quick and easy-to-digest format that's free of political bias. We believe this service is more important today than ever before, as social media has given rise to misinformation, largely unchecked by big corporations who put profits ahead of their responsibilities.
South Grey News does not have the resources of a big corporation. We are a small, locally owned-and-operated organization. Research, analysis and physical attendance at public meetings and community events requires considerable effort. But contributions from readers and advertisers, however big or small, go a long way to helping us deliver positive, open and honest journalism for this community.
Please consider supporting South Grey News with a donation in lieu of a subscription fee and let us know that our efforts are appreciated. Thank you.