November 07, 2022
Employment Ontario program in Dundalk offers wide range of educational upgrades for free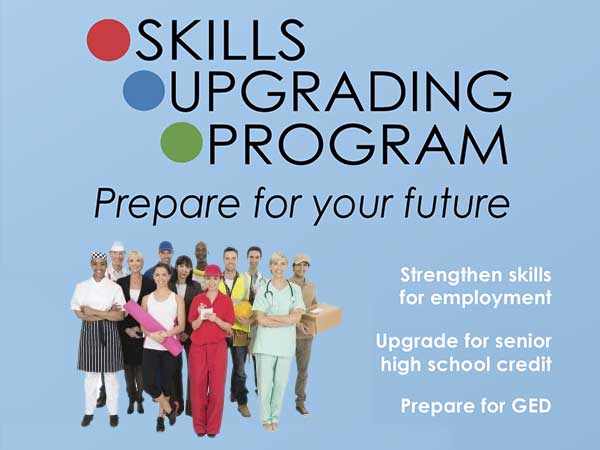 BY SOUTHGREY.CA STAFF — The Skills Upgrading Program is an Employment Ontario program funded in part by the Government of Canada and the Government of Ontario. It is designed to help people build their skills in reading and writing, to move on to employment, gain high school credits, or enrol in apprenticeship or post-secondary education such as college programs and courses.
Although the program originates from the Upper Grand District School Board, the continuing education organizers are coordinating with the Bluewater District School Board to help adult learners work towards completing their high school diplomas in either school system. The program also assists learners with independence goals of learning basic computers or furthering their essential skills for work.
The program runs from the beginning of September until the end of June with day and evening class times available in most locations across southwestern Ontario, with the closest access to the program in Dundalk. Flexible schedules are also promised to meet individual needs and goals.
The program is free for all learners 18 years-of-age and older who are not already registered in a secondary school. If English is a second language, learners must have a Canadian Language Benchmark of level 6 in speaking and listening, in order to attend the program. For those who are eligible, assistance with the costs of transportation and daycare is also available.
For more information, visit the Skills Upgrading Program website. Those interested in participating can email skillsupgradingprogram@ugconed.ca, call 519-836-7280 ext. 624 or text 226-821-2694.
---
At South Grey News, we endeavour to bring you truthful and factual, up-to-date local community news in a quick and easy-to-digest format that's free of political bias. We believe this service is more important today than ever before, as social media has given rise to misinformation, largely unchecked by big corporations who put profits ahead of their responsibilities.
South Grey News does not have the resources of a big corporation. We are a small, locally owned-and-operated organization. Research, analysis and physical attendance at public meetings and community events requires considerable effort. But contributions from readers and advertisers, however big or small, go a long way to helping us deliver positive, open and honest journalism for this community.
Please consider supporting South Grey News with a donation in lieu of a subscription fee and let us know that our efforts are appreciated. Thank you.