September 08, 2022
Dundalk resident wins $96,049 with lotto 6/49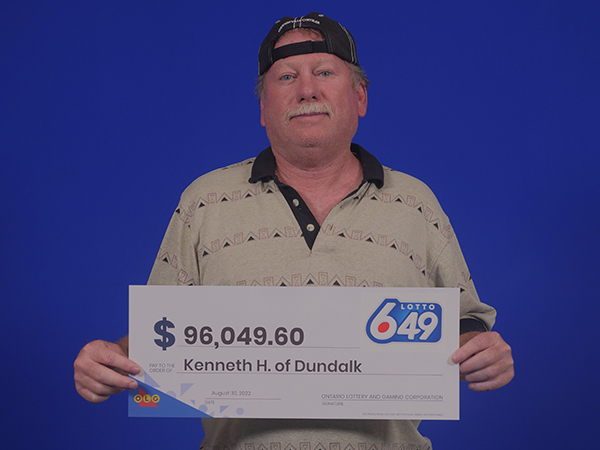 Kenneth (Gary) Horsman of Dundalk has that "6/49 feeling" after winning a LOTTO 6/49 second prize worth $96,047.60 in the April 13, 2022 LOTTO 6/49 draw. He also won $2 on his ENCORE selection, bringing his total winnings to $96,049.60!
Gary says he has been playing the lottery weekly for the past three years. "This is my first big win," the heavy equipment operator shared while at the OLG Prize Centre in Toronto to pick up his winnings.
"I was sitting at my neighbours chatting when one of my friends pulled out their phone to check their ticket on the OLG App. I had a bunch of tickets in my truck, so we checked them and discovered the win. Everyone had to scan it themselves to believe it," he laughed. "They're all very happy for me."
Gary, 58, plans to invest his win for retirement. "This win is going to be my golden goose egg."
"I plan to host several bonfires and barbecues for my friends. I'm going to feed the neighbourhood," he concluded.
The winning ticket was purchased at Ultramar Express Mart on Main Street in Shelburne.
---
At South Grey News, we endeavour to bring you truthful and factual, up-to-date local community news in a quick and easy-to-digest format that's free of political bias. We believe this service is more important today than ever before, as social media has given rise to misinformation, largely unchecked by big corporations who put profits ahead of their responsibilities.
South Grey News does not have the resources of a big corporation. We are a small, locally owned-and-operated organization. Research, analysis and physical attendance at public meetings and community events requires considerable effort. But contributions from readers and advertisers, however big or small, go a long way to helping us deliver positive, open and honest journalism for this community.
Please consider supporting South Grey News with a donation in lieu of a subscription fee and let us know that our efforts are appreciated. Thank you.