December 01, 2022
Dundalk Agricultural Society 12 Days of Christmas Online Auction begins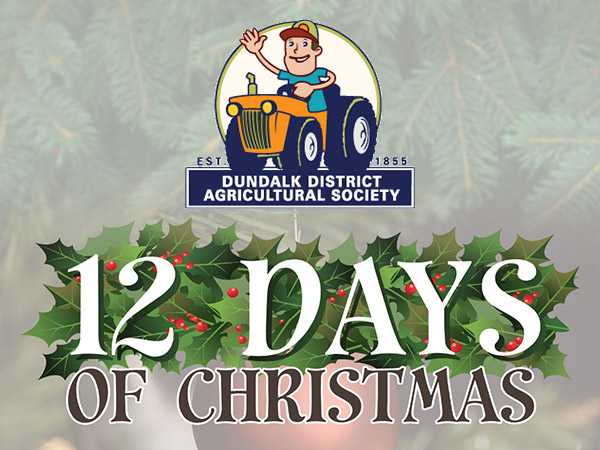 BY SOUTHGREY.CA STAFF — The Dundalk Agricultural Society has begun the countdown on their 12 Days of Christmas online auction. Hoping to spread a little Christmas cheer this holiday season, while offering great deals on everything from treats to home décor, and car maintenance to house decorations. All money raised during the auction will support all the community events, including the fall fair that the society organizes.
Items have been generously donated by the Ag Society Fall Fair board family, sponsors and community. The auction items are posted on the Dundalk Agricultural Society Facebook page. Visitors should return every day, as new items continually come up daily.
The auction will run until December 12 at 9 pm. There are some rules around the bidding process:
Keep bids to a dollar amount for increments. Do not bid by using cents (.50) to up a bid. Your bid will be disqualified and next closest bid will count.
A Facebook post will be posted to note the end of the auction. Bids time-stamped at 9 pm or closest to that time will have the winning bid. Each winner will be private messaged with instructions on how to pick up your prize with social distancing measures in place.
Check the photos section of our Facebook event page to see each items as we will be adding items daily. You can click on each photo and add your bid under each.
Silent bids can be submitted through the fair messenger. They will be added onto the page under the Dundalk Agricultural Society account with the amount and initials of the bidder to keep it fair and straight.
Be patient as items are added daily. There are numerous items to post but all will eventually be up on the page.
Items can include, but are not limited to baking, vehicle maintenance, quilted or knit items, fair experiences etc.
All bids must be on the original photo — not shares — otherwise admins can not see the bids!
Happy Bidding!!! Start here.

---
At South Grey News, we endeavour to bring you truthful and factual, up-to-date local community news in a quick and easy-to-digest format that's free of political bias. We believe this service is more important today than ever before, as social media has given rise to misinformation, largely unchecked by big corporations who put profits ahead of their responsibilities.
South Grey News does not have the resources of a big corporation. We are a small, locally owned-and-operated organization. Research, analysis and physical attendance at public meetings and community events requires considerable effort. But contributions from readers and advertisers, however big or small, go a long way to helping us deliver positive, open and honest journalism for this community.
Please consider supporting South Grey News with a donation in lieu of a subscription fee and let us know that our efforts are appreciated. Thank you.