September 05, 2023
Community Safety and Well-Being Planning launches new website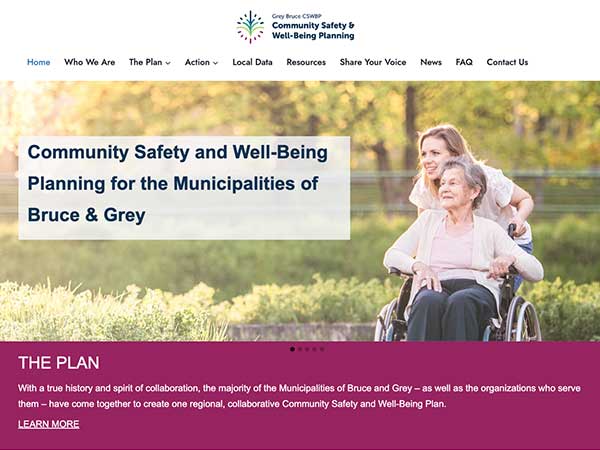 Community Safety and Well-Being Planning (CSWBP) has launched a new website which will help provide the Grey-Bruce community with information concerning current areas of priority, ongoing projects, and opportunities for people to become involved.
The goal of CSWBP is to achieve sustainable communities where everyone is safe, has a sense of belonging and opportunities to participate, and where individuals and families can meet their needs for education, healthcare, food, housing, income, and social and cultural expression.

The ongoing work of CSWBP is supported by an advisory committee representing over 70 partners from across Bruce and Grey who are working together to address crime prevention by investing in social development, prevention and risk intervention. This upstream preventative model focuses on protecting individuals against risk factors that may make them vulnerable to crime and victimization.
The CSWBP website includes information about the history and goals of the planning process, the provincial framework and background of this work, and local resources focused on areas of priority. The updated website will make it easier for everyone to find information and learn about new developments as this work progresses. Regular updates will be shared on the website, and there is a call to action where anyone can reach out with a question, refer an issue of concern, or become more involved by participating in an Action Table.
Expanding our collective understanding of crime and crime prevention is an important part of this work. This updated website will continue to provide resources that will help identify where we need to advocate, build capacity, or shift approaches to meet identified needs. A collaborative, preventative approach to crime prevention encourages everyone in our community to work together as we address issues that are important to the safety and well-being of the residents of Bruce and Grey.
One of the goals of CSWBP is ensuring a coordinated approach that leverages existing work and expertise, avoids duplication, and identifies opportunities for further action. As we work together to ensure our communities meet the needs of safety and belonging for everyone who calls this region home, they always welcome ideas, suggestions, and feedback from members of the community.

If you have an issue you would like to see addressed as part of this planning framework, please contact Rob Hatten, Communications Manager for Grey County or Adam Ferguson, Corporate Communications Specialist for the Corporation of the County of Bruce.
---
At South Grey News, we endeavour to bring you truthful and factual, up-to-date local community news in a quick and easy-to-digest format that's free of political bias. We believe this service is more important today than ever before, as social media has given rise to misinformation, largely unchecked by big corporations who put profits ahead of their responsibilities.
South Grey News does not have the resources of a big corporation. We are a small, locally owned-and-operated organization. Research, analysis and physical attendance at public meetings and community events requires considerable effort. But contributions from readers and advertisers, however big or small, go a long way to helping us deliver positive, open and honest journalism for this community.
Please consider supporting South Grey News with a donation in lieu of a subscription fee and let us know that our efforts are appreciated. Thank you.