September 28, 2021
Community gives a big thumbs-down to proposed Grey Highlands sign bylaw before it even reaches public scrutiny phase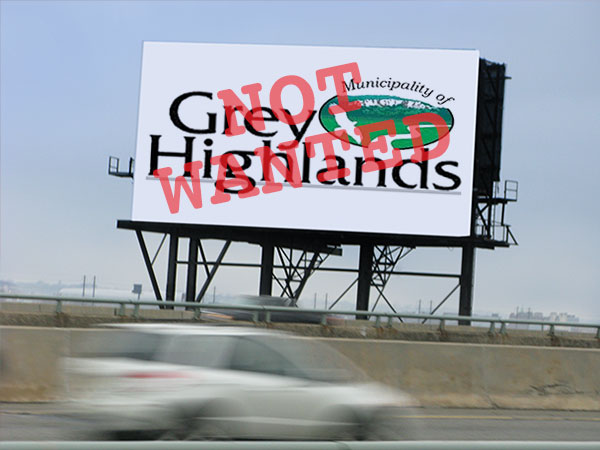 BY SOUTHGREY.CA STAFF — So far, reaction to a newly proposed sign bylaw in the Municipality of Grey Highlands has been fierce and overwhelmingly negative.
In a Committee of the Whole meeting held on September 22, Grey Highlands Councillors reviewed the proposed sign bylaw presented by Director of Building and Planning Services, Michael Benner. The document regulates much-maligned billboards and digital displays but further restricts awning, canopy, facia and window signs, construction signs, lawn signs, portable A-frames, directional signs and more. The bylaw contains 48 pages of meticulous details concerning location, size, colour and design restrictions, going so far as to dictate the height of letters displayed.
If passed, the all-encompassing bylaw would also monetize signs within the municipality. According to the bylaw, sign permits and minor variance application fees will cost the public up to $100 per sign. In addition, a Certificate of Insurance in the amount of $2 million liability, adding the Municipality as a named insured, may be required before installation. Temporary and portable signs are not exempt.
"This 48-page proposed bylaw is the most ridiculous thing I think I've ever read," said Erin Boynton Seeley, Real Estate Broker at Erin Boynton-Seeley Summit Group, Real Estate in Flesherton. "Why do we need to be told by someone who is not an expert, what our advertising signs or business name signs can or can't look like?" She added.
Seeley believes the sign bylaw also reaches beyond business applications. "How about having a yard sale or your child's wedding with arrow signs or their bridal shower with a sign out front so people know where to go? You are now affected by this ridiculous bylaw," She exclaimed.
"The proposed new bylaw is outrageous, and overly restrictive," said a communication mailed out by Heiner Philipp, president and owner of Southwinds Engineering Inc. and Internet provider Rural Net, to approximately 3,300 local subscribers on September 27. "All responses I have received thus far are opposed to the bylaw," he said after receiving 30-40 replies in less than 24 hours.
"The signs you put up for a garage sale must now meet their standards, and have location and date written on the sign. With the limited size of the sign, and required information I do not think it could be even read from a car in motion," reads the Rural Net criticism.
"Stupid," "overreach" and "beyond ridiculous" were just a few of the words Shawn Ankenmann, owner of Highland Grounds Coffee Shop in downtown Flesherton, could speak when asked about the impact of the bylaw on his small retail business. "There is no way you will convince me that this municipality is business friendly," he added. "This is so beyond common sense, it's ridiculous."
"This by-law will have a heavy impact on how you promote your business," said Michelle Patey, Grey Highlands Chamber of Commerce Administrator who had some advice for Chamber members. "Please do not ignore this opportunity to have your voice heard about your community," she implored, while explaining that "the Chamber's own tourism sign would be off-side."
Before directing staff to move forward with public consultation, the Committee of the Whole brought forward and discussed 37 proposed amendments to the Michael Benner document. Staff is adjusting the proposed bylaw and will bring it back to Council for review. Following what could be further discussion and amendments, the proposed bylaw will be open for public feedback. Judging by the early response, there will be few proponents of the new regulations.
Dave Meslin is someone who advocates for appropriate sign bylaws in a community. Part-time Grey Highlands resident and author of Teardown: Rebuilding Democracy from the Ground Up, he devoted an entire chapter in his book to the assault on our visual environment by billboards, street-level advertising and the like. "Commercial billboards — especially bright LED signs — can ruin the scenic landscape of an area," he warns. "As this area becomes more popular, traffic and tourism will increase and the Outdoor Advertising companies will start to pay attention. Highway 26, for example, is littered with rural billboards that are targeting Blue Mountain visitors."
"Sign bylaws are really important," he said when asked to comment on the Grey Highlands initiative. "The trick is to focus on the details. A good sign bylaw allows all small/local business to advertise their services, but keeps the big advertisers in check." He recommends a ban on all full-size billboards, and all outdoor digital LED screens. But wants to leave all local signs, for restaurants, food trucks, eggs stands, etc. alone.
Director of Building and Planning Services Michael Benner explained the process that the municipality followed. "Staff fashioned the draft sign by-law following examples from existing neighbouring municipal by-laws. In doing so, staff looked for consistent regulations amongst the other by-laws and incorporated similar regulations in the initial draft," he said. "Council has reviewed the draft by-law through the Committee of the Whole process."
---
At South Grey News, we endeavour to bring you truthful up-to-date local community news in a quick and easy-to-digest format that's free of political bias. We believe this service is more important today than ever before, as social media has given rise to misinformation, largely unchecked by big corporations who put profits ahead of their responsibilities.
South Grey News does not have the resources of a big corporation. We are a small, locally owned-and-operated organization. Research, analysis and physical attendance at public meetings and community events requires considerable effort. But contributions from readers and advertisers, however big or small, go a long way to helping us deliver positive, open and honest journalism for this community.
Please consider supporting South Grey News with a small donation and let us know that our efforts are appreciated. Thank you.