May 08, 2023
Community Building Forum hatches new projects, highlights synergies between Grey Highlands volunteer groups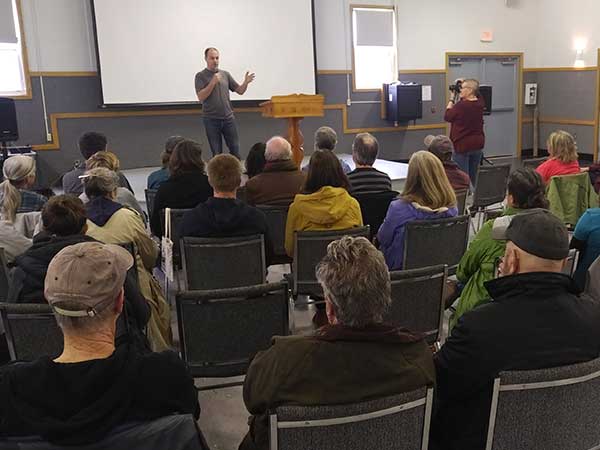 BY SOUTHGREY.CA STAFF — The Grey Highlands Municipal League hosted a two hour session at the Kinplex in Flesherton on Sunday, May 7 where approximately a dozen local grass-roots organizations presented themselves and explained their activities.
The event highlighted how local residents can make a difference in their municipality. For many, it was an introduction to the various community organizations active in Grey Highlands communities, who often work tirelessly behind-the-scenes to improve or maintain facilities and lobby for the concerns of their members. "It's amazing how many volunteer groups we have in Grey Highlands," said Dave Meslin, chief organizer and host of the meeting.
The event also attempted to facilitate the creation a handful of exciting new projects. Breaking off into groups, participants strategized about how to move six new community project ideas forward and spurred future get-togethers to build on what was discussed.
Attended by approximately 40 people, the event was a successful community-building exercise, hatching several initiatives and showed that volunteering is strong in Grey Highlands.
---
At South Grey News, we endeavour to bring you truthful and factual, up-to-date local community news in a quick and easy-to-digest format that's free of political bias. We believe this service is more important today than ever before, as social media has given rise to misinformation, largely unchecked by big corporations who put profits ahead of their responsibilities.
South Grey News does not have the resources of a big corporation. We are a small, locally owned-and-operated organization. Research, analysis and physical attendance at public meetings and community events requires considerable effort. But contributions from readers and advertisers, however big or small, go a long way to helping us deliver positive, open and honest journalism for this community.
Please consider supporting South Grey News with a donation in lieu of a subscription fee and let us know that our efforts are appreciated. Thank you.