October 31, 2023
Grey County climate bridge-builder to speak at Kimberley Hall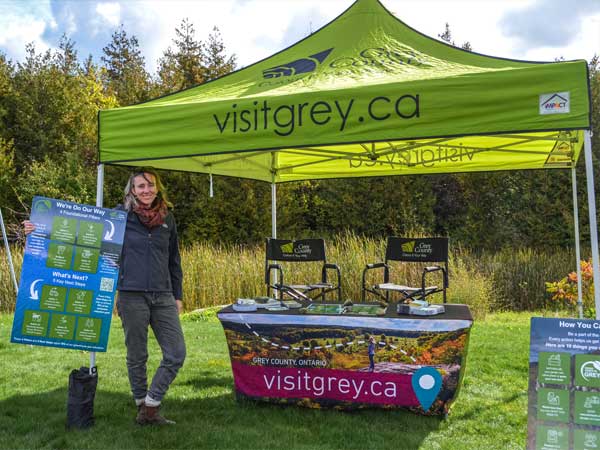 BY JOHN BUTLER — Megan Myles wants to have a conversation with you.
Megan, who has been Climate Change Outreach and Engagement Coordinator with Grey County since late July of this year, will be making a presentation on November 8 in Kimberley that she hopes you will be part of that conversation.
Entitled Going Green in Grey: Grey County's Climate Action Plan, her presentation will begin at 2:00 pm on November 8 in the Kimberley Community Hall, 235309 Grey Road 13 in Kimberley (doors open at 1:30 pm). The free event, open to everyone, is sponsored by the Grey Highlands Probus Club in cooperation with the Kimberley Community Association, the Grey Highlands Public Library and the Grey Highlands Museum.
Megan has deep roots in this part of Ontario. She is a member of the fifth generation of a Bruce County family from the Lion's Head area of the Bruce Peninsula. She credits her grandparents for instilling in her a passion for community engagement. Her grandfather, Sherman Myles, was minister to congregations in Bruce County, and he and his wife Geneva hosted a faith-based program on an Owen Sound radio station for 50 years. Sherman and Geneva also founded Golden Dawn Senior Citizens' Home, Lion's Head's long term care home and senior apartments.
Megan's interest in the environment was sparked by her early experiences growing up in a rural area north of Lion's Head. She says her elementary and high school teachers and programs nurtured that interest. When she was a teenager, she and three others established a community garden on the grounds of Lion's Head's seniors' home, and in Grade 11 she established the Lion's Head Farmers' Market. "Creating the market was one of my first big community projects, and inevitably involved overcoming obstacles with approvals," says Megan with a smile. In high school, she was also a student board member of the Bruce Peninsula Environment Group and the Bruce Peninsula Biosphere Association.
An early brush with local politics came when, as a thirteen year old, she wrote a letter to her local council urging them to let her operate an ice cream cart in the town (but she never did become an ice cream hawker due to insurance costs) A summer job as a Jill-of-all-trades with her municipality showed her the nuts and bolts of local government, and left her with a profound belief in the power of local government to change things. She went on to be elected in 2018 for a term as councillor for the Municipality of Northern Bruce Peninsula. "Rural towns don't have the resources of larger places," says Megan, "so we have to rely on creative ideas, and building bridges and connections to get things done." She is also a deep believer in what can be accomplished when the private sector, community organizations, and governments work together. "It's a powerful triangle for change" she says. A passionate advocate for lifelong learning, Megan is completing her Master of Science degree in rural planning and development at the University of Guelph, where she is doing research on municipal-indigenous consultation in the Saugeen Ojibway Nation's traditional territory.
Megan recognizes that climate change isn't top of mind for everyone, particularly since the worst effects of climate imbalance have not yet hit this corner of the world. But it's on its way, she says, and if we act now, we can prevent or soften its worst effects. "The Earth's atmosphere is like an overflowing bathtub, overflowing with greenhouse gases. The bathtub can't hold any more, so we need to collectively turn off the tap, and mop up the water on the floor." But to deal with both the running tap and the overflow, says Megan, requires planning, funds to implement the plan, and making connections with residents, businesses, and community partners. Community action is part of the planning and the plan. In short, she says, we must understand, then act.
As part of the County of Grey's three-person climate action team, Megan is currently crafting the County's climate outreach and engagement strategy, and she sees her presentation in Kimberley on November 8 as a conversation among equals, not a lecture from on high. Folks are free to read the County's Climate Action Plan in advance of her presentation (you can find it at https://www.grey.ca/government/climate-action), but reading it isn't a precondition for engaging with her on November 8. She welcomes comments and questions at any point before, during and after her presentation. She can be reached at Megan.Myles@grey.ca .
"I'm not just giving a speech in Kimberley," says Megan, "It's a community conversation about what we can do together."
And that's exactly what she loves to create.
---
At South Grey News, we endeavour to bring you truthful and factual, up-to-date local community news in a quick and easy-to-digest format that's free of political bias. We believe this service is more important today than ever before, as social media has given rise to misinformation, largely unchecked by big corporations who put profits ahead of their responsibilities.
South Grey News does not have the resources of a big corporation. We are a small, locally owned-and-operated organization. Research, analysis and physical attendance at public meetings and community events requires considerable effort. But contributions from readers and advertisers, however big or small, go a long way to helping us deliver positive, open and honest journalism for this community.
Please consider supporting South Grey News with a donation in lieu of a subscription fee and let us know that our efforts are appreciated. Thank you.