November 15, 2022
Christmas in southern Grey County: on your marks, get set, go!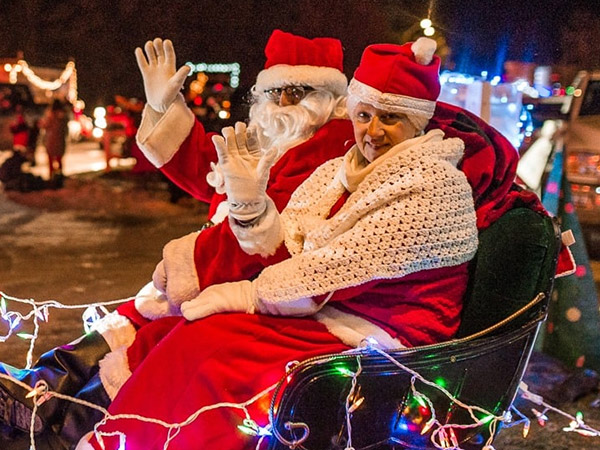 BY SOUTHGREY.CA STAFF — The Christmas season is underway in southern Grey County. Here is a collection of events to put you in the holiday mood over the next month or so...
November 18-20: Christmas Joy
Friday, November 18 at 7:30 pm, Saturday November 19 at 2:00 and 7:30 pm and Sunday November 20 at 2:00 pm in the Hanover Civic Theatre, 433 10th Ave, Hanover. Join the Grey Bruce Singers as they bring you a new season of choral singing with a new team of director Chris and accompanist Norm for Christmas Joy!
Tickets are available at www.greybrucesingers.ca. Ticket prices: Adults $20.00 and children under 12 $5.00.
November 25: Markdale Santa Claus Parade/Moonlight Madness
The Santa Claus parade begins at 6:00 pm. Enjoy the many floats, marching bands and entertainers as they progress through town with downtown tree lighting, Markdale Rotary BBQ and Santa meet and greet to follow.
Enjoy hot chocolate, carollers, a kids' craft, storefronts decorated for the holidays and much more while you shop into the night at your favourite Markdale businesses and a special vendor market.
November 26: Flesherton and District Christmas Farmers' Market
Flesherton Kinplex, 2 Highland Drive, Flesherton. Come one! Come all! The market will run from 9am to 2pm with lots of great gift ideas, local treats and handmade items with hot food and sandwiches available. Free admission.
November 26: Hanley Institute Youth Christmas Market
Hanley Institute, 13 Spring Street, Flesherton. The Hanley Institute, a non-profit community partner that develops and implements unique ways of extending opportunities and removing barriers for youth in Grey County will hold their Annual Youth Christmas Market from 10 - 2 pm.
November 26: Christmas Farmers and Makers Market
Kimber Valley Farms, 236087 Grey Road 13, Kimberley. Experience our 3rd Annual Christmas Market with our vibrant community of local farmers and makers.
Kick start your Christmas and holiday shopping while supporting 25+ local farmers and makers. Enjoy some yummy baked goods and other delicious food. See Kimber Farms flock of Icelandic Sheep and take a selfie on the farm amid the sounds of the holiday season.
Toiletries to be distributed to those in need this holiday season may be donated to Beaver Valley Outreach.
November 26: Very Merry Market
11 am - 4 pm at Devonwood Farm, 215588 Concession Road 4, Williamsford. Come shop 25 amazing local businesses in the absolutely stunning Devonwood barn.
Experience fire and s'mores, a beautiful property to roam, swag bags, grand prize, a visit from Santa and so much more.
December 3: Dundalk Santa Claus Parade
Santa comes to town on December 3 from 6 pm - 8 pm. The magical night will host a Drive-Thru Parade — free community fun for all. Taking place at the Dundalk Arena, visitors will stay warm in their cars as they drive by the many floats and displays. Kids will enjoy treats and giveaways. The annual house decorating contest winners will be announced. Donations to the Dundalk Food Bank accepted.
December 4: Meet Santa in Dundalk
Santa Claus is coming to town on December 4 and he will be stopping by the Dundalk Fire Hall. Bring your camera and get a picture with Santa.
Are you writing Santa a letter? Hand deliver it to the jolly man himself from 11 am-3 pm at the Dundalk Fire Hall.
Did you miss their annual toy drive? The Fire Department will be collecting new, unopened toys until December 4 as well!
December 9-10: Christkindl Market
6th annual (except for 2020) Christkindl Market located east of Durham and north of Eckhart's Shell station (corner of Grey Road 4 and Concession 2) on Concession 2 — a fabulous spread of traditional European sights, smells and fun. Proceeds go to Saugeen Academy bursary fund.
There are activities for the children, music, artisan vendors and amazing European style foods and baking. Walk the candlelit pathways and warm up in the stable with hot apple cider. Buy tickets to enjoy "Messiah amongst the cows" (space limited) starting at 8pm. Tickets to the Reading gets you into the Market for free.
All children 18 and under have free entry into the Market, but must buy ticket for "Messiah amongst the cows." Purchase a Patron Mug for a lifetime entry into the market for only $100. Tickets also available at the door for $25. Friday 4pm-9pm and New extended hours on Saturday 2 pm - 9 pm.
For more information, visit www.christkindlfarm.com
December 10: Holstein Santa Claus Parade
Come down to the village of Holstein on December 10 for a magical non-motorized Christmas parade. The parade will start at 123273 Southgate Rd 12 (The Holstein Depot) and will end at 392141 Grey rd 109 (Egremont Community School). The parade will start at 1 pm and trail down the Main Street of Holstein. Spectators are advised that cars parked later than 12:30 pm will not be able to move until the parade has returned back down the Main Street for the safety of all participants. Dundalk and Mount Forest Fire Departments will assist with road control and they will also be collecting donations for the parade as well. Santa will be at the Egremont Optimist building after the parade so head up there to get a picture with Santa and a goody bag too!
December 17: Chatsworth Santa Claus Parade
The parade and associated events will take over the streets of Chatsworth from 8 am - 4:30. The parade theme for 2022 is 'A Disney Christmas.' Get out your Mickey Mouse ears and participate!
---
At South Grey News, we endeavour to bring you truthful and factual, up-to-date local community news in a quick and easy-to-digest format that's free of political bias. We believe this service is more important today than ever before, as social media has given rise to misinformation, largely unchecked by big corporations who put profits ahead of their responsibilities.
South Grey News does not have the resources of a big corporation. We are a small, locally owned-and-operated organization. Research, analysis and physical attendance at public meetings and community events requires considerable effort. But contributions from readers and advertisers, however big or small, go a long way to helping us deliver positive, open and honest journalism for this community.
Please consider supporting South Grey News with a donation in lieu of a subscription fee and let us know that our efforts are appreciated. Thank you.