October 05, 2023
Centre Grey Health Services Foundation raises over $215k with inaugural Grey Highlands Gran Fondo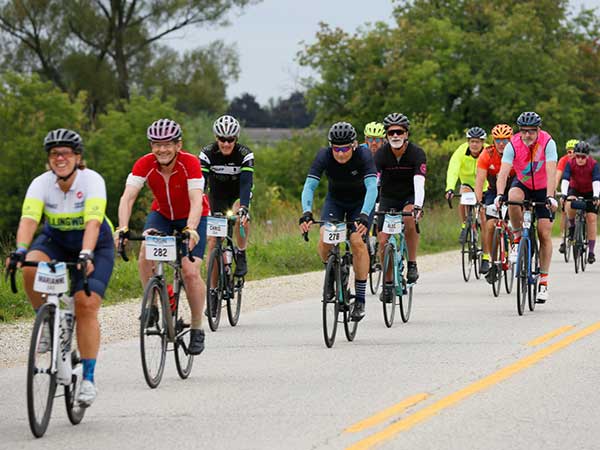 Centre Grey Health Services Foundation is thrilled with the results of the Grey Highlands Gran Fondo cycling event which they hosted in Markdale on September 10 and from the feedback, the cyclists were equally pleased with the day. Cyclists from the 27k, 70k and 135k routes were taken with the incredible scenery and energetic flow of the event. "I'll definitely be back next year, and I'll bring my team" said Ed Makarchuk, cyclist and sponsor. "What a great event to be associated with. This will make a difference to the hospital" stated Steve Croft, member of the JD Smith Logistics Solutions cycling team and presenting sponsor.
Almost 300 cyclists, close to 100 volunteers and a host of incredible sponsors made the day a huge success. The event raised well over $215,000! 100% of the proceeds will go to the new Markdale Hospital for the purchase of two Pharmaceutical Automated Dispensing Units.
"A special Thank you to everyone who cycled, volunteered, came out to cheer, sponsored the event or sponsored a rider. The results of this event will have a lasting impact on local health care" stated Darlene Lamberti, Executive Director of Centre Grey Health Services Foundation.
This was the first Grey Highlands Gran Fondo. Centre Grey Health Services Foundation plans to host this event annually.
---
At South Grey News, we endeavour to bring you truthful and factual, up-to-date local community news in a quick and easy-to-digest format that's free of political bias. We believe this service is more important today than ever before, as social media has given rise to misinformation, largely unchecked by big corporations who put profits ahead of their responsibilities.
South Grey News does not have the resources of a big corporation. We are a small, locally owned-and-operated organization. Research, analysis and physical attendance at public meetings and community events requires considerable effort. But contributions from readers and advertisers, however big or small, go a long way to helping us deliver positive, open and honest journalism for this community.
Please consider supporting South Grey News with a donation in lieu of a subscription fee and let us know that our efforts are appreciated. Thank you.