July 05, 2022
Canola fields may be an irresistible flower meadow to some but is in fact a valuable crop to farmers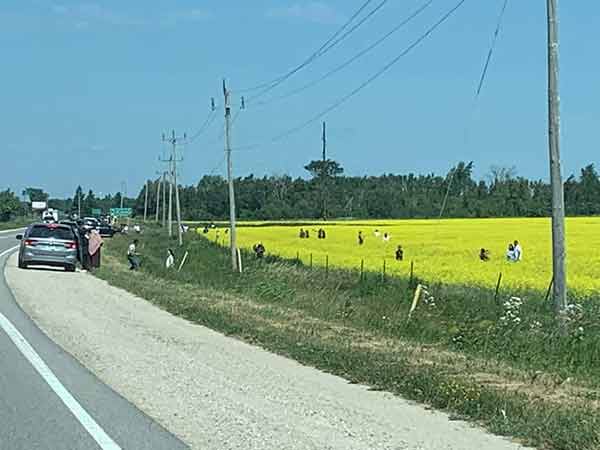 Photo: OPP Central Region Twitter account
BY SOUTHGREY.CA STAFF — OPP are warning everyone to resist the urge to stop and take selfies in canola fields or any other field as seen on Hwy 10 south of Dundalk on the Canada Day long weekend. Many cars were pulled over on the side of the road and people were entering farmers' fields to take photos. They may be unaware that this is a farmer's valuable crop. When a crop is trampled, it can't be harvested and results in profit loss.
People seemingly are seeking out canola fields in which to take photos and posting them on social media. Let's face it, canola fields are beautiful when in bloom, however entering a farmer's field is trespassing and a chargeable offence. You must have the property owners' permission to enter fields. No trespassing signs do not need to be posted on a field for it to be an offence.
Fines for trespassing could be as high as $10,000.
Destruction of property is also a criminal act and the perpetrator could be charged with mischief.
OPP advise you to call the Provincial Communications Centre at 1-888-310-1122 right away if you see someone trespassing or damaging property.
---
At South Grey News, we endeavour to bring you truthful and factual, up-to-date local community news in a quick and easy-to-digest format that's free of political bias. We believe this service is more important today than ever before, as social media has given rise to misinformation, largely unchecked by big corporations who put profits ahead of their responsibilities.
South Grey News does not have the resources of a big corporation. We are a small, locally owned-and-operated organization. Research, analysis and physical attendance at public meetings and community events requires considerable effort. But contributions from readers and advertisers, however big or small, go a long way to helping us deliver positive, open and honest journalism for this community.
Please consider supporting South Grey News with a donation in lieu of a subscription fee and let us know that our efforts are appreciated. Thank you.