July 06, 2022
Canada Day Breakfast a huge success
BY THE FRIENDS OF SOUTH GREY MUSEUM — Organizers of the recent Canada Day breakfast in Flesherton were delighted to play host to an estimated attendance of 150 adults and children. Visitors to the Kinplex breakfast site were in good form and there were many signs of their pride in being Canadians. Welcoming those attending were members of the Friends of the South Grey Museum, with the added presence of museum board member Emmett Ferguson, and museum curator Peter Whitehead.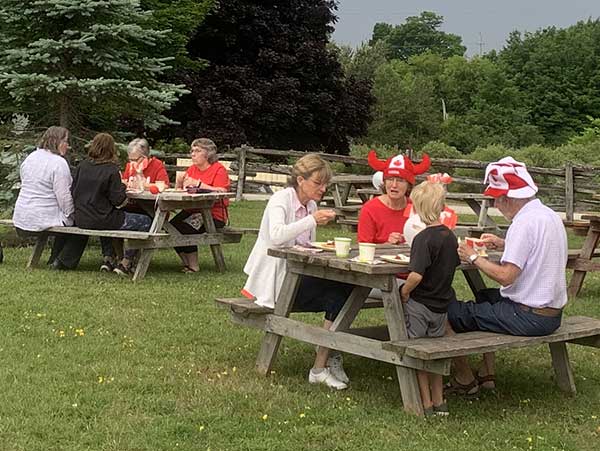 The large turnout, though mainly from Flesherton, Markdale, Eugenia, Priceville, and Ceylon, was expanded throughout the morning when visitors from more distant centres arrived — one fellow having driven up from Brampton to join in the festivities. Cooperation from the Municipality of Grey Highlands had made possible a grouping of picnic tables, enabling some of the early birds to eat outside before showers arrived. But those attending largely opted to enjoy their breakfast indoors at tables with colourful centrepieces sporting a cluster of Canadian flags. The convivial tone of the morning was obvious and celebrants simply beamed with delight, as once again they were part of a large sociable gathering, even when all waffles and all strawberries had been consumed.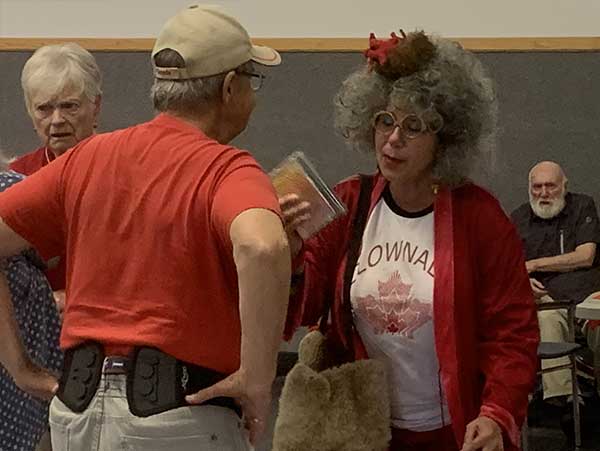 In attendance before the morning came to a close, were Mayor Paul McQueen and his wife Cindy; Councillor Dane Nielsen and his family; and Councillor Tom Allwood. A bonus to the 2022 Canada Day festivities was the participation of Melanie Rosen of Kimberley. Ms. Rosen, a former therapeutic clown practitioner previously associated with Toronto's Hospital for Sick Children, was a hit with visitors and residents alike. The Friends are already looking forward to next year and by greatly increasing their purchase of waffles and berries, they expect to meet the needs of an even bigger crowd of Canada Day 2023 celebrants.
---
At South Grey News, we endeavour to bring you truthful and factual, up-to-date local community news in a quick and easy-to-digest format that's free of political bias. We believe this service is more important today than ever before, as social media has given rise to misinformation, largely unchecked by big corporations who put profits ahead of their responsibilities.
South Grey News does not have the resources of a big corporation. We are a small, locally owned-and-operated organization. Research, analysis and physical attendance at public meetings and community events requires considerable effort. But contributions from readers and advertisers, however big or small, go a long way to helping us deliver positive, open and honest journalism for this community.
Please consider supporting South Grey News with a donation in lieu of a subscription fee and let us know that our efforts are appreciated. Thank you.