August 22, 2023
Camp McGovern puts a $90k OTF grant to work for its future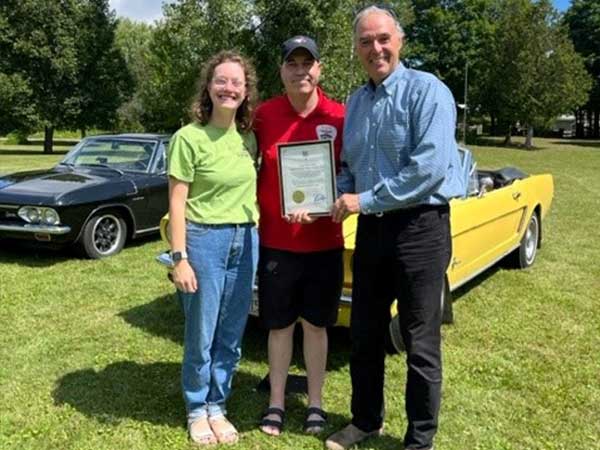 Photo left to right: Camp Director Trudi Axtmann, President Fil Mendes and MPP Rick Byers.
On Saturday, August 12, MPP Rick Byers met with representatives from Camp McGovern in Elmwood to hear how the Camp's $90,000 Resilient Communities Fund grant from the Ontario Trillium Foundation will make a difference. The grant, awarded this spring, is being used to hire a full-time Executive Director to focus on long term strategic planning related to operations and fundraising.

"Congratulations to Camp McGovern on this well-deserved Ontario Trillium Foundation Grant. Thank you to everyone for working in serving underprivileged youth from the Grey-Bruce area and beyond — you are making a big difference!" Said MPP Rick Byers.
For over 50 years, less fortunate children have enjoyed an overnight summer camping experience sponsored by Camp McGovern. For almost half of that time, the 120-acre camp has been located on the banks of the beautiful Saugeen River in Grey County.
Camp McGovern is run by an all-volunteer board of directors who oversee all aspects of the camp's operation. During the last three years of no campers, the camp completed several upgrades with the support of many volunteers from local communities. During that time, the position of Executive Director was part-time and voluntary, which limited the off-season activities that are so crucial to a successful summer season. In the Fall of 2022, the camp's board voted to hire a full-time Executive Director and after an extensive search, Trudi Axtmann was hired to that position. She immediately put her past experiences to work, and Camp McGovern is delighted to be the recipient of this grant and the benefits it provides.
The Ontario Trillium Foundation (OTF), an agency of the Government of Ontario, and one of Canada's leading granting foundations celebrates 40 years of grant-making in Ontario and making a lasting impact in communities. Last year, OTF invested over $110M into 1,022 community projects and partnerships. Visit otf.ca to learn more.
---
At South Grey News, we endeavour to bring you truthful and factual, up-to-date local community news in a quick and easy-to-digest format that's free of political bias. We believe this service is more important today than ever before, as social media has given rise to misinformation, largely unchecked by big corporations who put profits ahead of their responsibilities.
South Grey News does not have the resources of a big corporation. We are a small, locally owned-and-operated organization. Research, analysis and physical attendance at public meetings and community events requires considerable effort. But contributions from readers and advertisers, however big or small, go a long way to helping us deliver positive, open and honest journalism for this community.
Please consider supporting South Grey News with a donation in lieu of a subscription fee and let us know that our efforts are appreciated. Thank you.