May 21, 2021
A letter to the Ontario Minister of Education from Bluewater District School Board supports a Grey Bruce approach to reopening schools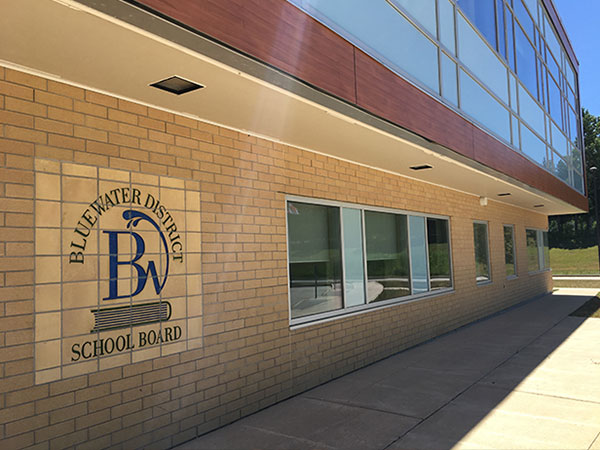 Dear Minister Lecce,
On behalf of the Board of Trustees, we are reaching out to express our support for a Grey Bruce approach to reopening schools when it is deemed safe to do so by our local Medical Officer of Health.
Our board has heard from quite a few concerned parents/guardians, who are requesting a return to in-person learning with COVID-19 health and safety protocols in place for the remainder of the current school year. With a consistent trend of low COVID-19 case numbers in our region, we agree that if deemed safe, reopening our local schools prior to the end of June is imperative to student mental health and well-being. We also recognize the difficulties faced by many of our families as they attempt to support remote learning while managing work and other responsibilities.
Our partners at Grey Bruce Public Health have advocated for an approach to reopening schools that considers the favourable circumstances unique to our area. Under their guidance, and in keeping with our successful health and safety measures, we would welcome the opportunity to once again offer in-person learning to those families who seek this option.
As always, our commitment remains focused on providing a quality education for every student in a safe, accepting, and caring environment.
Sincerely,
Jane Thomson, Chair
Jan Johnstone, Vice-Chair
Bluewater District School Board
---
At South Grey News, we endeavour to bring you truthful and factual, up-to-date local community news in a quick and easy-to-digest format that's free of political bias. We believe this service is more important today than ever before, as social media has given rise to misinformation, largely unchecked by big corporations who put profits ahead of their responsibilities.
South Grey News does not have the resources of a big corporation. We are a small, locally owned-and-operated organization. Research, analysis and physical attendance at public meetings and community events requires considerable effort. But contributions from readers and advertisers, however big or small, go a long way to helping us deliver positive, open and honest journalism for this community.
Please consider supporting South Grey News with a donation in lieu of a subscription fee and let us know that our efforts are appreciated. Thank you.