November 16, 2022
Bluewater District School Board holds inaugural meeting of the Board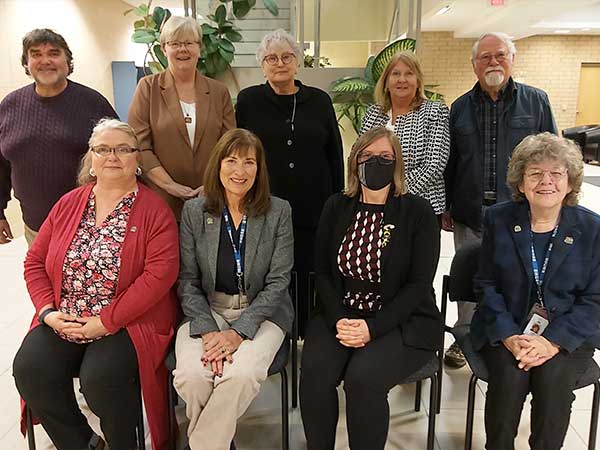 At the Inaugural Meeting of the Board held on Tuesday, November 15, 2022, Bluewater District School Board (BWDSB) welcomed the following elected and acclaimed trustees as they were sworn in for the 2022 – 2026 term:
Tracy Lynn Atkinson, Municipality of West Grey / Town of Hanover
Michael Craig, City of Owen Sound
Jan Johnstone, Municipality of Kincardine / Township of Huron-Kinloss
Janice Kaikkonen, Township of Southgate / Municipality of Grey Highlands
Derrick Long, Municipality of Brockton / Municipality of South Bruce
Katie Lutz, Town of Saugeen Shores / Municipality of Arran-Elderslie
Marilyn McComb, Township of Georgian Bluffs / Township of Chatsworth
Fran Morgan, Municipality of Meaford / Town of Blue Mountains
Jane Thomson, Town of South Bruce Peninsula / Municipality of Northern Bruce Peninsula
During the meeting, annual elections saw Trustee Jane Thomson acclaimed as Chair, a position she will assume for the third consecutive one-year term. Meanwhile, Trustee Jan Johnstone was acclaimed as Vice-Chair, a role she will also fulfill for a third straight one-year term.
Congratulations are extended to all the new and returning trustees as they begin their four-year term, and to Chair Thomson and Vice-Chair Johnstone on their executive roles at the board table. A special acknowledgement also goes to those trustees who are not returning this term. We thank them for their years of service and commitment to the students, staff, and families of BWDSB.
Another highlight of the evening included the presentation of Director of Education Lori Wilder's annual report recapping the efforts and achievements of the past year. Click here to view the Director's Annual Report for 2022.
---
At South Grey News, we endeavour to bring you truthful and factual, up-to-date local community news in a quick and easy-to-digest format that's free of political bias. We believe this service is more important today than ever before, as social media has given rise to misinformation, largely unchecked by big corporations who put profits ahead of their responsibilities.
South Grey News does not have the resources of a big corporation. We are a small, locally owned-and-operated organization. Research, analysis and physical attendance at public meetings and community events requires considerable effort. But contributions from readers and advertisers, however big or small, go a long way to helping us deliver positive, open and honest journalism for this community.
Please consider supporting South Grey News with a donation in lieu of a subscription fee and let us know that our efforts are appreciated. Thank you.