November 21, 2022
Beaver Valley Ski Club members support new Markdale hospital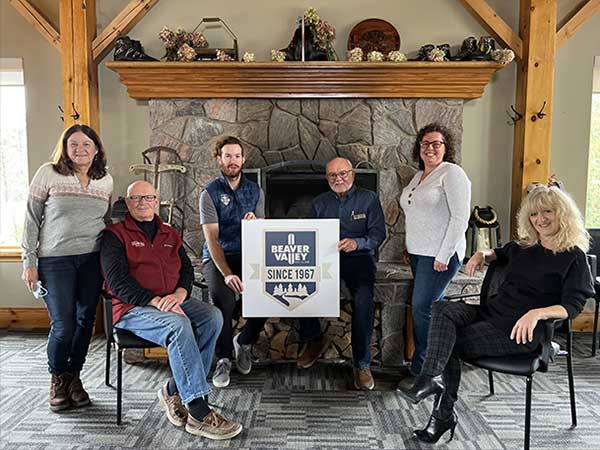 No one expects to need a hospital, especially when you are enjoying a day at the ski hills. But the reality is accidents happen. The members of the Beaver Valley Ski Club realize that having a hospital with state-of-the-art equipment and skilled health care workers is too important not to take seriously. For this reason, the members of the Beaver Valley Ski Club came out strong in support of both the original "Closer to Home" campaign and the current 'Together in Care' campaign for the new Markdale Hospital. As major donors, the members will have the "Diagnostic Imaging Office" room named in their honour.
"As a member of both the Beaver Valley Ski Club, and the Foundation Board, I am very proud that the club has earned a naming opportunity in the new hospital. Having them as a partner is important." - Russ Severnuk, Board Director of Centre Grey Health Services Foundation.
"Beaver Valley Ski Club is a very proud supporter of the 'Closer to Home' and 'Together in Care' campaigns. Our members live, work, and play right here in Centre Grey, making this new hospital a very important step in keeping our entire community healthy, happy and strong." – Chris Sloan, President of Beaver Valley Ski Club.
Centre Grey Health Services Foundation is honoured to have Beaver Valley Ski Club as a partner in this new hospital project. A strong community hospital is only possible with strong community support, and the support shown by Beaver Valley Ski Club members will go a long way in keeping our hospital viable.
The new Markdale Hospital is 70% complete and slated for opening late 2023 or early 2024. For more information on the new Markdale Hospital or the 'Together In Care' campaign, please visit wwww.togetherincare.com.
---
At South Grey News, we endeavour to bring you truthful and factual, up-to-date local community news in a quick and easy-to-digest format that's free of political bias. We believe this service is more important today than ever before, as social media has given rise to misinformation, largely unchecked by big corporations who put profits ahead of their responsibilities.
South Grey News does not have the resources of a big corporation. We are a small, locally owned-and-operated organization. Research, analysis and physical attendance at public meetings and community events requires considerable effort. But contributions from readers and advertisers, however big or small, go a long way to helping us deliver positive, open and honest journalism for this community.
Please consider supporting South Grey News with a donation in lieu of a subscription fee and let us know that our efforts are appreciated. Thank you.