May 04, 2022
Beaver Valley Ski Club honoured in new hospital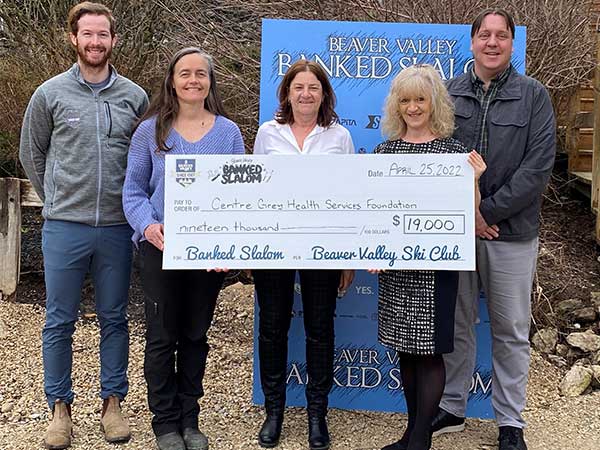 This year's Banked Slalom event at the Beaver Valley Ski Club welcomed over 400 riders and guests to the club to help bring the season to an end and to help the fundraising initiative of the Together In Care Campaign for the new Markdale Hospital.

The Club was excited to present this $19,000 donation to the Centre Grey Health Service Foundation, in support of the new Markdale Hospital. The Banked Slalom event, including prior years, has now raised over $50,000 in total for the Markdale Hospital.
As a result, they will have a Hospital Emergency room named in memory of club snowboarder Jackie Primeau Snarr. Jackie has been the inspiration behind the Banked Slalom since its inception.
"Huge thanks to the Beaver Valley Ski Club, the Banked Slalom Team and every sponsor and patron who came out for this event" stated Robert Bateman, Board member of Centre Grey Health Services Foundation. "A community hospital is only possible with community support, and we are very grateful to the BVS for the support they continue to show to their hospital!" said Bateman.
Several structural elements of the new hospital are now complete including the framework and the base of the roof. The project remains on target to be complete mid-2023.
For further details on how you can help, please visit www.togetherincare.com
---
At South Grey News, we endeavour to bring you truthful and factual, up-to-date local community news in a quick and easy-to-digest format that's free of political bias. We believe this service is more important today than ever before, as social media has given rise to misinformation, largely unchecked by big corporations who put profits ahead of their responsibilities.
South Grey News does not have the resources of a big corporation. We are a small, locally owned-and-operated organization. Research, analysis and physical attendance at public meetings and community events requires considerable effort. But contributions from readers and advertisers, however big or small, go a long way to helping us deliver positive, open and honest journalism for this community.
Please consider supporting South Grey News with a donation in lieu of a subscription fee and let us know that our efforts are appreciated. Thank you.