June 02, 2022
Detective Brad Olsen receives Grey Highlands Officer of the Year Award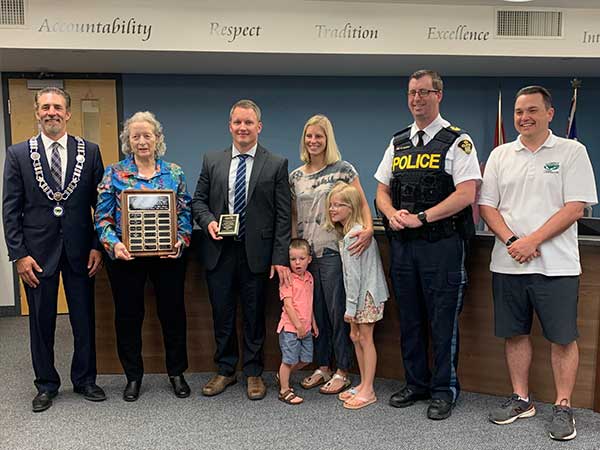 From left to right: Mayor Paul McQueen (Police Services Board member); Lynn Silverton, Grey Highlands Police Services Board Chair; Detective Brad Olsen, Kristen Olsen; Staff Sergeant Keegan Wilcox, OPP; Councillor Dane Nielsen (Police Services Board member).
Detective Brad Olsen of the OPP Grey Bruce Detachment is the 2021 recipient of the Grey Highlands Officer of the Year Award.

Detective Olsen received the honour at the June 1 Council Meeting where a special presentation was made by the Chair of the Grey Highlands Police Services Board, Lynn Silverton and Grey Highlands Mayor Paul McQueen.
"We are lucky to have inspiring individuals such as Detective Brad Olsen supporting the safety and wellbeing of our community," said Mayor Paul McQueen.
With fifteen years of policing with the Ontario Provincial Police, Detective Olsen spent the first ten years of his career on the front line in the Markdale Detachment supporting Grey Highlands and Southgate.
Most recently, Detective Olsen has been working out of the Markdale Detachment in the Grey Bruce Major Crime Unit, where he has spent the last four years as a Detective Constable.
"Brad is very deserving of this recognition. He's a very committed detective, who always thinks of the community and the people he serves," said Acting Inspector Debra Anderson (Interim OPP Grey Bruce Detachment Commander).
Detective Olsen was nominated for his dedication and high level of service and professionalism to Grey Highlands.
"I'm happy that we could present this award to Detective Olsen. He has accomplished so much in his career in policing and is a proud community member of the Municipality of Grey Highlands," said Lynn Silverton, Grey Highlands Police Services Board Chair.
---
At South Grey News, we endeavour to bring you truthful and factual, up-to-date local community news in a quick and easy-to-digest format that's free of political bias. We believe this service is more important today than ever before, as social media has given rise to misinformation, largely unchecked by big corporations who put profits ahead of their responsibilities.
South Grey News does not have the resources of a big corporation. We are a small, locally owned-and-operated organization. Research, analysis and physical attendance at public meetings and community events requires considerable effort. But contributions from readers and advertisers, however big or small, go a long way to helping us deliver positive, open and honest journalism for this community.
Please consider supporting South Grey News with a donation in lieu of a subscription fee and let us know that our efforts are appreciated. Thank you.