January 30, 2023
Black History Month kicks off in southern Grey County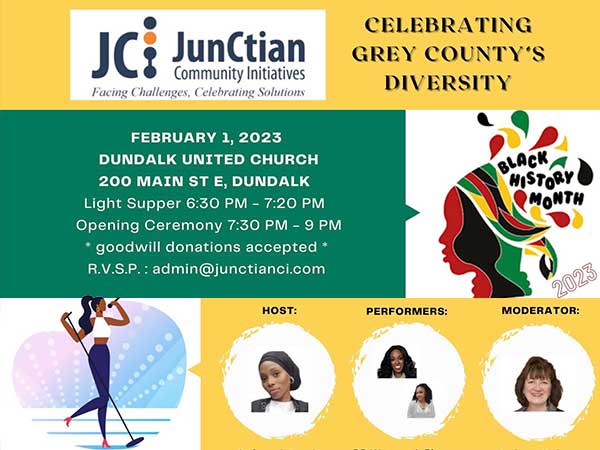 BY SOUTHGREY.CA STAFF — Junction Community Initiatives (JCI) is kicking off Black History Month with a celebration of Grey County's diversity on Wednesday, February 1. The evening will be an in-person/live-streamed event at the Dundalk United Church hosted by Safoorah Forde and moderated by Southgate Deputy Mayor Barbara Dobreen.
It all gets started at 6:30 pm with a light supper followed by an opening ceremony at 7:30 pm. will include performances by DD Watson, A. Blossom and more. Greetings will be presented by Southgate Mayor and Grey County Warden Brian Milne and others including lawyer/author Steve Anderson.
The opening ceremony begins a month of celebrations with JCI, in collaboration with Grey Highlands Public Library, Southgate Ruth Hargrave Memorial Library, various schools and other community organizations. This year's theme is Together We Celebrate.
February 1: Opening ceremony at Dundalk United Church
February 11: Sheffield Park Black History and Cultural Museum Exhibit at Grey Highlands Public Library, Flesherton
February 28: Closing ceremony in Dundalk
All events will be published on the Southgate Ruth Hargrave Memorial Library and Grey Highlands Public Library websites.
JCI is a dynamic not-for-profit organization dedicated to empowering the community by delivering positive economic services and social programs for success. The association fosters and develops community spirit, promotes organized arts, education, social & justice services, employment services, health and wellness, and other community endeavours.
Admission is free with goodwill donations accepted. RSVP is preferred for the opening ceremony portion. To access the live-streamed event on your computer or cell phone, use Zoom ID 843 5333 6649 and passcode 324803, or listen in by phone 647-558-0588.
---
At South Grey News, we endeavour to bring you truthful and factual, up-to-date local community news in a quick and easy-to-digest format that's free of political bias. We believe this service is more important today than ever before, as social media has given rise to misinformation, largely unchecked by big corporations who put profits ahead of their responsibilities.
South Grey News does not have the resources of a big corporation. We are a small, locally owned-and-operated organization. Research, analysis and physical attendance at public meetings and community events requires considerable effort. But contributions from readers and advertisers, however big or small, go a long way to helping us deliver positive, open and honest journalism for this community.
Please consider supporting South Grey News with a donation in lieu of a subscription fee and let us know that our efforts are appreciated. Thank you.