February 28, 2023
Black History Map of Grey County launched by Grey Roots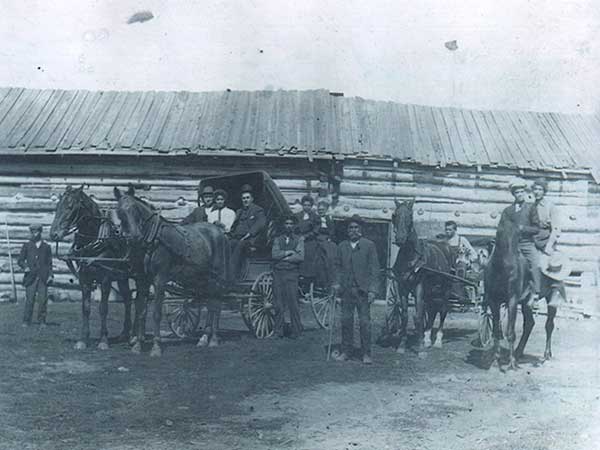 Group at Holland Centre, including James Douglas, Annis Jane Miller on horseback, Ranson Miller (Annis' father), standing with cane (1903). Photo: Grey Roots Museum and Archives.
An interactive map of significant Black history sites in Grey County has been launched online by Grey Roots Museum & Archives. The map highlights numerous locations across Grey County, including the Old Durham Road Black Pioneer Cemetery, Negro Creek Road, Mudtown in Owen Sound, and many more. Each entry features archival and modern photos, as well as detailed historical information and links to further resources.

Black communities took root and flourished in Grey County from the earliest days of non-Indigenous settlement. Communities were established in Priceville, Ceylon, Nenagh, Negro Creek, and in Owen Sound, which served as a terminal point of the Underground Railroad. The Black History Map of Grey County connects users to this important and lesser known history.
"Black communities and families have been here since before the County of Grey was established," says Stephanie McMullen, Community Historian for Grey Roots Museum & Archives. "Many experienced significant challenges in settling here, and their stories and history are as vital now as ever. With this map, we've put together an easy-to-use platform for visitors and residents of Grey County to learn about and contribute to Grey County's Black history."
Users are invited to submit locations to the Black History Map through an online submission form.
"This map is community focused. Inviting the community to help expand it is a great opportunity to improve not just the map, but our understanding of local Black history," added McMullen.
The Black History Map of Grey County is available for public use now. It can be used as a research tool at home, an educational tool in the classroom, or as a navigation aid when undertaking a driving tour of Black history sites in Grey County. Explore the map at greyroots.com/black-history-map.
---
At South Grey News, we endeavour to bring you truthful and factual, up-to-date local community news in a quick and easy-to-digest format that's free of political bias. We believe this service is more important today than ever before, as social media has given rise to misinformation, largely unchecked by big corporations who put profits ahead of their responsibilities.
South Grey News does not have the resources of a big corporation. We are a small, locally owned-and-operated organization. Research, analysis and physical attendance at public meetings and community events requires considerable effort. But contributions from readers and advertisers, however big or small, go a long way to helping us deliver positive, open and honest journalism for this community.
Please consider supporting South Grey News with a donation in lieu of a subscription fee and let us know that our efforts are appreciated. Thank you.