February 25, 2021
Bonita Johnson DeMatteis' 'Black Eyed Peas and Races' is a timely collection of stories, pictures, recipes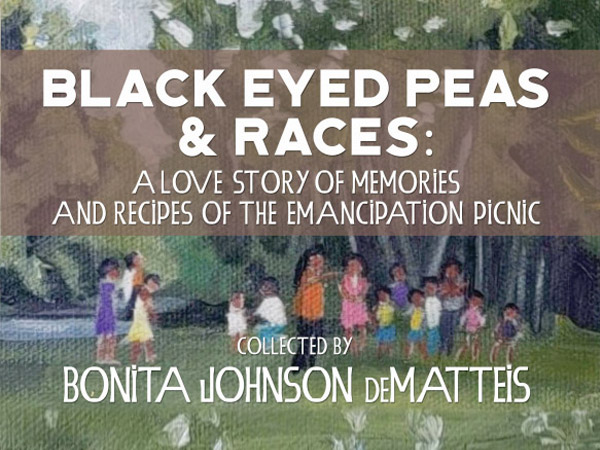 BY SOUTHGREY.CA STAFF —The Emancipation Festival was established in 1862 and is the longest continuous running Emancipation Picnic in North America. It commemorates the British Commonwealth Emancipation Act of August 1, 1834 but later incorporated the commemoration of the United States Emancipation Proclamation of January 1, 1863.
As the most northerly terminus of the Underground Railroad, Owen Sound, and Harrison Park in particular, has become an annual location for the event which takes place on the first weekend in August and attracts visitors from all over North America and beyond, including many descendants of former slaves.
Every year for most of her life, author Bonita Johnson DeMatteis has attended the festivities. To her, it was a family picnic — a chance to catch up with many of the cousins, aunts and uncles in her extended family. But as she grew older, she became enthralled with the rich history behind the event and its recognition of those who made the escape from slavery possible.
The Picnic is a joyous event where everyone who is interested in appreciating history, family, culture and community is welcome to join in the festivities. Bonita's book Black Eyed Peas and Races, is a reflection of that joy, filled with stories and pictures from the 150+ years of the festival but also contains a brief history of Owen Sound and its role in the Underground Railroad. It also contains many recipes for some of the delicious food that families have brought to share.
Bonita also designed the commemorative Cairn, unveiled during the 142nd Emancipation Day Celebrations. Located in a quiet spot near the Sydenham River, the cairn is admired for its cultural, historic and artistic qualities.
February is Black History Month, a time when people in Canada are invited to participate in festivities and events that honour the legacy of Black Canadians and their communities. The theme for 2021 is "The Future is Now." As February melts into March, we peek into the future to think about warm summer days and the possibility that lightened COVID-19 restrictions could allow outdoor gathering again. Black Eyed Peas and Races is a great way to prepare yourself for such things, while learning a valuable lesson in black history.
Recently, Geoff Bowes sat down for a virtual interview with Bonita Johnson DeMatteis to talk about her book, the commemorative cairn and some of those recipes.
Black Eyed Peas and Races is the feature book in this year's Grey County Reads currently underway until April. It is available for purchase at Ginger Press in Owen Sound or online.
---
At South Grey News, we endeavour to bring you truthful and factual, up-to-date local community news in a quick and easy-to-digest format that's free of political bias. We believe this service is more important today than ever before, as social media has given rise to misinformation, largely unchecked by big corporations who put profits ahead of their responsibilities.
South Grey News does not have the resources of a big corporation. We are a small, locally owned-and-operated organization. Research, analysis and physical attendance at public meetings and community events requires considerable effort. But contributions from readers and advertisers, however big or small, go a long way to helping us deliver positive, open and honest journalism for this community.
Please consider supporting South Grey News with a donation in lieu of a subscription fee and let us know that our efforts are appreciated. Thank you.