October 21, 2022
'Be Safe, Be Seen' initiative promotes safe trick-or-treating in Eugenia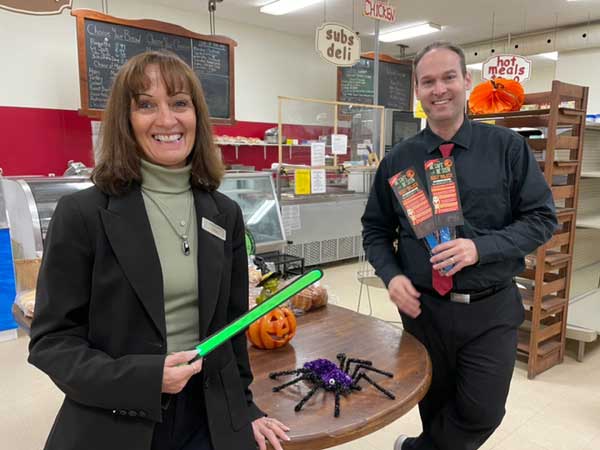 Owners Debbie and Brandon hold free 'Be Safe, Be Seen' LED luminous arm bands at Top O' The Rock in Eugenia.
BY SOUTHGREY.CA STAFF — Road safety has been on the minds of Grey Highlands residents for many years. Universally, complaints made to staff, Council and the OPP have gradually grown louder and more frequent. Following a summer of sundry accidents and fatalities in 2022 that left citizens reeling, the level of their concern reached a boiling point by late summer and fall.
That's when the residents of Eugenia — where one of the most horrific tragedies of this summer occurred — embarked on a campaign to make the streets safer in their village. Led by their Chairperson, the Eugenia and District Community Improvement Association (EDCIA) lobbied the Police Services Board, Municipal Council and Seniors Advisory Committee with recommendations to lower speed limits and erect more road stops. But efforts were met with some push-back.
Frustrated by their local government's perceived lack of urgency or willingness to act, the group took matters into their own hands. The association purchased and installed several "Please Slow Down" lawn signs to place alongside their streets in an attempt to calm traffic in residential neighbourhoods. Also desperate for some measure of empowerment, many residents in other Grey Highlands communities have done the same thing and speed warnings proliferated everywhere.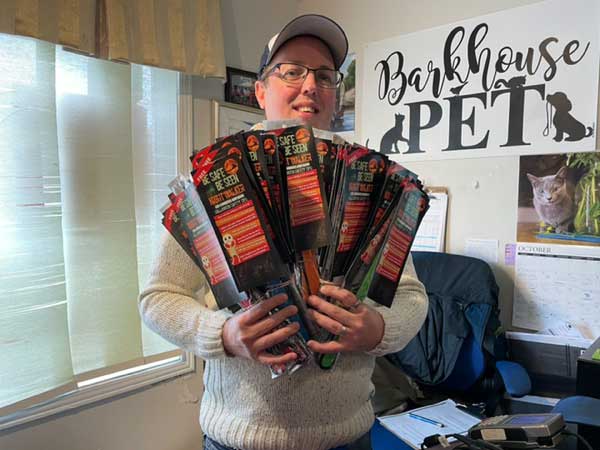 Keith at Barkhouse PET holds an assortment of LED luminous arm bands available at his store.
Realizing that road safety has many stakeholders, the EDCIA expanded their crusade this fall to include an educational component for pedestrians. The result is a 'Be Safe, Be Seen' campaign for kids leading up to Hallowe'en in which LED luminous arm bands are handed out free-of-charge to kids and families at local shops in the area. The bands are accompanied by prudent tips for safe trick-or-treating but also provide superior visibility and practical advice for anyone, young or old who walk on darkened roads at night.
Jessica and Dane pose with LED luminous arm bands available at Grist Mill Winery.
The initiative was sponsored by several local businesses including Garage 13, Barkhouse PET, ColourPix, Grist Mill Winery, REMAX broker Erin Boynton Seeley, Hawthorn Cottages & Cabins of Lake Eugenia, Top O' The Rock, Ice River Springs, South Grey News, Cedars of Lake Eugenia and Highland United Church.
"Our plan was so well received that no business I approached for sponsorship declined the opportunity," said EDCIA chairperson Ron Barnett. "Our local businesses are the best!" he added. The arm bands have been so popular that the campaign might become an annual education strategy for the group and a possible model for other Grey Highlands communities.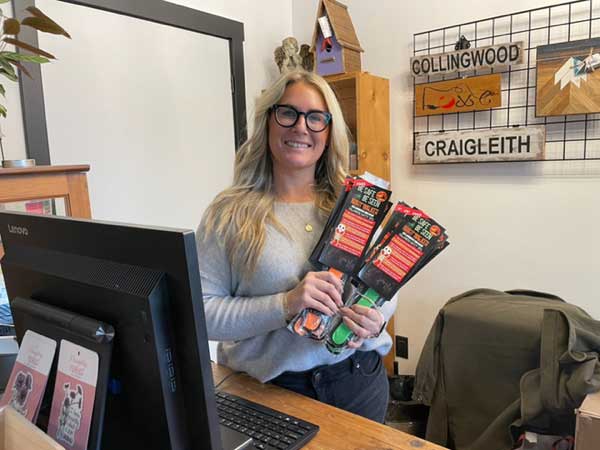 Katie at Garage 13 holds LED luminous arm bands available at their kids Trick or Treat event from 5-8 pm on October 31.
Arm bands will be available for a limited time at Garage 13, Barkhouse PET, Grist Mill Winery, and Top O' The Rock in Eugenia.

We hope all kids and their Hallowe'en escorts will be safe on the streets this year. From all of us here at South Grey News, we wish you a Happy Hallowe'en!
---
At South Grey News, we endeavour to bring you truthful and factual, up-to-date local community news in a quick and easy-to-digest format that's free of political bias. We believe this service is more important today than ever before, as social media has given rise to misinformation, largely unchecked by big corporations who put profits ahead of their responsibilities.
South Grey News does not have the resources of a big corporation. We are a small, locally owned-and-operated organization. Research, analysis and physical attendance at public meetings and community events requires considerable effort. But contributions from readers and advertisers, however big or small, go a long way to helping us deliver positive, open and honest journalism for this community.
Please consider supporting South Grey News with a donation in lieu of a subscription fee and let us know that our efforts are appreciated. Thank you.