November 19, 2021
Annesley United Church in Markdale takes on technology to make services more accessible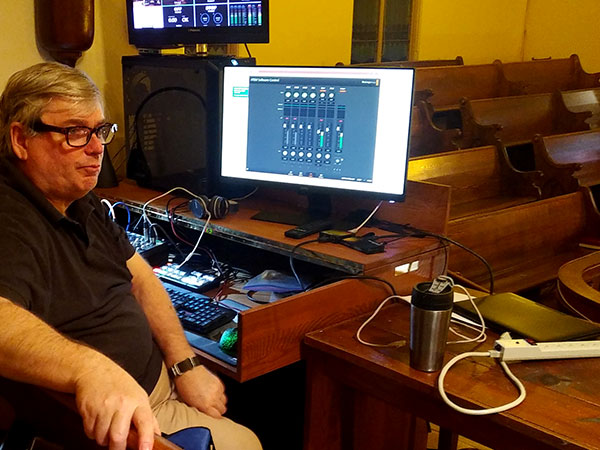 Tim Reilly sits in his perch high above the church floor below. According to Tim, controlling a broadcast from this distance presented numerous challenges.
BY SOUTHGREY.CA STAFF — "Welcome everyone to this time of worship at Annesley United Church in Markdale Ontario, whether you are worshipping with us in person, or via live-streaming, or some other time you want to refer to the website for our service, it will be there," states Mel Chamberlain as he addresses the congregation for another Sunday morning during an unusual time in our collective history.
It's November, 2021 and as gathering restrictions continue to plague social events like communal worship and churches face ever-shrinking congregations, church administrators have had to adapt to a new reality or face the harsh alternative of indefinitely postponing service or even closing the doors on their bricks-and-mortar facilities forever.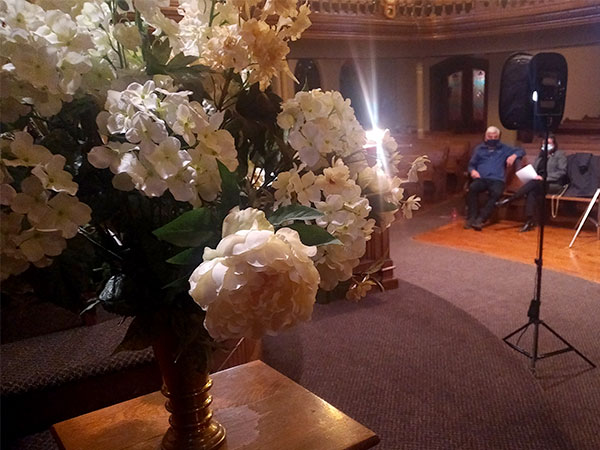 For the approximately 360 members of the Annesley United Church congregation, the solution was to invest in technology and bring their little church into the future.
With a budget of less than $6,000, the task was daunting but with the help of Tim Reilly of Leaking Ambience Studios in Flesherton, the group has managed to create a professional presentation of weekly church services, accessible in a variety of formats. According to Reilly, a new switcher and streamer device called the Blackmagic Design ATEM Mini Pro was the key to keeping costs at a reasonable level. "By using this device, we probably saved between $10-12,000," said Reilly, who explained it's ability to record direct to USB flash disks in H.264 plus provide direct streaming via the Ethernet, YouTube Live and more.
With five weeks of live-streamed services under their belt, Tim believes that they finally have all the kinks worked out. When problems have occurred, solutions need to be reached quickly and in real time. "Sometimes, it's a little frustrating," admits Reilly but such things are all part of the learning process that comes with a new system like this.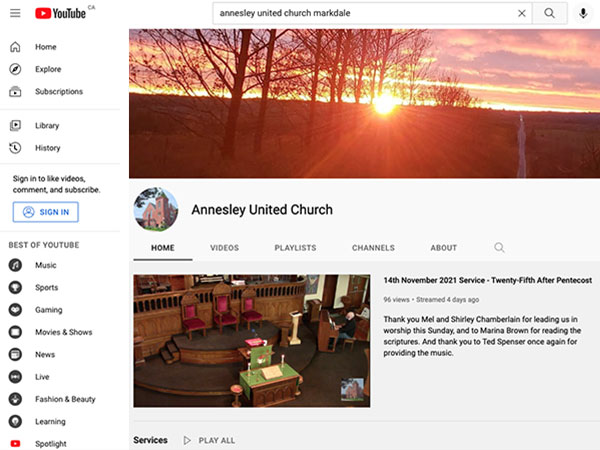 Parishioners are catching on too. Church secretary Patti Shaw explained that so far, while only 10-15 members watch each live-streamed event, 70-80 IP addresses log-on to watch the recorded services weekly. Reilly is confident that the numbers will quickly grow to between 100-140 weekly views.
Once the system has been set up and things are working smoothly, Tim will back off his hands-on management. With the necessary equipment in place, it will be up to Patti and other church administrators to take over the behind-the-scenes operations, making this a shining example of how people are overcoming the inconveniences of pandemic restrictions. The Annesley United Church will not only keep itself viable during this unusual time but will also address shrinking membership by offering many new ways to access their message.
To view any of the Annesley United Church services, visit their Youtube channel.
---
At South Grey News, we endeavour to bring you truthful and factual, up-to-date local community news in a quick and easy-to-digest format that's free of political bias. We believe this service is more important today than ever before, as social media has given rise to misinformation, largely unchecked by big corporations who put profits ahead of their responsibilities.
South Grey News does not have the resources of a big corporation. We are a small, locally owned-and-operated organization. Research, analysis and physical attendance at public meetings and community events requires considerable effort. But contributions from readers and advertisers, however big or small, go a long way to helping us deliver positive, open and honest journalism for this community.
Please consider supporting South Grey News with a donation in lieu of a subscription fee and let us know that our efforts are appreciated. Thank you.