September 10, 2021
Agnes Macphail's Holdfast Club commemorated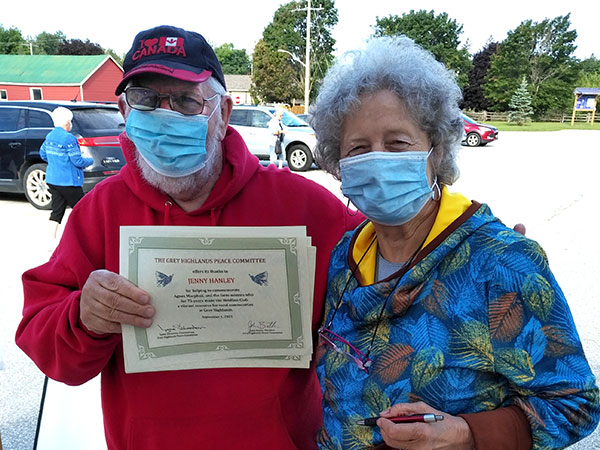 Grey Highlands Peace Committee members John Butler and Lynn Silverton hold one of the certificates presented to local inspirational women.
BY SOUTHGREY.CA STAFF — The International Day of Peace will take place on September 21. It is followed by Business Women's Day which occurs on September 22. Established in 1949, the day to honour women focusses on correcting women's inequality in the workplace and was the invention of the American Business Women's Association, led by Kansas City businessman Hilary Bufton Jr. The founders hoped to inspire women to break into male-dominated industries in America and around the world.
Here in Canada, our own women's rights advocate Agnes Macphail inspired many women who came after her to do just that. As the first women elected to Canada's parliament, Macphail didn't ask for special treatment, but wanted instead, to be treated as an equal in every respect. She also advocated for other women to expect the same. Facing resistance from men and women alike, Agnes Macphail was bolstered by other female leaders of her time such as Nellie McClung and Flora MacDonald Denison, who thrust women's issues into the political realm.
Being employed as a teacher was the first step Agnes Macphail took into the business world and she continued to advocate for women to pursue careers, rather than to submit to marriage and child rearing as their only goals in life. She became involved in many women's organizations, fighting for their right to express their own opinions. Later, Macphail was a pillar of the United Farm Women of Ontario's (UFWO) Holdfast Club in Grey County, where rural women gathered and shared information about pertinent issues like women's health, and educated themselves about the world at large. The club was created in 1924, and it operated until 1999.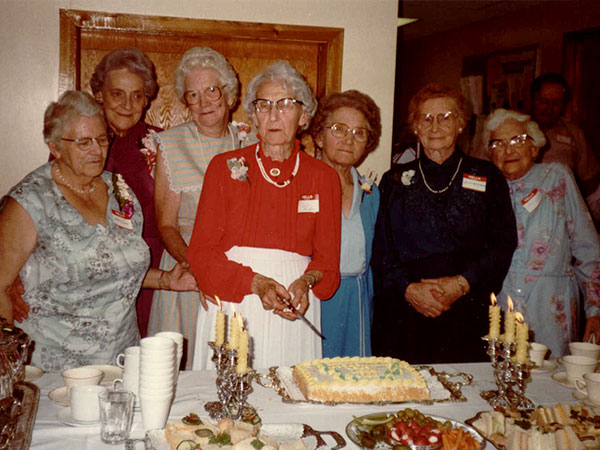 In 1984, founding members of The Holdfast Club celebrated the club's 60th anniversary. Photo: Split Rail Country Volume 2 collection. Copyright unknown.
To honour Agnes Macphail this year on the eve of the 100th anniversary of her election to parliament, the Grey Highlands Peace Committee is commemorating The Holdfast Club, whose members were empowered local farm women. 2021 marks the 75th anniversary of the club's beginning. To continue the tradition of supporting young female entrepreneurs, the Peace Committee selected five young local ladies to be part of a new film about the inspirational club and held a series of videotaped readings for the project which also included other more seasoned members of our society.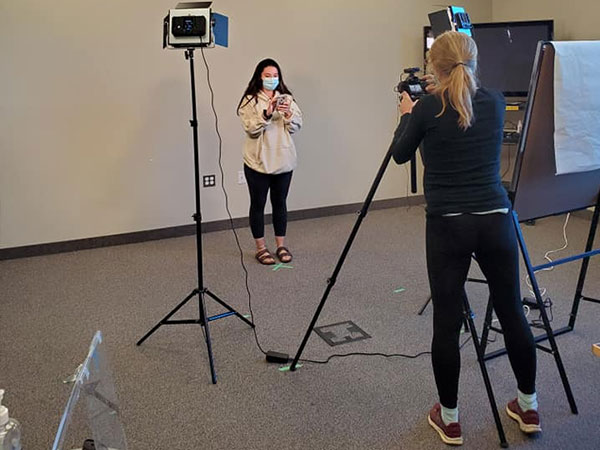 Five local young ladies were invited to help with the film The Holdfast Creed.

The complete list of recipients are:
Bonnie Hincks
Samantha Woodhouse
Marg Russell
Mackenzie Childs
Joyce Eagles
McKenna Hanley
June Butler
Jean Hutchinson
Kaitlyn Stafford
Wendy Weber
Shelby Hanley
Priti Desai
Agnes Teeter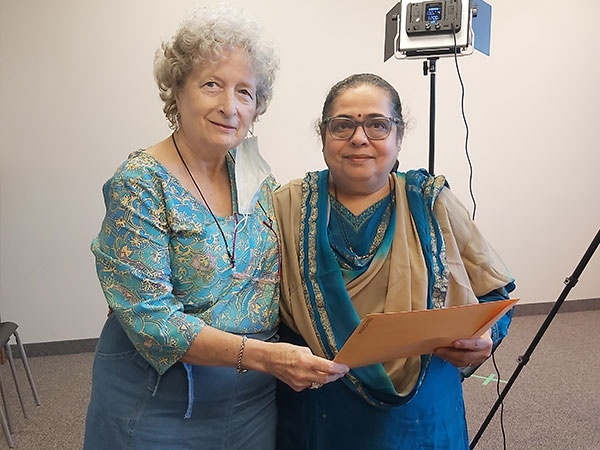 Lynn Silverton presents Priti Desai of Leela's Villa Inn with her certificate.
"Jenny Hanley, founder of the Hanley Institute in Flesherton, did an outstanding job of organizing readings for the film. John Butler deserves a load of accolades for all the work he put in it and Gillian Gillis volunteered her skills as videographer," said Lynn Silverton who began the readings and also played an important role in organizing the event.
"I am a feminist," Macphail informed an audience in 1927, "and I want for women the thing that men are not willing to give them — absolute equality." One can only imagine that Ms. Macphail would be proud of her legacy and how her actions have inspired generations to follow.
---
At South Grey News, we endeavour to bring you truthful up-to-date local community news in a quick and easy-to-digest format that's free of political bias. We believe this service is more important today than ever before, as social media has given rise to misinformation, largely unchecked by big corporations who put profits ahead of their responsibilities.
South Grey News does not have the resources of a big corporation. We are a small, locally owned-and-operated organization. Research, analysis and physical attendance at public meetings and community events requires considerable effort. But contributions from readers and advertisers, however big or small, go a long way to helping us deliver positive, open and honest journalism for this community.
Please consider supporting South Grey News with a small donation and let us know that our efforts are appreciated. Thank you.