August 03, 2022
Southgate leads initiative to form an Affordable Housing Development and Mortgage Corporation for Southern Grey County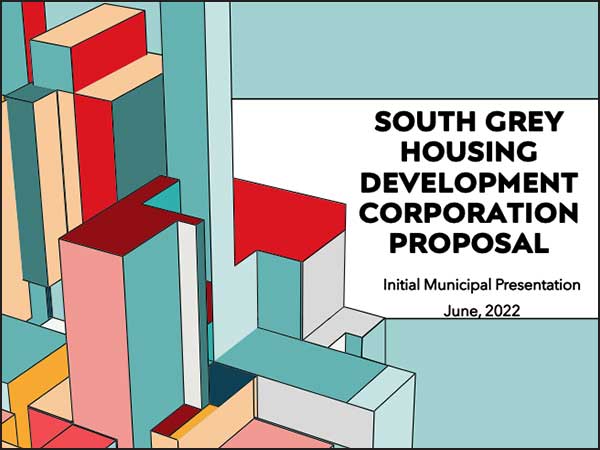 BY SOUTHGREY.CA STAFF — Southgate CAO Dave Milliner is leading an initiative to form an Affordable Housing Development and Mortgage Corporation for Southern Grey County.
After Southgate Council first established an Affordable Attainable Housing Advisory Committee (SAAHAC) in 2021, the committee created a plan to be brought before other municipalities in an effort to find economies of scale and a shared focus.
The proposed corporation would work with developers of privately owned properties, as well as municipally owned surplus lands for the purpose of creating low-cost housing in the region.
It is hoped that by reducing or even waiving development charges and making improvements to planning policies and zoning bylaws, a program could be developed in which selected local individuals are assisted with the purchase of an affordable home. Milliner explained that the corporation would take a 'Housing First' approach to unconditionally meet a person's most basic needs for housing.
Within the next four years, the corporation would seek funding and community partnerships, identify projects and work with each community local affordable housing committees.
On August 3, Milliner presented the affordable housing initiative to Grey Highlands Council with a view to open further discussions on the proposed corporation. Presentations to Hanover and West Grey municipalities will also be delivered.
Grey Highlands Council received the presentation favourably and CAO Karen Govan vowed to work with Milliner and discuss next steps.
---
At South Grey News, we endeavour to bring you truthful and factual, up-to-date local community news in a quick and easy-to-digest format that's free of political bias. We believe this service is more important today than ever before, as social media has given rise to misinformation, largely unchecked by big corporations who put profits ahead of their responsibilities.
South Grey News does not have the resources of a big corporation. We are a small, locally owned-and-operated organization. Research, analysis and physical attendance at public meetings and community events requires considerable effort. But contributions from readers and advertisers, however big or small, go a long way to helping us deliver positive, open and honest journalism for this community.
Please consider supporting South Grey News with a donation in lieu of a subscription fee and let us know that our efforts are appreciated. Thank you.