January 20, 2022
FLATO Developments asks Southgate Council for 'Advancement to GO' on future zoning for three planned Dundalk developments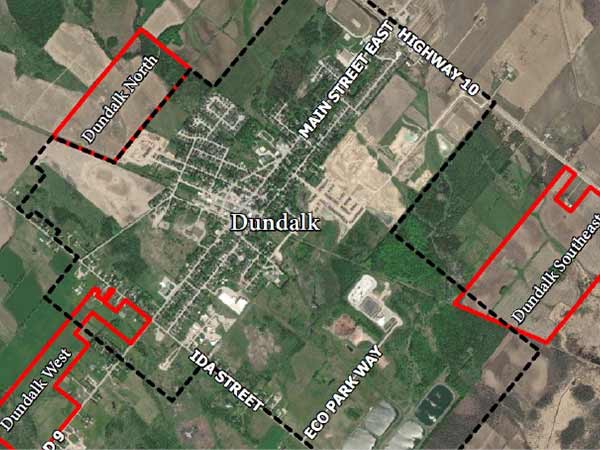 BY SOUTHGREY.CA STAFF — On Wednesday, January 19, Southgate Council received a delegation led by FLATO President Shakir Rehmatullah, to discuss his proposal for a Minister's Zoning Order (MZO) regarding future development within the municipality. Similar to an 'Advance to GO' card in Monopoly, a MZO lets a developer bypass zoning bylaw and bylaw amendment procedures in an effort to expedite future land development for specifically identified properties.
The Township of Southgate municipal staff report which explored the FLATO proposal delivered within the same meeting, states the pros and cons of such an order. The report cites reductions of cost, time and the red tape to apply zoning to parcel(s) of property. However, according to the staff report, when applied, the order provides no opportunity for public input or appeal during the zoning process. Among other things, the staff report also points out that such MZO-approved land developments would not be subject to any assessment of the requirements to service the land. The report warns of the danger for approval before development is fully provided or understood.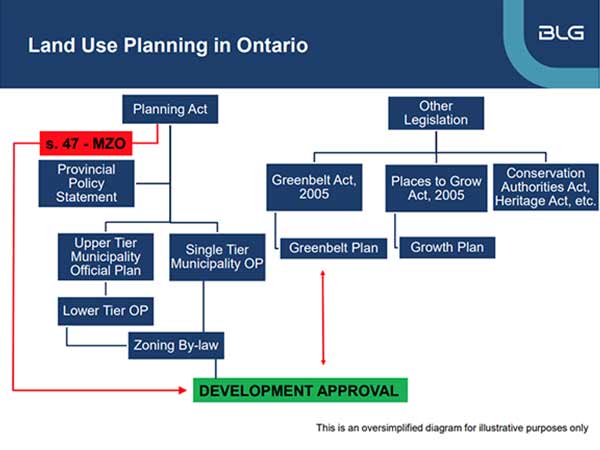 Source: Borden Ladner Gervais
In FLATO's presentation to Council, Rehmatullah made the case for supporting a move to a MZO for three future developments in Southgate. Taking staff and Council's apprehension due to a perceived loss of municipal and/or public oversight, Rehmatullah assured Council that a MZO would not remove the Township's control or opportunities for public consultation and merely applies expedition to the zoning portion of the development process. "The Township is in charge," said Rehmatullah, adding, "there is still a long way to go before any shovels go in the ground," citing many hurdles to overcome, including planning, engineering and environmental studies, as well as public input throughout the journey. He even gave his word that this was the case and offered to put such promises into a signed development agreement between FLATO and the Township.
Kory Chisholm, of MHBC Planning Consultants presented early-stage concepts for the three land parcels under consideration. The plans defined areas to create a designation for development. If approved, Dundalk North, West and Southeast developments would take an estimated 15-20 years to be completed but show significant growth for Dundalk. According to the presenters, the requested MZO would cut red tape and save up to three years in the process.
During the presentation, specific attention was made for the inclusion of affordable housing in the residential developments. Rehmatullah claimed that an expedited zoning process would result in less development charges, the savings from which could be passed on to prospective homebuyers.
Each of the concept plans accommodate residential development while the Dundalk Southeast land is planned to accommodate the extension of Eco Parkway through to Highway 10 which includes a variety of land uses including highway commercial uses, live-work units, low density residential, medium density back-to-back townhouses, purpose-built housing and light industrial uses. Chisholm also highlighted many benefits of the proposal, including job creation for construction and trade workers, new or enhanced amenities such as parks and trails, stormwater management ponds and environmental protection areas.
In addition, the plans are meant to address the provincial housing crisis by providing smaller dwellings, such as:
Single Detached Dwellings
Semi-Detached Dwellings
Townhouse Dwellings
Back-to-Back Townhouse Dwellings
Live-Work Townhouse Dwellings
Rental Apartments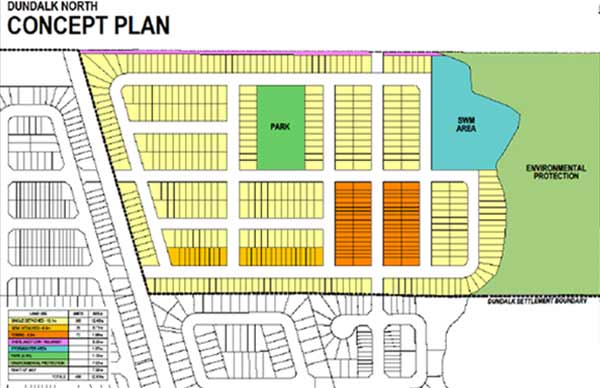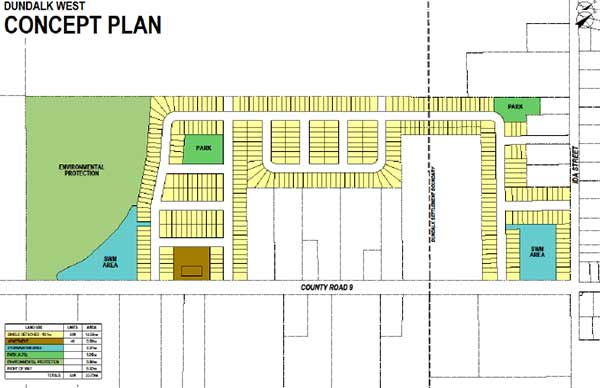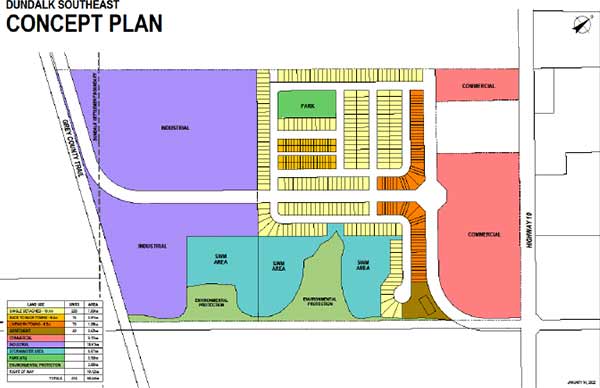 Councillor Barbara Dobreen expressed concerns over road access to the developments and consideration for the placement of a future Highway 10 bypass, examinations of which would be addressed with the Township if plans move forward. Councillor Jason Rice was somewhat reassured by Rehmatullah's commitment to municipal and public scrutiny but held reservations about the approval of a MZO. Councillor Michael Sherson was less diplomatic. "The development is too big, too fast," he said, explaining a lack of schools and sidewalks to support the inevitable increase in population and traffic. "This is way too much development for small town Dundalk," he exclaimed. Rehmatullah stated his willingness to sit down with the school board and other stakeholders to solve any schooling or infrastructure shortcomings.
In an effort to research and present all sides of MZOs, as an appropriate tool for expedited development, South Grey News found this:
Yours to Protect, a network of concerned residents, local groups and environmental organizations claims that a MZO is only meant for situations of extraordinary urgency. "It overrides local planning authority to approve development without expert analysis, public input, or any chance of appeal." Their website goes on to explain, "Since taking office, the current Ontario government has been issuing MZOs at an extraordinary rate to impose low-density sprawl and other risky development on wetlands and other protected lands." The group largely objects to recently-granted Ministerial powers afforded through the Ontario government's Bill 197 - COVID-19 Economic Recovery Act, 2020 which allows for "Enhanced MZOs" relating to any "specified land." The group claims that "while they are being issued under the cover of the present pandemic, and often hint at some thematic connection, almost none of the development authorized by these MZOs makes any plausible contribution to the fight against COVID-19." They continue to say, "The present Ontario government has issued more MZOs than all the governments from 1995 to 2018 combined."
---
At South Grey News, we endeavour to bring you truthful and factual, up-to-date local community news in a quick and easy-to-digest format that's free of political bias. We believe this service is more important today than ever before, as social media has given rise to misinformation, largely unchecked by big corporations who put profits ahead of their responsibilities.
South Grey News does not have the resources of a big corporation. We are a small, locally owned-and-operated organization. Research, analysis and physical attendance at public meetings and community events requires considerable effort. But contributions from readers and advertisers, however big or small, go a long way to helping us deliver positive, open and honest journalism for this community.
Please consider supporting South Grey News with a donation in lieu of a subscription fee and let us know that our efforts are appreciated. Thank you.