December 16, 2021
Catapult Grey Bruce accepting Accelerator applications for local entrepreneurs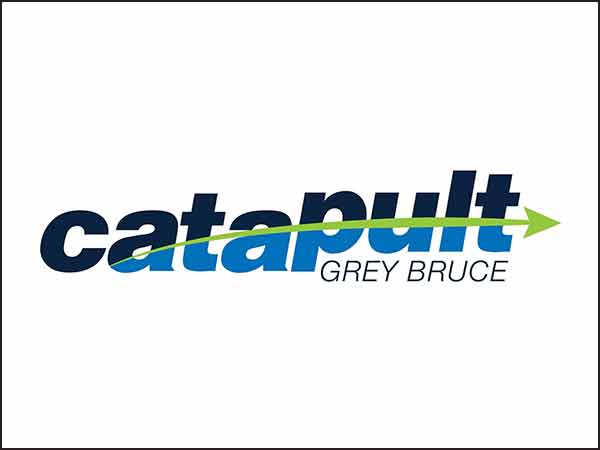 Entrepreneurs interested in growing their business can now apply to the Fast Lane PlusTM accelerator through Catapult Grey Bruce.

Fast Lane Plus™ helps entrepreneurs and business leaders overcome their toughest business challenges by providing them with expert resources to build capacity, generate more sales and market their products or services beyond the local region.
"Fast Lane Plus™ is for entrepreneurs who want to start working on the business instead of inside it, implement repeatable processes, expand to global markets, or address stalled growth or sales and marketing challenges," said Courtney Denard, Catapult Grey Bruce chairperson.
Through the program, entrepreneurs are paired with an experienced mentor to do a deep-dive, or "Diagnostic", into their business to uncover the areas of greatest growth opportunity. Following this and if the entrepreneur chooses to go forward, they can receive up to $2,200 towards implementing a project with a Catapult Grey Bruce mentor or industry expert.
Developed by and licensed through Innovation Guelph, over 380 companies have participated in Fast Lane PlusTM since its launch in 2012 with a 97 per cent client satisfaction. Fast Lane Plus™ is a trademark of Innovation Guelph.
"We are pleased to bring this impactful program that has proven to accelerate SME growth to more businesses through Catapult Grey Bruce," said Innovation Guelph program manager Linda Horowitz.
Entrepreneurs employed full-time in their business, with at least $200,000 in annual recurring revenue are invited to apply online. The program provides up to $6,000 of consulting support and is the first of its kind in Grey Bruce.
Fast Lane Plus™ is funded in part thanks to an investment of $845,000 through the Federal Economic Development Agency for Southern Ontario (FedDev Ontario). Additional support was provided by the Bluewater Angel Investors Group.
Catapult Grey Bruce is a not-for-profit organization founded by entrepreneurs for entrepreneurs. We are propelling entrepreneurs forward with connections, knowledge and space to take their business to the next level. Catapult Grey Bruce strongly believes in collaboration, mentorship, community and supporting a dynamic ecosystem in Grey Bruce where diverse entrepreneurs can thrive. For more information visit the Catapult grey Bruce website.

For more than 12 years, FedDev Ontario has worked to advance and diversify the southern Ontario economy through funding opportunities and business services that support innovation and growth in Canada's most populous region. The Agency has delivered impressive results, which can be seen in southern Ontario businesses that are creating innovative technologies, improving their productivity, growing their revenues, and in the economic advancement of communities across the region. Learn more about the impacts the Agency is having in southern Ontario by exploring their pivotal projects.

---
At South Grey News, we endeavour to bring you truthful and factual, up-to-date local community news in a quick and easy-to-digest format that's free of political bias. We believe this service is more important today than ever before, as social media has given rise to misinformation, largely unchecked by big corporations who put profits ahead of their responsibilities.
South Grey News does not have the resources of a big corporation. We are a small, locally owned-and-operated organization. Research, analysis and physical attendance at public meetings and community events requires considerable effort. But contributions from readers and advertisers, however big or small, go a long way to helping us deliver positive, open and honest journalism for this community.
Please consider supporting South Grey News with a donation in lieu of a subscription fee and let us know that our efforts are appreciated. Thank you.