May 17, 2021
NEWS from the VILLAGE GREEN: A greener goodbye — Grey Highlands may host natural burial site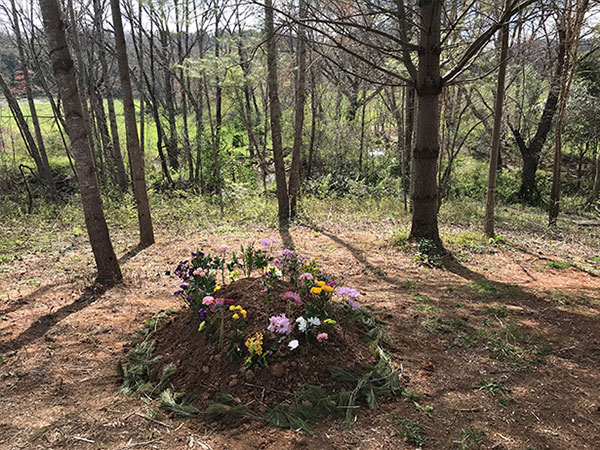 A natural grave site in the Carolina woods.
BY JOHN BUTLER FOR SOUTHGREY.CA — Grey Highlands may become the fifth community in Ontario to host a natural burial cemetery, and the first to have it as a freestanding cemetery (i.e., not part of a larger conventional cemetery). Canada's only stand-alone natural burial site is in B.C.: it's not run by a cemetery chain, but by a couple who had farm property. In the U.K., many natural burial grounds are on farms. Natural burial sections of cemeteries already exist in Niagara Falls, Waterloo, Cobourg and Picton. Given rising interest in environmentally friendly burial, natural burial plans are being developed in thirteen Ontario communities, including West Grey and North Bruce Peninsula.
Says Susan Greer, Executive Director of Ontario's Natural Burial Association:
"Natural burial returns the body to the earth in a protected green space so the body can contribute to the earth's renewal. The body is buried in a biodegradable casket or shroud in a natural burial ground. While below ground the body is nourishing the earth that fed it through life, above ground, the land is restored to its natural eco-habitat. Our final act is giving back to the earth, as opposed to cremation which burns fossil fuels and puts carbon in the atmosphere. It's nothing new, just new to today's consumers. It's the way many of our ancestors were buried before deathcare became commercialized, and many cultures (e.g., Jewish and Muslim faiths) have always embraced this practice."
The proponent of the Grey Highland site, Sara Benjamin, developed an interest in natural burial in 2015 after seeing a film, A Will for the Woods, about the practice, but her interest lay dormant until Covid-19 brought death "out of the closet" for her (her own mother died in the pandemic).
A teacher by profession, Benjamin was raised on a farm near Stayner. She and her husband bought their 100 acre site on the eastern edge of Grey Highlands near the hamlet of Duncan in 2014 and built their "forever home" on it. The property is largely wooded, but Benjamin envisages a ten acre meadow on it as the site for the burial facility, connected to walking trails through their forest. Other than a clean-up of debris from earlier logging, the site would be left in its natural state. Building near the burial area would be limited — a washroom perhaps and a shelter for bad weather: simplicity is Benjamin's byword.
Benjamin hasn't chosen a name for the facility yet. She may ask the public to suggest names or she may name it after her late mother who supported Benjamin's dream. She admits that her passion for natural burial can raise a few eyebrows:
"We live in a culture where someone wanting to work in deathcare could be considered weird. That's a sad reflection of how far we have strayed. Death is part of life. I see value in removing the stigma that's evolved around death. As I have lived, loved and lost, my personal relationship with death has evolved. Death, while challenging, doesn't make me as uncomfortable as it once did, and I think many others feel the way that I do. We give an extraordinary amount of attention to other major life events (birthdays, graduations, engagement parties, weddings, religious rites of passage, baby showers, anniversaries, and now gender reveal parties and even promposals) and then there is death. We have an opportunity to shift the way that we think about and experience this inescapable life event.
When we invest in natural burial cemeteries, we have an opportunity to make our final act, a profoundly beautiful life-giving legacy." Benjamin sees the facility as a partnership with the community. She envisages building relationships with a carpenter to provide biodegradable caskets, a seamstress / seamster to make shrouds, a local flower shop to help infuse beauty into ceremony, and a neighbor with a backhoe to help with excavation. And while the facility would be a business, Benjamin says her reasons for wanting to create it are ethical, aesthetic and environmental:
"Creating beautiful, natural spaces for humans to be buried in, to visit, and to honour our dead is a step in the right direction. Preserving cemetery land into perpetuity means that natural burial cemeteries become land conservation spaces. Natural burials are better for the environment and they help combat climate change. I now see that our parting gift can be giving back to the earth that fed us through life."
Under the Funeral, Burial and Cremation Services Act, the municipality can approve the cemetery if it believes it is in the public interest to do so. Grey Highlands Council will consider the Natural Burial Cemetery request at its June 16 Council Meeting. The municipality welcomes written comments on the natural burial proposal by June 4 – they can be sent to the Municipality of Grey Highlands at clerk@greyhighlands.ca.
Thanks to the tireless advocacy of local resident Bob Hope, Owen Sound already has a "sort of" natural burial section in Greenwood Cemetery. Hope and his fellow advocates persuaded the city to devote part of the cemetery to natural burials but the city stipulated that the area must be screened off from the rest of the cemetery by cedar hedges. Owen Sound has yet to allow the natural burial section to let natural plant growth to take it over. One burial has taken place in the section so far.
The Owen Sound experience highlights a problem when natural and conventional burial sites are part of the same cemetery. Conventional cemeteries are manicured, while natural cemeteries grow wild (merely a messy eyesore to those who prefer mown grass).
For more information, visit Ontario's Natural Burial Association website.
---
At South Grey News, we endeavour to bring you truthful and factual, up-to-date local community news in a quick and easy-to-digest format that's free of political bias. We believe this service is more important today than ever before, as social media has given rise to misinformation, largely unchecked by big corporations who put profits ahead of their responsibilities.
South Grey News does not have the resources of a big corporation. We are a small, locally owned-and-operated organization. Research, analysis and physical attendance at public meetings and community events requires considerable effort. But contributions from readers and advertisers, however big or small, go a long way to helping us deliver positive, open and honest journalism for this community.
Please consider supporting South Grey News with a donation in lieu of a subscription fee and let us know that our efforts are appreciated. Thank you.