September 07, 2022
9/11 Memorial Stair Climb to be held in support of Youth Mental Health Awareness and Education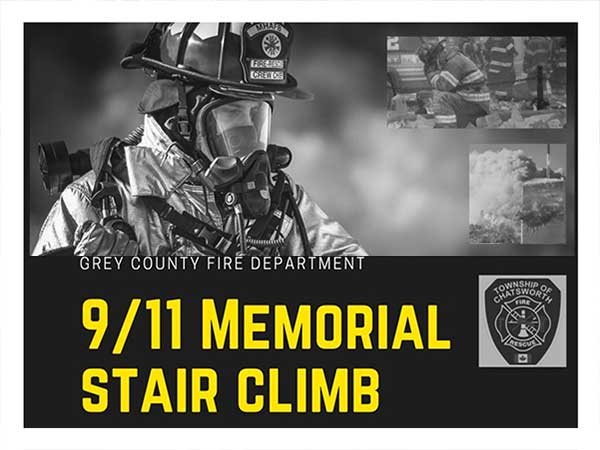 The Canadian Mental Health Association Grey Bruce was honoured to announce that Grey County Firefighters, in partnership with Bruce County Firefighters, will be holding a 9/11 Memorial Stair Climb in memory of lives lost in the Twin Towers in New York City on that fateful day of September 11th, 2001. The Stair Climb will pay homage to the firefighters and the number of flights of stairs they climbed trying to save people that day. The event also remembers the 415 emergency response workers that were killed in New York City that day, of which 343 were firefighters.

This fundraising event is in support of CMHA Grey Bruce Youth Mental Health Education and Awareness Programming. This program provides geared to age programming for children in kindergarten through high school. At a time when it is estimated that over 1 in 5 children struggle with mental health challenges, this programming is more important than ever.
This community event will take place at the Bayshore Recreation Centre in Owen Sound on Sunday, September 11th, 2022 from 9 am to 1 pm. Both Grey County and Bruce County firefighters will be participating. A BBQ lunch will be available by donation plus there will be a variety of vendor tables on site.
The public is welcome to come cheer on the firefighters as they take to the stairs. Donations may be made in person that day and for those who are unable to make it to the event, they are invited to donate online through Canada Helps at www.MentalHealthForAll.ca.
CMHA Grey Bruce sends their thanks and appreciation to the event organizers and all of the firefighters in our region. They appreciate everything they do as well as their dedication to supporting the mental health and wellbeing of our young people.
---
At South Grey News, we endeavour to bring you truthful and factual, up-to-date local community news in a quick and easy-to-digest format that's free of political bias. We believe this service is more important today than ever before, as social media has given rise to misinformation, largely unchecked by big corporations who put profits ahead of their responsibilities.
South Grey News does not have the resources of a big corporation. We are a small, locally owned-and-operated organization. Research, analysis and physical attendance at public meetings and community events requires considerable effort. But contributions from readers and advertisers, however big or small, go a long way to helping us deliver positive, open and honest journalism for this community.
Please consider supporting South Grey News with a donation in lieu of a subscription fee and let us know that our efforts are appreciated. Thank you.